Even before the advent of COVID-19 precautions, remote work at home offices or coworking spaces was rising. When the pandemic arrived, this tendency accelerated significantly, and infrastructure added quickly to keep pace with new requirements.
Ad-hoc expansion rapidly provided more capacity for remote workers as demand increased, but urgency seldom leaves much room for anything beyond functionality. Overall management and troubleshooting capabilities for this new network edge were considered later, if at all.
Path-Focused Network Monitoring
Network management in the enterprise has always had a core assumption; the best way to get the necessary information is to query the devices involved and look for anything abnormal.
PathSolutions' TotalView product (of which RemoteView is a module) still queries devices it can reach to get the necessary information but focus on the end-to-end network path and not on the devices themselves.
Now that we're extending our analysis to remote workers, a monitoring solution that looks beyond device metrics makes a lot of sense.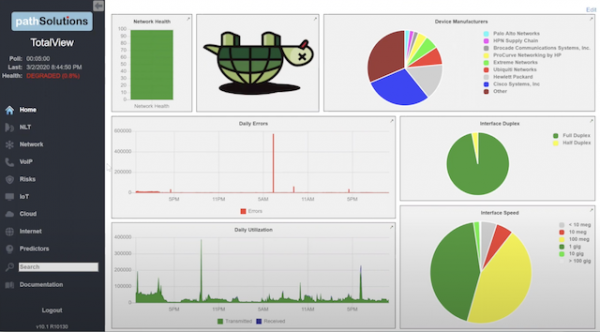 What Are We Monitoring?
We're monitoring the experience now. This is where we always should have been. With remote workers, we often have no direct control over remote equipment. Troubleshooting based on directly querying devices isn't feasible if it's even an option on the l33t router that a remote user bought for the best pwnage possible in their leisure time.
Lessons From MSPs and Their RMMs
Managed Service Providers (MSPs) are familiar with these limitations. Remote Monitoring and Management (RMM) platforms focusing on end stations and their health have been MSPs stock in trade for years, but we haven't seen too much of that trickle down to the enterprise.
Now We're All MSPs
PathSolutions has quickly realized that the remote workstation is the only viable place to analyze the path for remote workers. It isn't sufficient to manage the company network from a component device perspective in an age where the network isn't entirely under company control.
Remote Components
RemoteView Agent
The RemoteView Agent is a single Windows executable with no installation requirements, though users need administrative privileges for some functions. It can be run on-demand by the user whenever they're experiencing problems, so the data is almost always relevant to the situation.
With this agent, we can view the remote IPv4 network's health and its end-to-end connectivity to essential resources used by remote workers.
This view provides full reporting on various essential components of the remote user's system. This includes:
Local wired LAN throughput and testing
Wireless LAN throughput and testing, including signal strength and neighborhood channel utilization analysis
QoS testing with reporting on end-to-end DHCP integrity checking, bandwidth utilization, latency, jitter, and packet loss
Firewall connectivity and throughput analysis
VPN integrity and split-tunneling problems
Overall system stability/performance testing
RemoteView WebRTC
For non-Windows platforms, there is the RemoteView WebRTC Agent. While not quite as flexible as the full RemoteView Agent, it still delivers robust information for connection analysis, covering network latency, jitter, packet loss, and overall bandwidth analysis, all from within a browser. This is still more than enough to pinpoint many of the most common problems that might affect the remote user experience.
The Whisper in the Wires
As an initial offering, RemoteView gives powerful visibility into the remote user's overall experience and allows us to drill down into the most likely problems when performance isn't what it should be. Scheduled and point-in-time visibility into WiFi problems, firewall issues, VPN configuration concerns, QoS trouble, and LAN/ISP throughput provide precisely the sort of information needed to get remote workers to full productivity with minimal delay – quickly.
Looking forward, PathSolutions has indicated that much of the data collected by the RemoteView Agent has the potential to be correlated with other data gathered elsewhere. The potential for extended analysis using these views is enormous, but the emphasis needs to be on the user experience right now.
In future iterations of the product, full dual-stack IPv4 and IPv6 capability and Linux and macOS platform support would be great to see. Even without these, PathSolutions has a great beginning, and I'm interested to see what they'll have to show us in the next iteration of the product.