The fourth industrial revolution or what is more popularly known as Industry 4.0 has set in motion a series of compelling transformations across industries. It's not just manufacturing or logistics. Across industries enterprises are integrating new technologies like IoT, automation, AI and analytics to expedite their operations. At the recent Mobility Field Day event in Silicon Valley, Cisco presented its Private 5G solution, an enterprise-ready network that is designed to be an enabler of digital transformation. At the event, we learned how the Cisco private 5G is helping realize the promises of Industry 4.0.
Sweeping Digitization Starts with a Network Update
Amid one of the most prolific industrial transformations of all time, companies are struggling to convert their infrastructures from yesterday's legacy to a more modern cloud-native virtualized one. This is not a small update. It involves updating the core enterprise network among other things.
The incorporation of smart gadgets in the network has made it clear that enterprises need faster and highly available networks to support them. Collecting all the data streamed into the network through embedded sensors and robotics and analyzing them timely is a must as businesses aim new levels of visibility and intelligence every day. Many enterprises have turned to 5G for its superior bandwidth, but the one-size public 5G network is not the best option for all industries, or their varied use cases. They need a network that would provide them higher control over their data.
Cisco Makes Consumption of Private 5G Easy
Although some are late to it, companies are finally coming up to speed and embracing the private 5G network. A departure from the one-network-for-all premise, private 5G brings with it a plethora of advantages in terms of addressing and fulfilling individual needs. Simple to start, Cisco's Private 5G solution makes consumption of private 5G even easier. By bringing to the market a flexible and simplistic service, Cisco brings it down to two key choices for its customers- usage and coverage.
The idea that drove the Cisco private 5G was to enable users to skip developing, managing or even understanding the different network functions. After talking to 300 CIOs and CTOs, Cisco realized that the requirements boil down to one thing – to be able to build the private cellular network same as the Wi-Fi Meraki. "It needs to be simple – something which enterprises don't need to spend 18 months learning."
Cisco addresses the complexity of 5G which for long has hindered adoption of mobile networks in enterprises with its solution. Its network is simple, its secure and most importantly, reliable. Deployable on a dedicated network, it has a converged core architecture which looks markedly simpler compared to a standard 5G network.
Cisco's Private 5G Service
Bhavik Adhvaryu, Senior Technical Product Lead at Cisco presented the Cisco Private 5G solution at the Mobility Field Day event in July. The 30-minute presentation focused on the private 5G use cases, Cisco's P5G Solution and its points of difference with other private 5G networks. It ended with a demo and a Q/A.
Cisco calls its P5G "a full-stack subscription" that offers consistent throughput and ultra-low latency – something that every modern network needs to support massive digitization, and integrates seamlessly with enterprise networks.
The network architecture comprises 4G/5G radios that are deployed next to a 4G/5G converged core. Cisco has taken the complexity out of the equation with this converged core. Instead of running multiple servers, the core requires only a single route server. This core is managed by Cisco. This set up integrates with the full campus portfolio, be it ISE, Umbrella or Catalyst.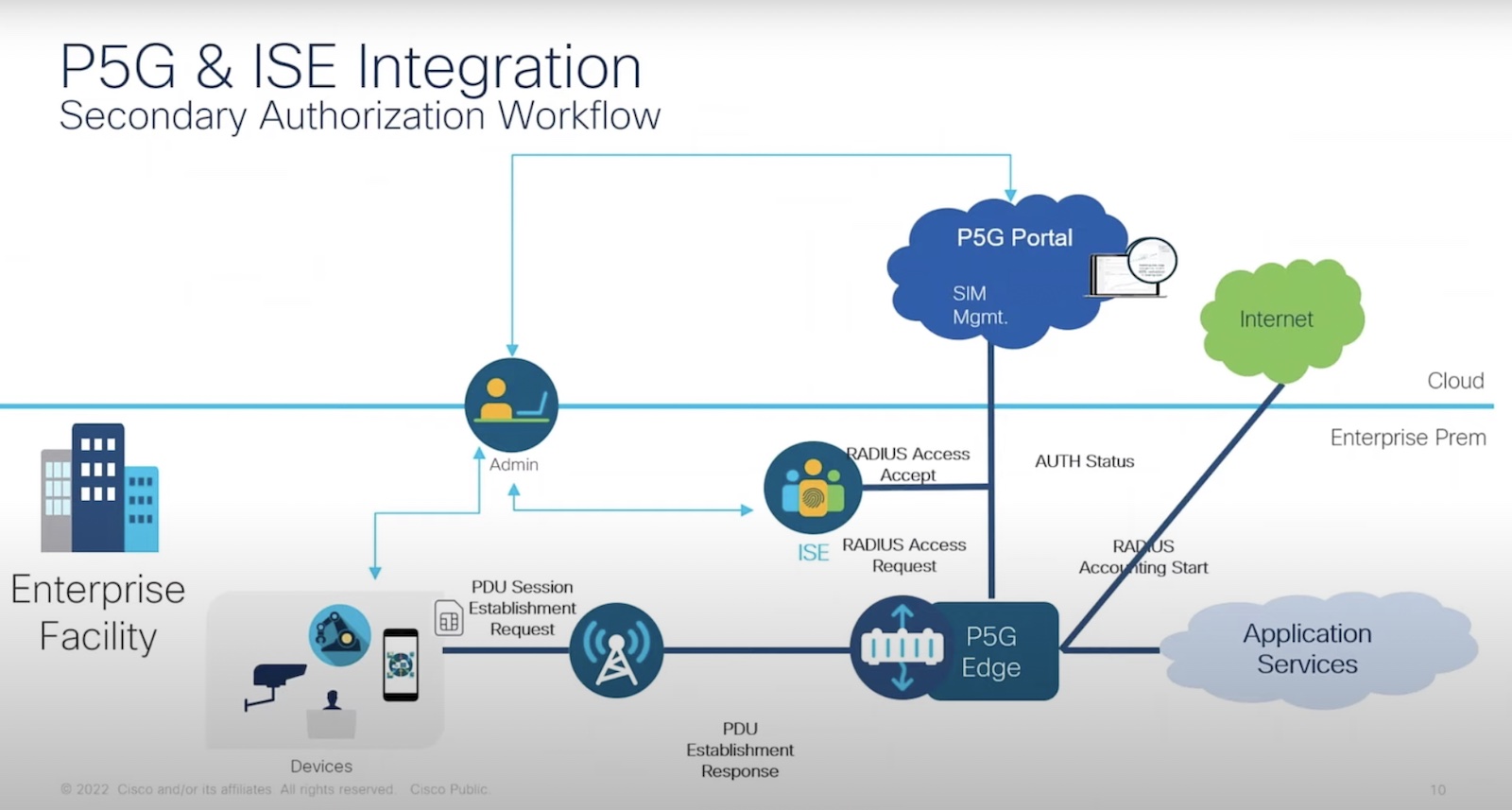 Cisco P5G offers a single management plane through which both the network and its devices can be viewed and controlled. Users can implement network locations, manage multiple networks, monitor usage and manage devices securely on it.
Cisco's private 5G has tight security in the form of cloud-delivered identity and policy management features that enable enterprises to build policies based on their respective use cases. Integrated automation and intent-based policy cause policies and identities to intuitively apply to the enterprise systems which not only eliminates manual tasks but also errors that come with human intervention.
Through the cloud portal, role-based access control can be enabled separately for administrators and users. Additionally, it has API and UX accesses.
Wrapping up
Companies looking to unlock the full potential of Industry 4.0 need a private 5G solution like Cisco's. It has the agility and reliability of a network designed for mission-critical activities and seamless integration with existing enterprise environments, Wi-Fi and wired. Features like identity and policy control from a single plane enable administrators to set policies at one place and apply them automatically everywhere as the network scales. It's wide integration with device portfolio creates a full network sans islands and siloes. In that way, the Cisco P5G does what it's built to do- make lives of ITOT administrators easy, and deliver a network that is resilient to new technologies.
For more on Cisco Private 5G Solution, be sure to watch the other videos from the Cisco presentation from the recent Mobility Field Day.