Cellular-based private networks have brought enterprises a wealth of operational advantages and made possible an overall better corporate financial performance. That explains the ongoing race for deploying private cellular networks among organizations. At the recent Mobility Field Day event in Silicon Valley, Celona presented their private LTE/5G wireless solution that slashes off unplanned downtime and maximizes cost savings.
Limitations of Public LTE Are Growing Everyday
Public LTE is no longer a viable option for organizations with large geographical footprint. At an enterprise level, it does not offer adequate control and as a result is unreliable. The providers service the networks at their convenience, as opposed to when customers feel it's time for an upgrade. It lacks coverage in certain areas which means loss of service is a common phenomenon in those areas. Among other things, availability and data plans are major constraints.
But these aside, another concern that public cellular network activates is the rush hour overloading. If the network is overloaded, everything on it feels the performance dip.
Private LTE and Celona
A private cellular network (PCN) by contrast provides a ton of advantages just in terms of high levels of reliability and total control over the network and the data inside it.
Setting up a private cellular network is now perfectly within the reach of organizations. With Celona, it's possible today, and now. Celona presents a technology that can be readily plugged and played into the wireless stack of any network and with a little in-house support, a PCN can be up and running in just a little time.
Celona, a long-time Field Day presenter launched their company at the Mobility Field Day event back in 2019. A year later, at the next mobility event, they launched the complete Celona solution, adding more features to it each year. Today with its solution, private network setup is just as easy as any network infrastructure. Although some companies require handholding through the initial days, Celona says that most of its clients' network teams are able to bring up the Celona network on their hardware all by themselves.
Celona's Private 5G Wireless Solution
At the recent Mobility Field Day event, Celona showcased their 5G wireless solution. In a quick 40 minute presentation, Celona's Tech Marketing Engineers, Jeremy Rollinson and Kevin Brasher demoed how to build a whole network virtually from ground up in three easy steps using the Celona solution.
A cellular network is most advantageous in warehouse environments. Using a Celona air mobile demo kit, a small-size self-contained unit with its switch, AP, cords and cables, Brasher and Rollinson simulated a warehouse environment to show how you can create a mobile network anywhere. Celona calls it a "private mobile network in a box".
The Celona network deploys over the top on the existing infrastructure like a Wi-Fi network – no need to rebuild your stack or deploy new sets of hardware. A switch on the Celona AP tells when a network is brought up. Red when it's not broadcasting a network, the switch turns blue when the network is active.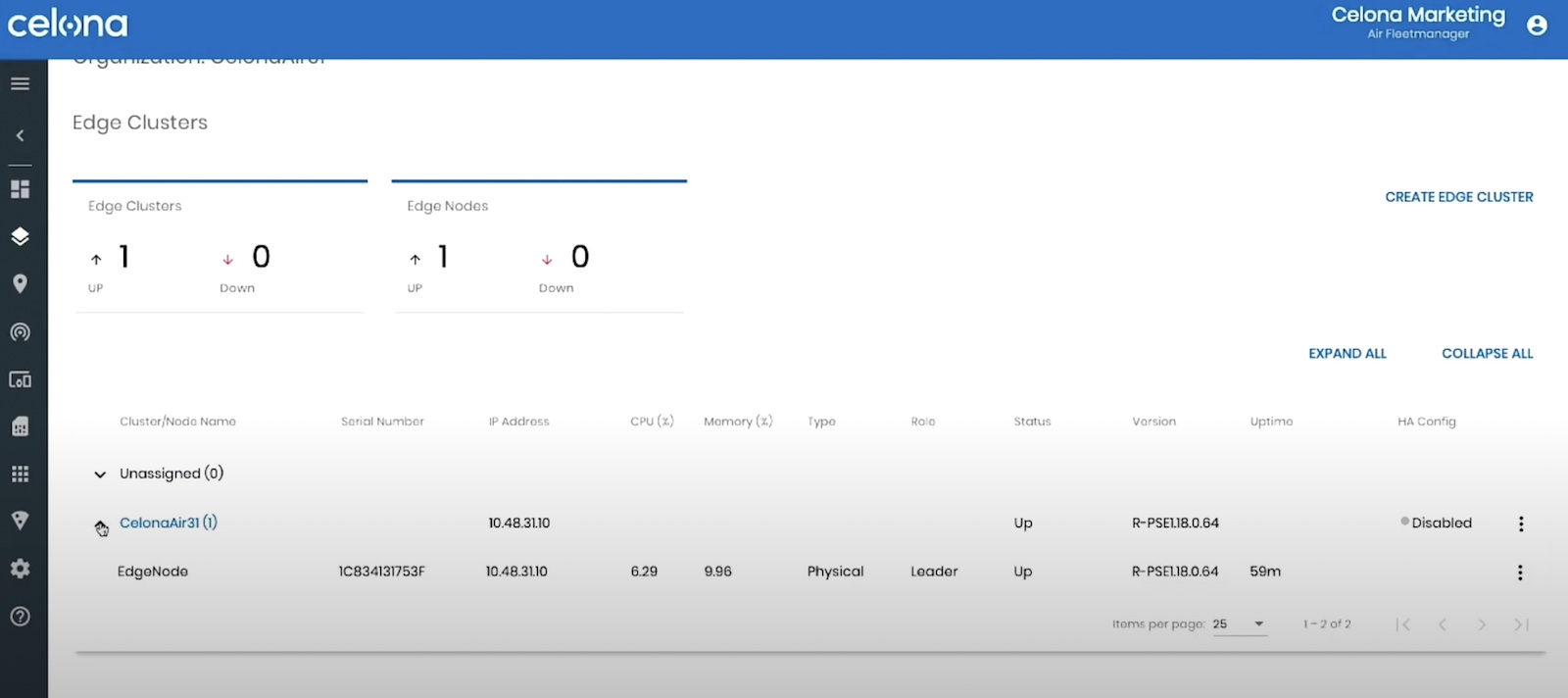 The Celona multi-tenant dashboard displays all the Celona air kits allowing management from a single plane. Clicking on each air kit that is in use opens an individual dashboard view of its own where users can see all APs and devices connected, assets that are up or down and the general network metrics. From a hide menu on the side, users can individually zoom into different sections to see details like IP addresses, nodes or Kubernetes services that are up and running and check if everything is ready for configuration.
Assigning a site is as easy as a click of a button. As soon as a site is typed in, it launches a query to the spectrum access servers that send back the available spectrum instantly. Save and communication between the orchestrator and the assets begin.
Same with configuring the APs. As you hit Access Points on the menu, the dashboard will show you all the information it has already inherited. You can add antennas by feeding in the coordinates and antenna model while the orchestrator takes care of most other things.
Enforcing security policies in a Celona network is pretty easy as client applications automatically inherit security policies that are already written. For a tighter security, role based policies are dynamically enforced per device and device group.
The Celona private 5G network has a cloud-first architecture and out-of-the-box ready for public and private clouds and the edge. It's application-aware and therefore can assign required latency and throughput to the apps in the network.
Wrapping Up
In recent times, growing cost and security concerns have caused a lot of organizations to move to private networks. Compared to Wi-Fi for LAN that does not upscale affordably and public LTE that has its own set of problems, private 5G networks present significant cost and control benefits. Without a doubt, the Celona private 5G wireless solution makes building that private cellular network incredible easy and simple. A plug-and-play solution, it fits right into any existing infrastructure, and the best thing is, Celona does not try to interfere with how the network architecture is going to be. Instead of putting the users in a box, it accommodates whatever architecture fits their use case.
To know more about the Celona private 5G, check out their other presentations from the recent Mobility Field Day event.