A very basic necessity for users such as employees, contractors, et al. who are at the end point of the access coming in with a device is to have a secure access. With increasing hybridization, this seemingly simple matter of security enforcement and policy management is fast becoming a rigmarole. At the Security Field Day event of October, Juniper Networks presents a solution addressing this issue with promises to make enforcement of ironclad security at the user end simple, easy and effective.
Vulnerabilities in the Network of Today's Organizations
The rapid expansion of user base and applications in cloud over the past few years coupled with the rise of security vulnerabilities of unknown kinds has made it imperative for users to have a method of connection in place which is fully secure and enables connecting to cloud economies at scale.
It's been a constant challenge for companies to maintain a certain degree of separation between applications, security, network and ultimately the users. This is where SASE comes into play. Short for Secure Access Service Edge, SASE offers airtight security to enterprise networking. The great thing about SASE is that it has capabilities far greater than the likes of legacy security architectures. As grand as that sounds, the transition to SASE from the traditional heavy branch model is no easy feat and requires supporting technologies.
Juniper Networks' First Step towards SASE
Anticipating the need of the hour and taking into account the sudden increase in the hybrid work culture topped with the uptick in cloud-first strategy, Juniper Networks presents a SASE portal which secures enterprise applications, remote users, campus, branch and all. The Secure Enterprise Edge from Juniper has an effectiveness of 99.7% against threats.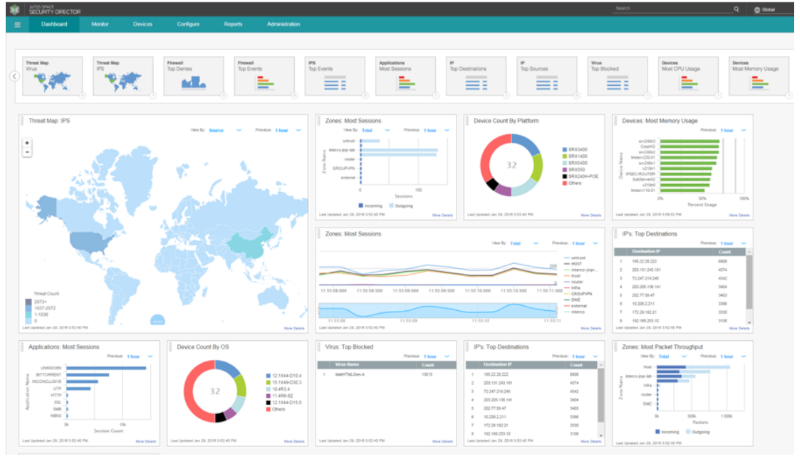 Spanning from the access points all the way to the destinations namely public cloud and public internet, Juniper Networks' Security Director Cloud seeks to manage security both on-premise and in the cloud so that your organization's transition from heavy to thin branch model happens securely and at a comfortable pace.
A Quick Tour of Juniper Networks' Security Management Portal
At the Security Field Day event in October, Madhura Kumar, Sr Product Manager at Juniper Security presented a product briefing of Juniper Security Cloud Director. Later, Sandeep Rajan, Technical Marketing Engineer joined in to offer a product demo and answer questions from the audience.
Appearing between the starting access points and the destinations like private cloud, public cloud, public internet, etc. the Juniper Security and Network Management Cloud houses all the use cases, technologies and products. First time users require to create an account with a minimal set of information and with the log in they can securely access the assets, irrespective of whether they are on-prem or in the cloud.
Juniper Networks' goal with this product is to enforce Zero Trust Network Access and through it secure all the assets in the network for access. With it, they seek to seal the network from malware, malicious URLs, exploits and such threats.
Final Verdict
With a straightforward login and syncing feature, the Juniper Security Cloud Director has a pretty uncomplicated interface. Most importantly, it has impressively high security efficiency which makes it a good investment for businesses that understand the perils that lurk in today's networks.
Find all other products from Juniper Networks by watching their Security Field Day appearance.