The shift of workers from enterprise buildings to home offices was the defining characteristic of working in 2020. Things that we used to take for granted in information technology have been turned on their head.
Fixing a user's computer was once as easy as walking over to their cubicle and working on it, not anymore. We find ourselves in a world where we need to coordinate troubleshooting for remote devices and figure out how to make it work when we can't leave our home, and neither can the user.
One of the other issues of great importance is security. We need to provide the best tools to troubleshoot while allowing users to stay safe and secure. For decades, we have been training users to avoid clicking on programs they don't recognize. We tell them never to open files in emails or files randomly downloaded from the internet to prevent a network compromise by outside parties.
While those users may not follow that guidance every time, you can believe they will follow it when you don't want them to. For example, in the post-COVID world, when they have to download a file to install a program to help troubleshoot.
How can we get the information we need to troubleshoot while ensuring our users are still safe and sound without installing programs, especially on systems, we have no control over?
RemoteView and WebRTC
PathSolutions is a company that has been developing at the forefront of the pandemic and working from home. It recognizes the unique challenges of trying to troubleshoot users' issues while they're at home, a challenge they're trying to solve. Thankfully, the effort it has put in has borne fruit. Enter RemoteView.
RemoteView enables users to request help when problems arise and connect with IT staff at your company to solve the issues in real-time. The RemoteView client gives support staff significant insight into the workings of the machine. As discussed above, users may be wary of installing software to a device, even from trusted support staff. That's where the RemoteView WebRTC option comes into play.
As demoed above by Tim Titus, the RemoteView WebRTC client allows the user to connect to a technician through a web browser and record statistics and metrics about network connectivity and other essential factors in a user's performance.
Most current work-from-home environment issues are related to network and internet performance, such as reduced bandwidth for video conferences or congestion that causes problems with online cloud collaboration tools like office suites. Identifying these issues quickly and providing statistics to support staff can resolve issues or document their occurrence for future issues.
The WebRTC capabilities of RemoteView can collect statistics and forward them along to the right people in a clientless setup. That means no need to run executables or even worry about the platform the user is working on. Open a web browser, and you're done. The support people can work with you and get the info they need to solve the problem or escalate it appropriately. The user can leave the session open to continue to collect statistics or close the browser to end the session.
That is particularly important to environments with sensitive data, such as healthcare. Nothing is visible outside of the session, and it's terminated as soon as the browser tab is closed.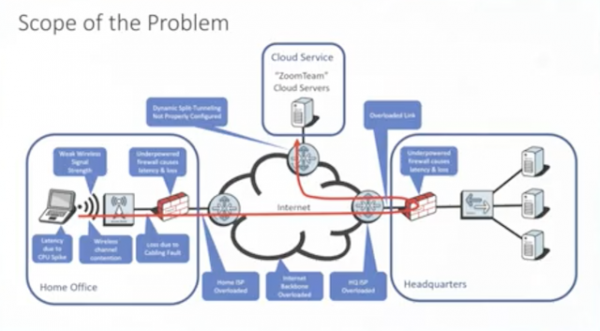 Working from Normal
Working at home is not likely to change for the next few months, if ever. Workers are now empowered to do their jobs from anywhere, and they're not going to want to give up that power any time soon. That means that we're going to need to examine how we've been providing support and adjust accordingly.
Instead of investing in desks and tools to troubleshoot in person, it's time for IT staff to start looking at solutions that allow them the power to work remotely. PathSolutions RemoteView has a ton of capabilities, such as WebRTC, that enable troubleshooting from anywhere.
If you need a place to start to figure out the new normal, you can't go wrong with PathSolutions.