Despite being a de-facto standard in multi-cloud and on-prem, developers' experience with Kubernetes remains overwhelming. But seizing the full potential of the platform does not have to take one through a sharp learning curve. VMware Tanzu Labs proposes an alternative. At the recent Cloud Field Day held in February, VMware Tanzu Labs presented a modular platform that significantly enhances multi-cloud developer experience on Kubernetes.
Harnessing Kubernetes Is a Complex Job
Kubernetes is ubiquitous today as the default runtime container layer in the cloud. As common as it is, Kubernetes is also inherently complex. Developer complexity acts as a constant stumbling block for DevOps and other teams using it. Although for good reasons, its infrastructural complexities are also the reason why Kubernetes is not an easy-to-adopt infrastructure.
The new operational concepts and demands that Kubernetes brings to the DevOps teams serve to only scale up the overhead. Using the platform's default tools to get applications into production throws further challenges at them.
VMWare Tanzu Labs Aiming to Make Developer Experience Better on Kubernetes
VMware Tanzu Labs takes a stab at solving this situation for developers with a purpose-built solution that has been engineered keeping in mind two things- first, a continuous and fast path to production is required and second, it should be such that it offers wide support for a diversity of things that Kubernetes essentially is. To those ends, Tanzu Labs builds a platform that enables developers and bakes security into development cycle.
This solution seeks to simplify operations around development on K8s to improve overall user experience, and deliver a bump-free accelerated path to production that makes possible rapid deployment of applications from lower environments to prod.
Realizing Development Goals on Kubernetes with TAP
Scott Sisil of VMware who is the Product Lead for Runtime in Tanzu Application Platform showcased TAP at the Cloud Field Day event in February. While talking about the platform, he discussed in detail how the platform improves the way users experience multi-cloud on Kubernetes.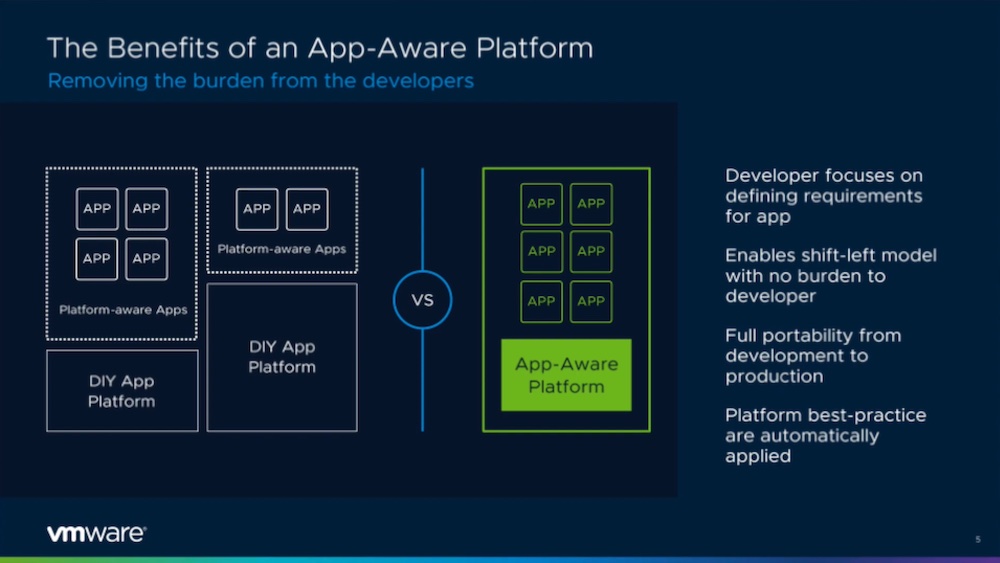 The Tanzu Application Platform with built-in intelligence about applications, is designed to detangle the operational challenges around development so that users have a better experience using Kubernetes. With it, VMware Tanzu Labs' primary goals are to build a speedy and sustainable path to production and in the process, sync development with operations and maximize productivity of the development team.
Coming to the technicalities of it, the Tanzu Application Platform supplies developers with templates and defaults which can be used by DevOps and SecOps to run and move things to production rapidly and securely. This ramp is continuous and can be upscaled as required across cloud infrastructures.
So, while the Tanzu Application Platform synchronizes security and operations in a productive way to bring them a step closer to development lifecycle, it effectively takes away the complexity which stands in the way, slowing things down and running up overheads.
Final Verdict
VMware Tanzu Application Platform manages to bypass a lot of the complexities surrounding development on Kubernetes. It paves a straight, speedy and secure path to production while handing out a large selection of tooling options to the users. Fast and secure development and deployment of software both in public cloud and on-prem minus the inescapable Kubernetes complexity sounds like a developers' dream.
For more information on the Tanzu Application Platform, check out VMware Tanzu Labs' other presentations from the recent Cloud Field Day.