The data sprawl in enterprises and the growing menu of data-heavy AI/ML workloads are begging for capacity and performance upgrades in data centers. When cost is factored into this, it becomes clear that a major innovation is in order in the storage infrastructure. VAST Data, at the Storage Field Day event in March, presented a concept for a next-gen storage platform called Ceres that is designed to radically improve the present-day storage architecture and deliver superior performance, scalability and cost economics.
The Search for Better Ways to Manage AI/ML Workloads
IT has officially entered the modern AI era where the storage architecture needs to step up to the two key demands of HPC workloads- accelerated speed and performance. But that's easier said than done. Architectures do not evolve in a day, nor do they evolve easily in any fundamental way. Architectures that were laid decades ago are still in use today.
As the workflows are changing, storage needs of organizations are changing with that. Needless to say, data centers need to embrace newer technologies to continue supporting the new IT workloads and applications. The rising data center costs too have become part of same conversation in boardrooms. Good news is that a change is underway. With abundant technologies already available to leverage, it is just a transformation waiting to happen.
VAST Data's Vision Combines the Best in Hardware
VAST Data decided to take the lead here in incrementing the state of the art in the industry, just as it did 3 years ago when it announced the QLC infrastructure, a concept that is now widely adopted. Combining choice hardware technologies, namely, NVIDIA's BlueField DPUs and ruler-based flash drives, VAST Data built a concept for a next generation storage platform.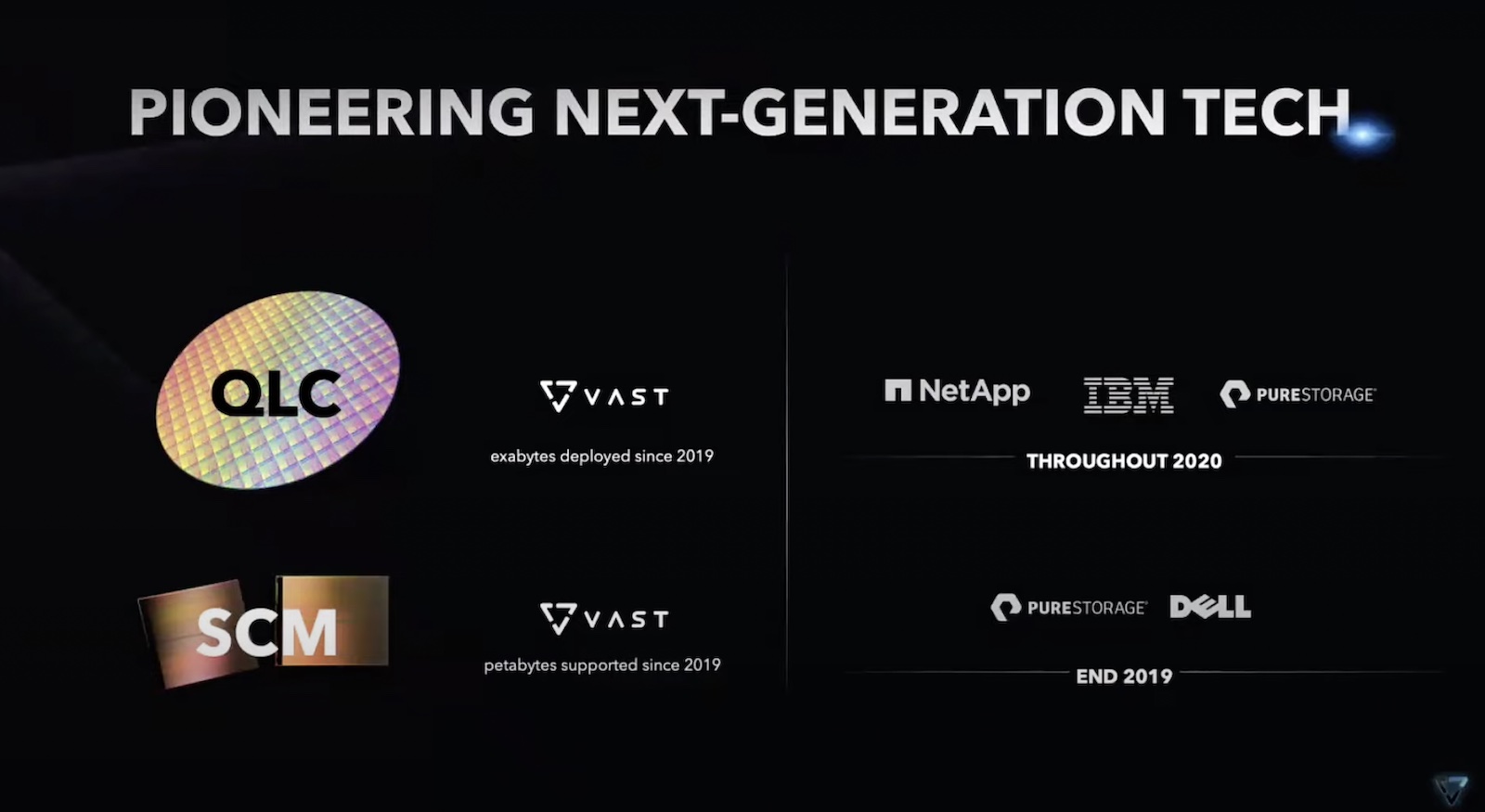 Closely collaborating with partners like NVIDIA and Mercury Systems, VAST Data put together Ceres, with the mission to make capabilities that are exclusive to the biggest industry hyperscalers available to enterprises. Using Facebook, now Meta's open computing model, and with help from its industry partners, Ceres was created from scratch.
Ceres- Giving Storage Architecture a Hardware Overhaul
At the Storage Field Day event, Jeff Denworth, Co-founder and CMO at VAST Data presented their next generation platform concept Ceres. In the video below, he discussed at length the concept behind Ceres and how it is likely to shape the future of the hyperscale data infrastructure.
VAST Data has a clear purpose that it aims to achieve through Ceres. The concept is put together with the target to improve performance, power and efficiency at data centers. To that end, it leverages VAST Data's Universal Storage and the NVIDIA BlueField technology to replace power-hungry processors with low-power NVMe enclosures to run data-intensive applications.
Modularity and serviceability are two of the key goals of Ceres. Designed to deliver easier serviceability in disaggregated storage clusters, Ceres shows a workaround using systems that are front and rear serviceable and require lesser cable management.
Ceres favors ruler flash that are front-loaded, have deeper rack units and are thermally superior with more cooling surface area. With ruler-based flash SSDs, Ceres seeks to improve flash capacity substantially. Further, using VAST Data's data reduction algorithm, Ceres can enhance the capacity of NVMe enclosures to 2 PB each. This together with support for cluster scaling will result in staggering hardware cost reduction.
Final Verdict
Ceres has generated an extraordinary amount of interest in the industry. VAST Data has received a huge response, with some of the industry's biggest organizations choosing this new platform. It goes without saying that Ceres is way more than just an interesting concept that when adopted can lead to very high-capacity, high-performance clusters in data centers. The hardware innovation is ingenious, and the cost economics is breakthrough. Get a demo today to understand how you can implement Ceres to your infrastructure.
If you are excited to learn more about Ceres, check out VAST Data's other presentations from the recent Storage Field Day event.