With workloads becoming more diverse and demanding, and data growing faster than ever, data centers are in desperate need of modernization to keep up with public cloud's agility and efficiency. Fungible presented the Fungible DPU at the Storage Field Day event in March which delivers high computation capabilities for data centric workloads making data centers superior in agility, efficiency and reliability comparable with public cloud.
Data Centers Could Use a Performance Upgrade
With public cloud, computing has taken quantum leaps towards futuristic speed and efficiency. Cloud has raised the bar significantly and this has caused a shift in attitude. Whether its in the cloud or on-prem, users expect to accomplish things fast- at the stroke of a key or with a script.
On top of that, the multi-vendor model has caused data to be anywhere but in one place and distributed computing has become the chosen way. All things considered, things need amping up at data centers so that they are at par with public cloud and are able deliver to the computation needs of data-heavy workloads.
Fungible Makes Data Management in Data Centers More Cloud-Like
Founded back in 2015, Fungible is dedicated to the cause of making data centers more performant and efficient. As a storage company, Fungible noticed early on that a gaping hole exists in the evolution trend of processors. Today, although we have really powerful GPUs with enhanced capabilities, data management has not evolved at the same speed.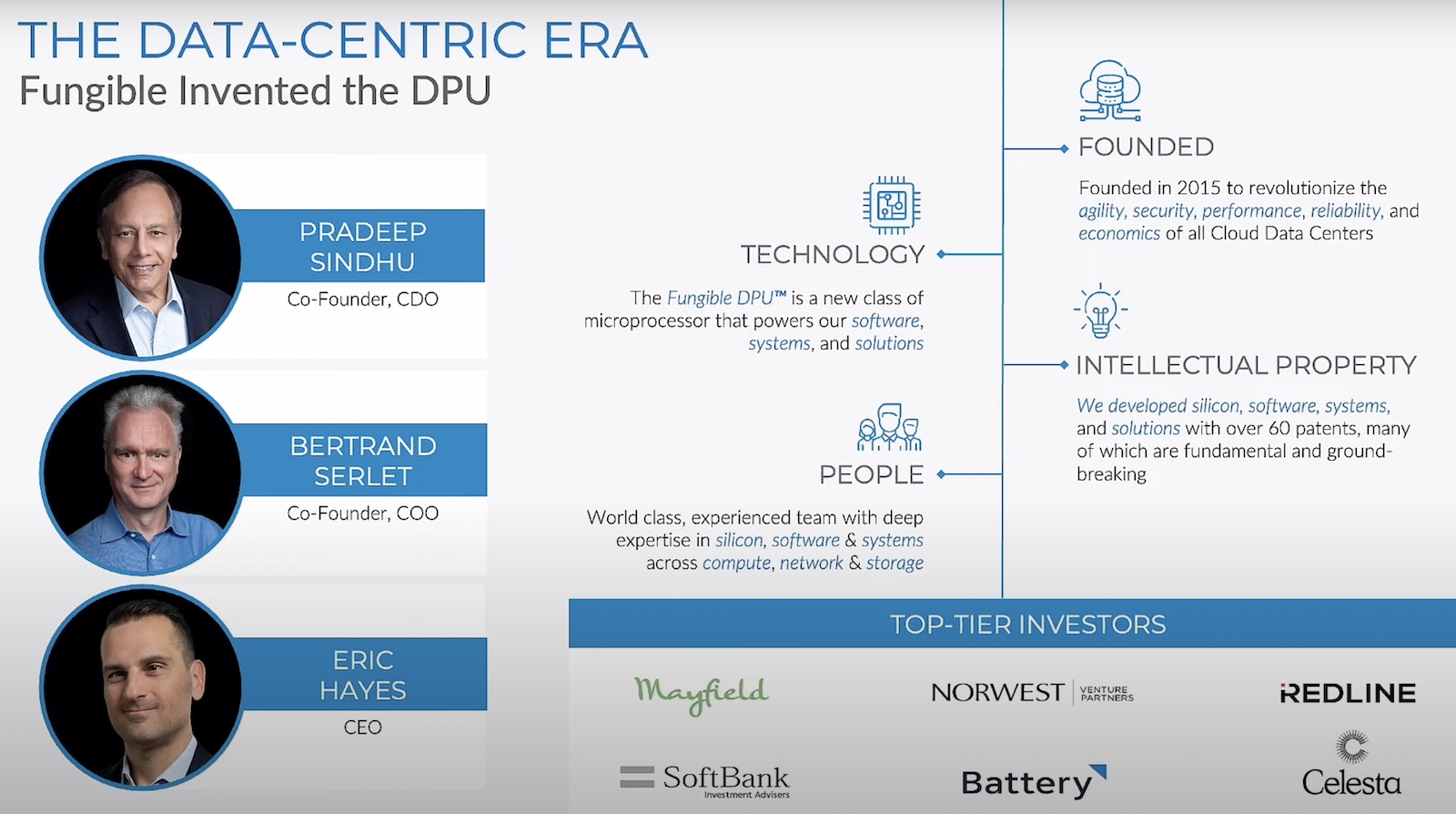 Fungible identified that as an area that is in need of improvement. So making it their goal to make data management efficient, Fungible designed a DPU that accelerates workflows. It's their mission today to unlock agility in data centers which is key to performance and utilization of resources and with that to ultimately bring down the overall cost of ownership.
One of the early producers of NVMe over PCP storage products, the company is currently releasing its second generation NVMe over PCP products.
Fungible DPU- A Chip Designed for Performance Enhancement and Economics
At the Storage Field Day event, Toby Owen, Vice President of Product, Fungible, gave an overview of Fungible DPU that is at the core to their composable and storage solutions. At the presentation, he gave a walk-through of a Fungible stack down to its individual components and talked about Fungible's mission to modernize data centers with Fungible DPU.
The Fungible DPU is a purpose-built microprocessor designed for big-fast data. Built with the aim to achieve composability in data centers, the DPU enables optimum utilization of resources through efficient pooling of the same at scale. With the help of Fungible DPU, administrators can ensure better utilization of assets through pooling and redistribution best suited to the relevant workloads.
Fungible DPU is optimized to deliver cloud-like agility for data centric workflows. With security designed into it, this chip accelerates data encryption, erasure coding and other security functions. With capabilities to process and move volumes of data at speed, the DPU is 20 times faster than CPUs and GPUs.
Fungible's scale-out storage solutions implement the Fungible DPU in conjunction with the PCIe card which is a step towards its larger vision- a disaggregated storage infrastructure. With the Fungible F1 and the smaller S1 DPUs, users can target diverse data analytics and management workloads with great results.
Final Verdict
Today's organizations deal with ginormous volumes of data growing at an unbelievable speed and highly demanding workloads of diverse kinds. That require high efficiency and quick response time at minimum. Fungible DPU delivers ground-breaking speed and flexibility at data centers, similar to cloud, making computing of disparate workloads possible efficiently and at minimum cost.
If you are interested in learning more about Fungible DPU, take a look around on their website or check out their other presentations at the Tech Field Day website.