In a modern digital infrastructure, observability is everything – but it's complicated than that. In effect of climbing cloud usage, networks have become overwhelmingly complex, and that severely constrains visibility. At May's Networking Field Day event, Augtera presented the Augtera Platform that delivers multi-cloud performance insights for proactive anomaly detection and failure prevention, and above all, real-time network visibility, from start to end.
A Basic Breakdown of a Modern Digital Infrastructure
A digital infrastructure today composes of many things. Cloud services is a core component in that. From an organizational standpoint, it makes a lot of sense to include public and private cloud networks into an infrastructure and whatever else is available to make it more resilient and elastic. It has its advantages, but this heterogeneity can directly impact the way end-users experience the network.
The ultimate measure of service quality in IT- digital experience is a product of the combination of three processes – management, maintenance and monitoring, and this brings us to network observability which is essential to all three. Simply put, visibility is the key to unlock network performance and businesses are coming to realize that in the modern network infrastructure, it is in short supply.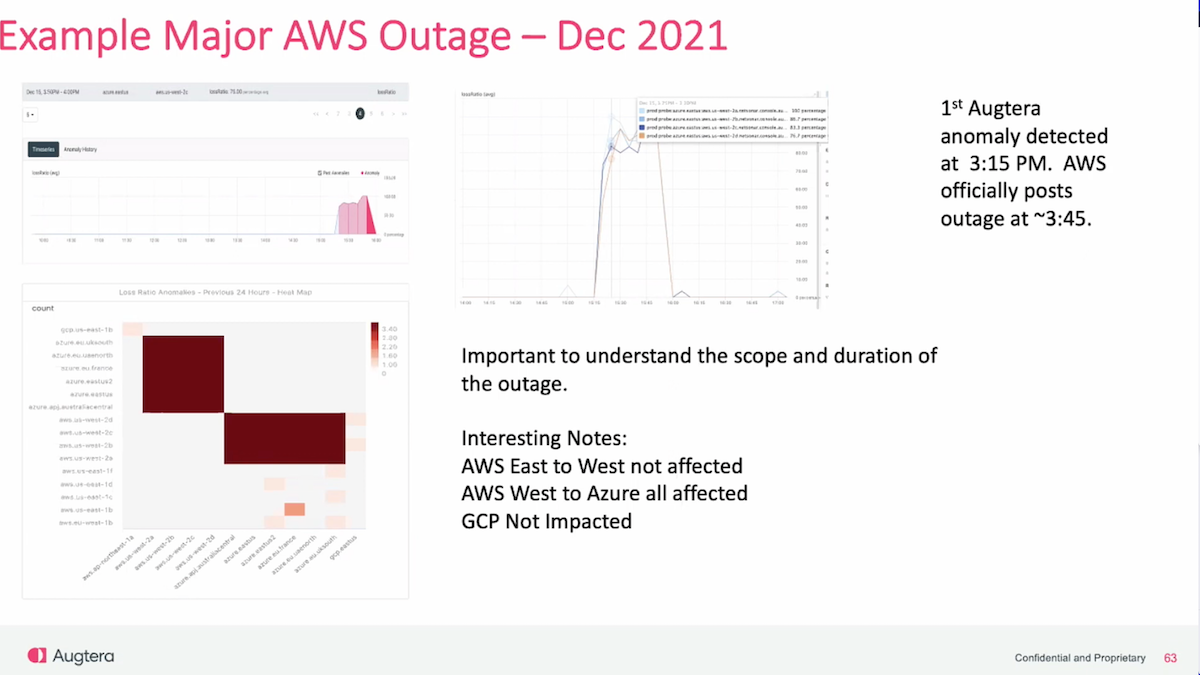 Augtera at Matching the Emerging Need of Continued Network Observability
Augtera has a long-term solution to this problem. The Augtera Platform is built to catch any anomalies happening in a multi-cloud environment in real-time. And this is not just something they claim. In December 2021, when AWS had one of its outages, it was detected by the Augtera way before Amazon issued its official post about it.
Deployed across hybrid cloud platforms from campus to branch to on-prem, Augtera solutions collect telemetry data and process them into insights that are ready for action. Built with the goal to address downtime and OPEX, Augtera offers "intra and inter cloud performance" observability that enables to proactively eliminate incidents before they happen.
Understanding how the Augtera Platform Works
At the Networking Field Day event in May, John Heintz, Director Sales Engineering at Augtera presented the Augtera platform. Going through some live scenarios, he gave a demo of the Augtera platform and talked about its anomaly detection capability and how it keeps IT teams appraised of possible outages in a multi-cloud environment.
On the Augtera website, the Live AI Multi-Cloud Anomalies dashboard streams multi-cloud performance information in real time. Under here, anybody can see the entropy across AWS, GCP, Azure and other virtual networks as it is happening. In the console, information is categorized into Persistent RTT Degradation and Persistent Probe Loss. In the Persistent RTT Degradation section, users can look at real-time degradation in any data center by just selecting any agent IP on the list.
The Persistent Probe Loss side of the dashboard offers insights on the specific loss ratio and helps users understand the loss by plotting patterns of the same. The anomaly graphs and heat maps with which information and correlation between metrics are visualized in the Live AI Multi-Cloud Anomalies UI enables easy understanding of the entropy and timely detection of anomalies.
The dashboard is powered with synthetic probes that spread out into the network to gather data which they then pass on to the Augtera Network AI platform. The Augtera dashboard uses machine learning to extract actionable intelligence from the network telemetry data and identify anomalies by learning and finding inconsistencies and deviations from normal entropy.
Final Verdict
Augtera clearly augments the network observability capabilities of an organization through real-time feeding of data and analysis. Ensuring that NetOps team don't go into an analysis paralysis, it measures and analyzes every signal coming from sources far and wide inside the network so that companies can see a downtime coming long before it hits. This can not only potentially prevent incidents in the future, but also save organizations tons of money wasted on unplanned outages.
To know more about Augtera and its underlying technologies, watch other Augtera presentations from the Networking Field Day event.