As networks got bigger and their estates sprawled, monitoring everything became a task bigger than one team. With the goal to achieve a fuller visibility pushed back, engineers are now faced with elevated risks of network downtime.
At the recent Networking Field Day event, Progress presented WhatsUp Gold, an easy-to-use monitoring solution that observes everything proactively in the network and keeps operators up-to-date with network performance and availability, making complete observability a distinct possibility.
Monitoring a Large Network Is an Uphill Battle
The top responsibility of a network operator is to avert network downtime and crashes. The success of that is predicated on how clear the visibility is. Real-time network visibility and rigorous monitoring have a hand-in-glove relation. The stronger the visibility, the better the monitoring.
With the expansion of networks, network monitoring as a task has amplified in size and intricacies. It involves watching countless devices, applications and systems, and the traffic moving across the network 24/7. In order to monitor network performance, operators must establish baseline performances so that dips and deviations can be caught in real-time.
In a large-scale network, operators' tasks entail comprehending complex network diagrams and drilling down into multitudes of details in the data generated constantly in the network. Additionally, they need to plan capacity, act to alerts and routinely spot and eliminate blind spots.
The fact that the network is now distributed only introduces more complexity into the picture. Juggling tens of responsibilities is frustrating as it is, but in the long run, it also slackens productivity. This reflects in the revenue, eventually causing organizations to fall behind on their goals.
An All-in-One Monitoring Solution
At the presentation, Mark Towler, Sr Product Marketing Manager at Progress introduced WhatsUp Gold to the audience as "an award-winning network monitoring and network infrastructure monitoring solution that provides information about the network and its performance at a glance."
As a solution, WhatsUp Gold is not brand new. It has been around many years, but Progress has kept up with refreshing and enhancing its discovery and monitoring capabilities year on year, packing more power with every new iteration.
Progress took a clean shot at simplifying network monitoring with WhatsUp Gold. The solution focuses on proactive diagnostics and troubleshooting with the goal to prevent issues from impacting the network in any significant way.
Progress seems to have one eye set on making the job of network engineers easy. It designed WhatsUp Gold to visualize the network in a clean and easy-to-read diagram that engineers can glean information from with just a once-over.
But what's up with the name? It may not click at once, but Progress' naming of the solution is pretty spot-on. WhatsUp Gold was designed to tell network operators what's up in the network – more precisely, what is up and what is down. Hence the name WhatsUp Gold.
Progress WhatsUp Gold
The Networking Field Day presentations were delivered by Towler, Jason Alberino, Sr Product Manager and Mark Singh, Sr Sales Engineer. At the session, Towler and Alberino elaborated on the capabilities of WhatsUp Gold, while Singh gave a hands-on demo in a later presentation.
WhatsUp Gold is a browser-based solution that requires operators to log in to access the interface. The initial view as you log in is of a network diagram that shows at a glance what things are running fine and what things are not.
The map visualizes the statuses simplistically so that operators can read the reports and stats at a quick glance – no need to read through a barrage of information. Every view opens as an individual webpage which allows the information to be broken down into simpler and nuanced views.
"The "My Network" tab gives you a quick glimpse into the status of your devices. Anything that is green is up; anything that is red is down. Anything with a red dot simply means that there's something that is being monitored on the device," explained Mark Singh, Sr Sales Engineer, during the demo.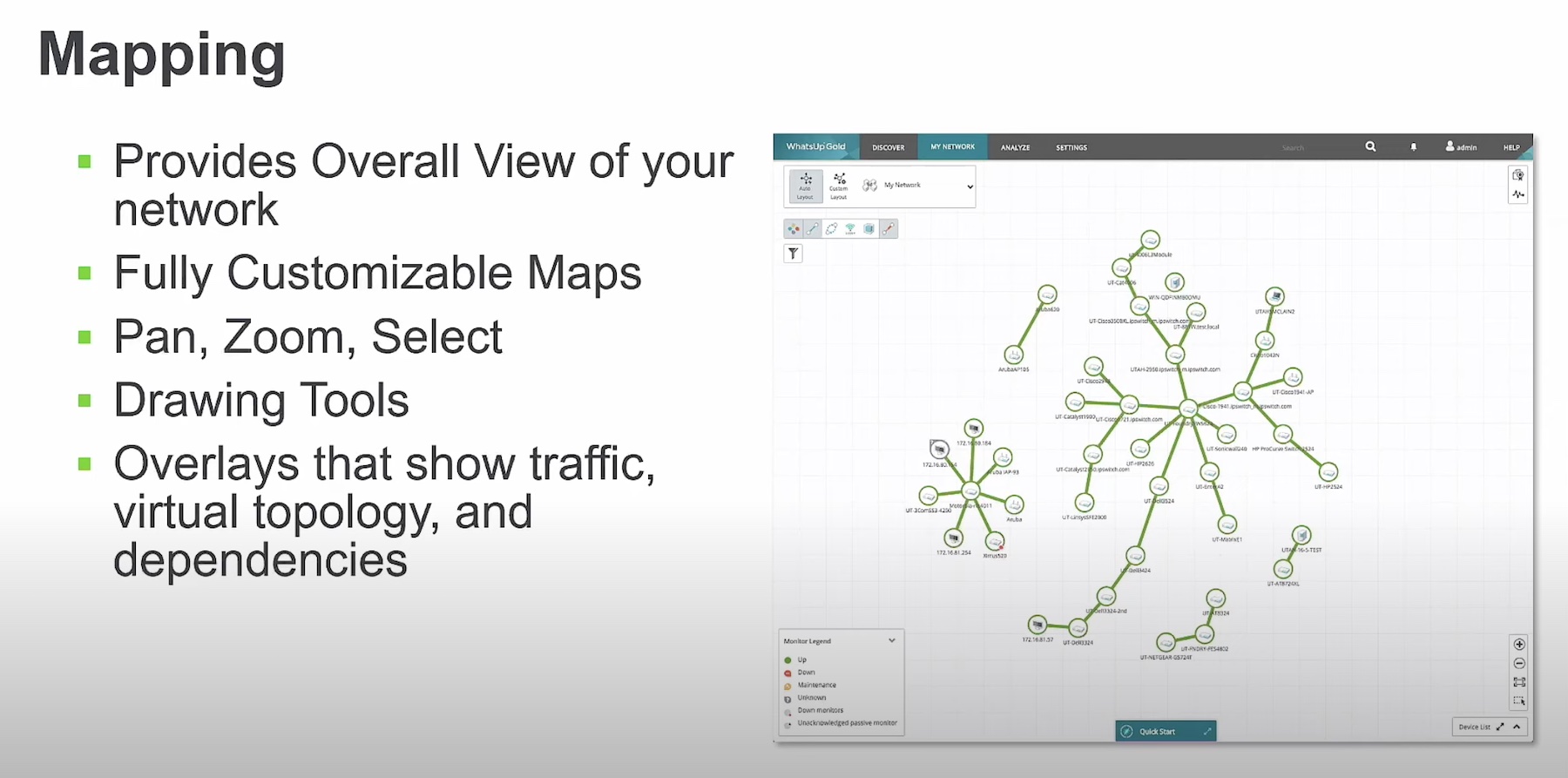 WhatsUp Gold is an agentless software that takes literally minutes to set up. Post-download, the product installs and configures on auto-pilot, finding the network instantly with automatic discovery and mapping. It takes less than half an hour for it to be up and running. WhatsUp Gold can monitor over all standard industry protocols.
Advanced monitoring capabilities include NetFlow traffic, virtual infrastructure, wireless and cloud networks. Configuration management allows users to track and manage changes in configurations. A newly introduced feature is integrated log management which enables teams to "track and find log information quickly and easily."
Towler notes, "The value WhatsUp gold provides is that it gives information in context. You can plug anything into your network, WhatsUp Gold will find it, talk to it, get information and give it back to the administrators."
WhatsUp Gold is vendor-agnostic, meaning it can discover and communicate with any device or system in the network.
WhatsUp Gold has a device-based licensing which gets users more monitoring coverage for less. Simple pay-per-device model allows users to choose the devices they want to manage and pay by number.
Wrapping Up
In network monitoring, Progress WhatsUp Gold needs no introduction. It's been around a long time and is one of the established monitoring tools in the market, and certainly one of Progress' best. WhatsUp Gold makes a compelling product simply by the iterations it has to its name, but for new users, it presents a wealth of strong and intuitive discovery and monitoring capabilities that hit the bull's eye clean. It is an all-in-one solution, in that it resolves poor visibility by monitoring the full inventory, and delivers non-stop monitoring of all assets, but without storming the operators with a ridiculous amount of alerts. WhatsUp Gold makes the network a safer place, and anybone who cares should invest in such a solution.
For more information on WhatsUp Gold, be sure to check out Progress' more presentations of it from the recent Networking Field Day event.