In a world of multi-cloud, businesses are constantly searching for hands-off, low-friction, ready-to-consume cloud-like experiences everywhere, and why not, when it makes things simpler, faster and easier-to-manage. Pure Storage introduced a solution at the Cloud Field Day event in February that delivers a cloud model for all infrastructures so that enterprise storage is easy as a breeze. It's the new Pure Fusion.
The Clamor for Resource-on-Demand
The escalating use of public cloud has given rise to what's best described as an on-demand culture. With cloud service providers doing so well meeting the various needs of their clients, it has now become a standard expectation everywhere. Since businesses nowadays mostly use a mix of storage infrastructures, an overall cloud-like experience across all infrastructures is what makes most sense.
That sounds great in theory but is a tad difficult to achieve with legacy storage making things like automation and ease-of-use harder at every step of the way with its complicated architectures. This has caused flexibility and user-friendliness to largely go missing from enterprise storage. It's time that changed.
Pure Fusion – Changing the Enterprise Storage Game
With its burgeoning portfolio, Pure Storage is set to make that long overdue evolution in enterprise storage happen and to that end, it has a new technology. With Pure Fusion, Pure Storage attempts to bring to enterprises what they go out looking for to cloud service providers.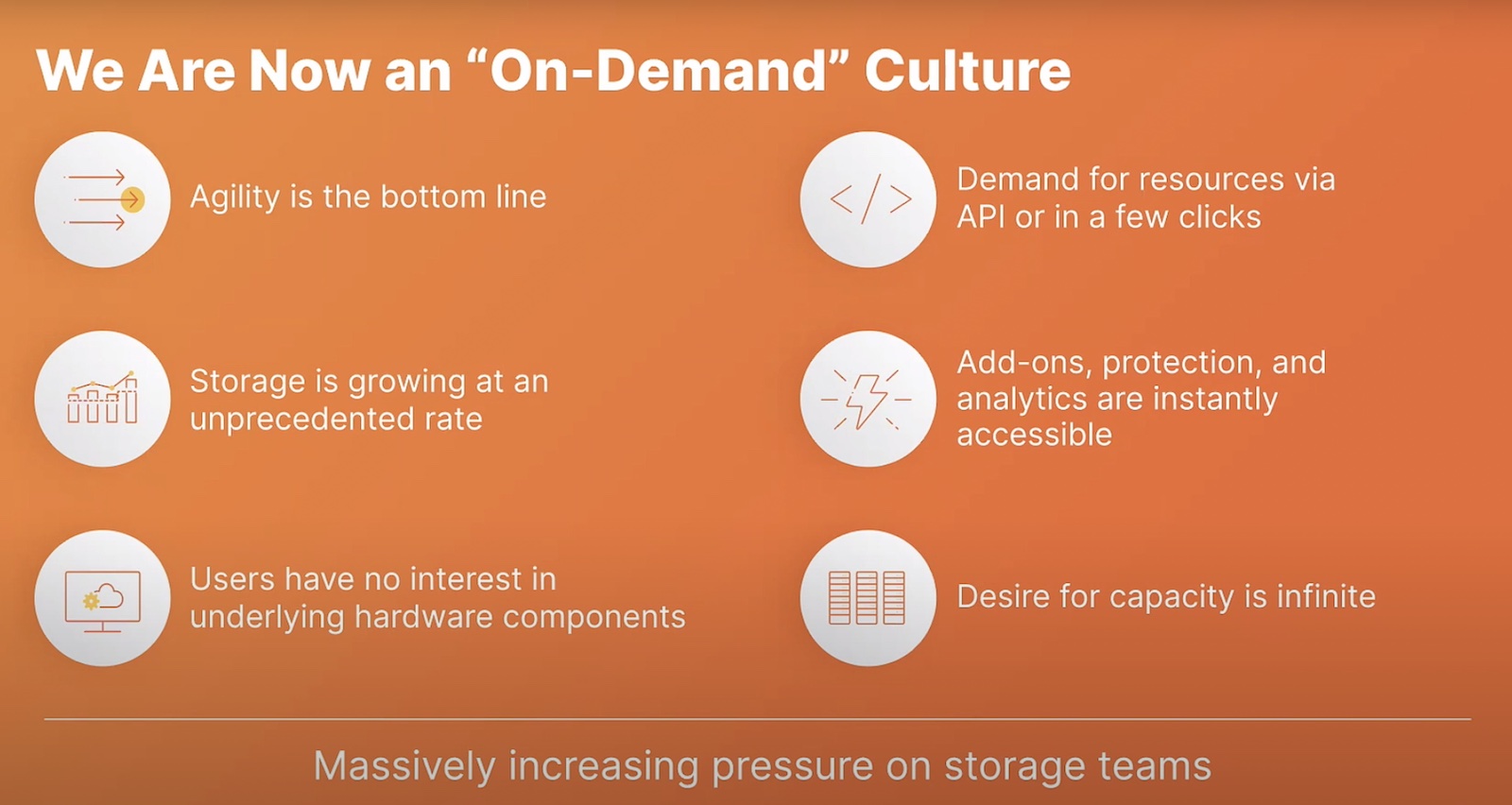 Announced back in September, 2021, Pure Fusion is a self-service environment where automation happens at scale irrespective of the underlying infrastructure thus enabling users to have an effortless lights-out management, same as cloud.
The end goal that Pure Storage has its eyes set on here is agility, scalability and speed in storage irrespective of where the data lives. To that it adds automation and cloud-like simplicity of management.
Pure Fusion and Some of Its Best Features
At the Cloud Field Day event, Larry Touchette, Director, Product Management, Pure Storage presented Pure Fusion to our panel of delegates while detailing some of its key capabilities and what is Pure Storage set to achieve with it.
In Pure Fusion, Pure Storage designed an intelligent storage-as-a-code platform that enables widescale automation targeted at achieving cloud-like ease in storage anywhere. To that end, it has near-limitless scale-out through storage clustering with availability zones, seamless automation of provisioning, configuration and deployment and cloud-like self-service that takes out the boring grunt work.
Workload management happens intelligently on Pure Fusion. On it, end-users can optimize storage pools by distributing and balancing workloads depending on the changing conditions in the environment.
One of the key capabilities of Pure Fusion is enhancing agility through improved availability. Pure Fusion is a highly fault tolerant environment that is also highly available, meaning it has minimal interruptions and steady availability- the very elements that make a storage infrastructure performant and reliable.
Final Verdict
Pure Fusion addresses a number of customer wants in terms of automation and resource-on-demand in enterprise storage which were formerly unaddressed outside of cloud. It has features which are key to achieving faster deployment and accelerated development and not at the cost of performance or availability that it so often is. In my opinion, it's a platform that is perfectly on-point in delivering a cloud-like experience everywhere.
Be sure to check out the rest of Pure Storage's presentations from February's Cloud Field Day to know more about Pure Fusion.