DevOps has lately been a recurrent theme in a number of IT practices. Held as a standard for its approaches and methodologies, DevOps principles are heavily used in applications. And now networking too has started to recognize its uses. At the recent Networking Field Day event held in California, Nokia presented its Data Center Fabric solution that absorbs DevOps principles into network administration.
After their appearance at the Networking event last year, Nokia returned to September's Networking Field Day event with the two solutions it introduced last year- the Nokia Fabric Services System and Nokia SR Linux. The presentations featured deep-dives and demos of the the technologies.
Questioning the Methods of Yesterday
The concept of DevOps is a trailblazer in IT. By bringing the development and the operations teams together, DevOps has optimized productivity and performance, and shortened the cycle of design to deployment. In the last few years, operators have started to see some very specific benefits of DevOps philosophies when applied to other areas of IT, in this case networking.
Given the fragility of network infrastructures, there is very little room for error. Paradoxically, the infrastructure demands constant and dynamic implementation of change – a process that is manual and has inherent risks of human error – therefore, in a sense limited, and costly. In a process where human errors are highly likely, unplanned impacts of those errors frequently engender a laundry list of problems long enough to keep the networking teams busy for the entire year.
As a resolution to this, what we are seeing is a NetDevOps starting to come together to provide the automation required to circumvent the grunt work and the associated risks of error.
Nokia Bringing NetDevOps to a Broad Audience
When it comes to phones, Nokia needs no introduction. Although wildly popular as a phone manufacturing company, it is little known that Nokia is originally a networking company that has global footprint in the service provider network domain. Building large scale enterprise networks for over two decades, Nokia has a sprawling portfolio of networking products and solutions aimed at a broad set of use cases. As an established provider in SD-WAN, WAN and core routing, Nokia has shipped over a million routers till date. With its new releases, Nokia now enters the datacenter.
Nokia took a page out of the DevOps handbook to implement IaC and automation in networking. In the thick of COVID in 2020, Nokia launched the Nokia Data Center Fabric suite. Under the Nokia Data Center Fabric umbrella are three constituent products- the Fabric Services System, the SR Linux and the 7250 and 7220 IXR. Working together, these technologies unlock automation at scale via intent to improve the life cycle management of datacenter fabrics.
Inside the Nokia Data Center Fabric Package
At the presentation in the recent Networking Field Day event, Sr Director of Product Management at Nokia, Bruce Wallis gave a walk-through of the Nokia Data Center Fabric Services System and the SR Linux. The presentation ended with several demos showcasing how the solutions serve example use cases.
An intent-based automation platform, the Fabric Services System lets enterprises automate network operations at the datacenter. The platform uses intent-based automation with closed loop telemetry to enable operational lifecycle management. It has a cloud-native microservices architecture which allows easy integration with cloud management systems. Being built on top of an open Kubernetes ecosystem, it is ready for a wide range of open-source projects. Nokia calls it the "NetOps toolkit" because of its extensibility, giving more meaning to the DevOps theme that Nokia is trying to capture with its datacenter solution.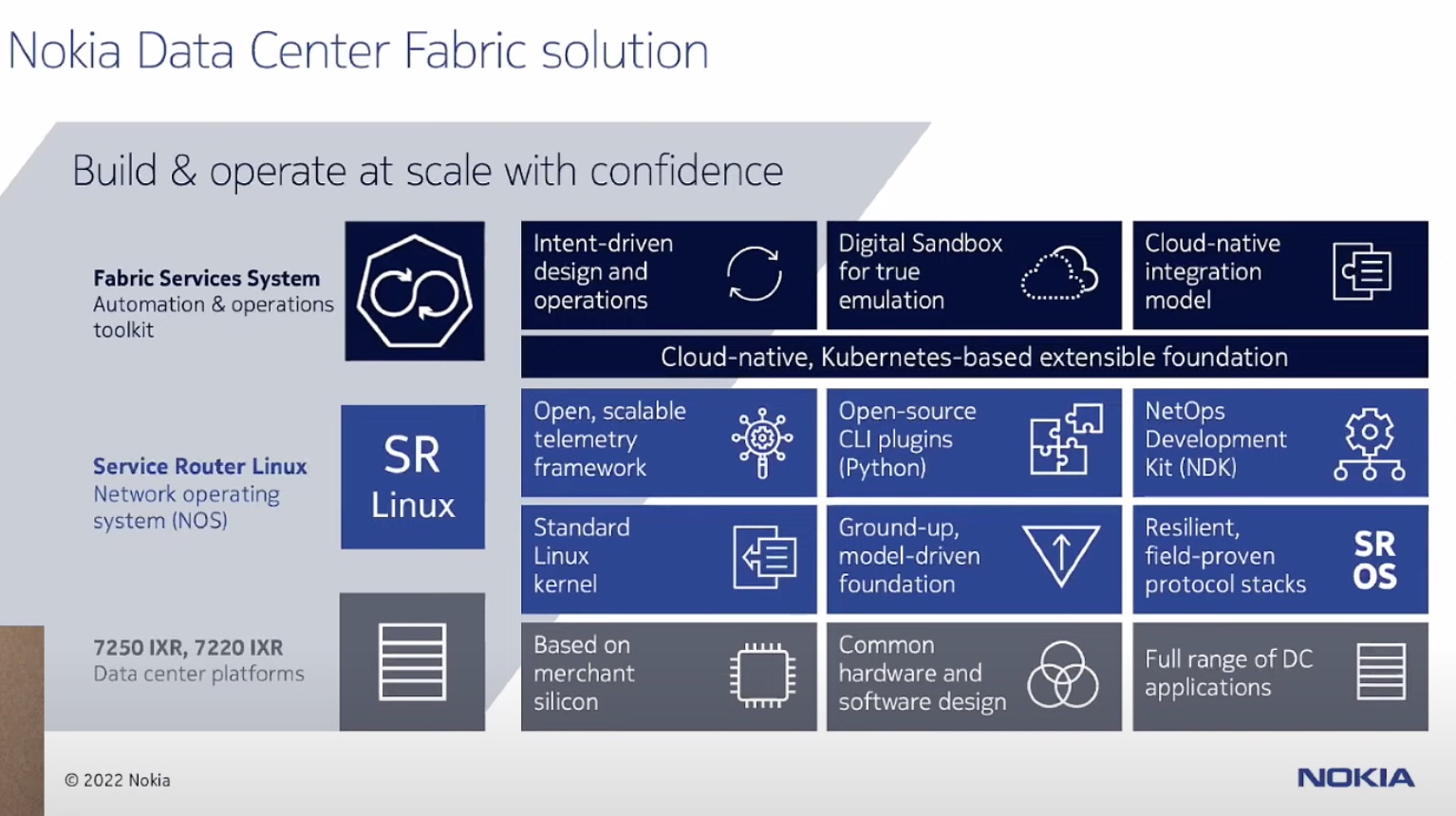 "Its jumping on the back of all this intent-driven automation that we see throughout the industry. This is really simplifying the inputs to a network to create more reliable and distinct outcomes with some closed loop telemetry to make sure that that outcome remains in effect in the fabric," says Wallis.
SR Linux is the network operating system (NOS). Borrowing from the older Nokia SR OS, the SR Linux uses a modernized version of the same routing stack. While the architecture simplifies operations and integrations, the standard Linux kernel at its foundation makes it easier to develop certain modular system and network applications, thus furthering the extensibility motto.
On the hardware side, Nokia has two purpose-built interconnect routers – the 7250 IXR and the 7220 IXR. Based on merchant silicon and an open hardware design, the 7220 IXR implements the SR Linux NOS.
Wrapping Up
Delivering automation at scale, especially in infrastructures as robust as today's datacenters require rethinking the game. Nokia's set of Data Center Fabric technologies reimagines it by tightly coupling network automation with intent-based networking and virtualization. It brings to the fabric flexible plug-and-play capabilities, closed loop automation and ultimately, cuts out manual intervention that wastes time and involves errors.
For more technical information on the Nokia Data Center Fabric solution, be sure to check out the other demo presentations that Nokia gave at the recent Networking Field Day event.