End-users' experience takes a toll when issues become frequent in a network. Sadly, issues in a network are ubiquitous regardless of the provider or user count. Juniper Networks presented a deployment for their Mist AI and Cloud at Networking Field Day in September that promises the coveted operational simplicity to EVPN-VXLAN fabric management.
Common Pain Points of Campus Fabric Management
Juniper Networks' key drivers for this project are the self-same challenges that people across verticals face with campus fabric management. Potential issues that pop up from connecting Layer 2 devices with Layer 3 network are often disruptive to the workflow causing unnecessary delays and downtimes. In the past, a multitude of proprietary technologies have been launched to get around STP loops. These have only increased instances of failures and errors that impact the overall network.
Furthermore, most networks are not designed to include IoT devices which there are so many of these days. Nor are they flexible and scalable on demand to the point where the VLAN expands with the network. To top that, the increasing use of ACLs in devices complicate the matter of security when left in devices for a long time.
All these culminate into failovers, config errors and trouble tickets that impact network performance and ultimately diminish the user experience.
EVPN-VXLAN Campus Fabric Management with Juniper Networks' Mist Cloud
In the video below Sujit Ghosh, Principal Technical Marketing Engineer at Juniper Networks showcases the new additions to Juniper Networks' Mist AI and Cloud. At the presentation he is joined by Abhi Shamsundar, Sr Product Manager who offers a demo of the same.
Juniper Networks upgrades its Mist AI and Cloud platform to extend support to EVPN-VXLAN campus fabric management. Designed for the Juniper Networks' QFX series switches, the Juniper Mist Cloud deployment is supported on both QFX5110 and QFX5120.
With the newly added capabilities, Juniper Mist Cloud is now fully cloud-enabled and cloud-managed. That means you can deploy fabric based on the chosen architecture and onboard switches with Zero Touch claim code. AI-driven operation and fabric too can be fully cloud managed with it.
Using Juniper Networks' Mist AI and Cloud platform is straightforward. By the simple scan and go method, you can bring your switches online and through ZTP connect it to cloud. In the following steps, you can pick the architecture that you have.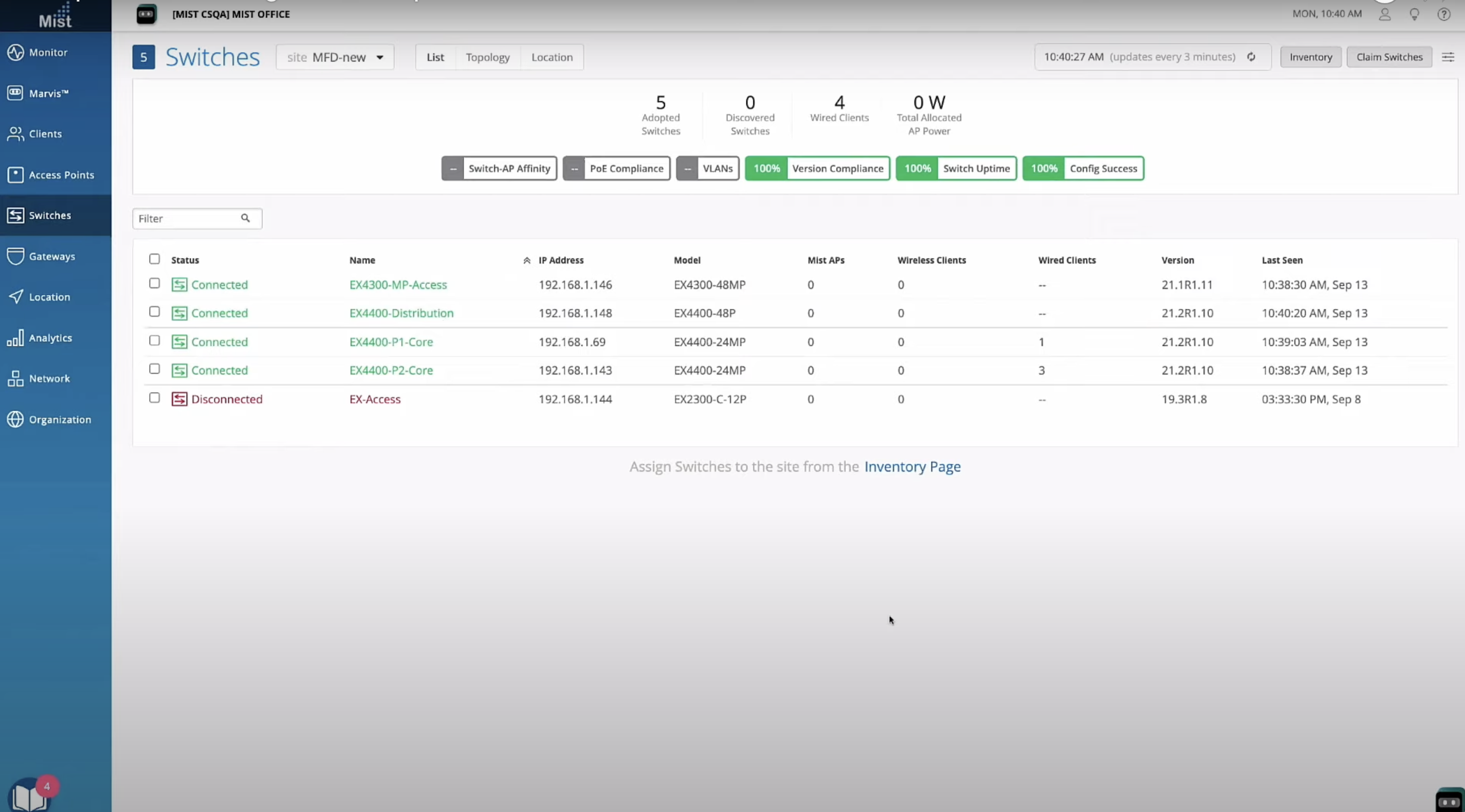 The Juniper Networks Cloud Mist deployment supports three campus architectures starting with EVPN Multihoming for really small sites with 2000 or so users to medium campuses. For these sites, it uses a collapsed core switche to enable the EVPN-VXLAN. The other two are Campus Fabric Core-Distribution and Campus Fabric IP Clos for larger campuses and HQs. Each of them has choices of access switches ranging from EX4400 to EX2300 platforms.
Based on the standard version of EVPN-VXLAN, Juniper Mist Cloud platform supports diverse architectures. With it, users can start small from multihoming and scale to the larger networks.
Final Verdict
Knowing the difficulties and challenges of campus fabric management, it pays to have a simplifier that ensures good user experience by enabling control through a single-pane system of management. In that, Juniper Networks' new deployment is a solution that has the flexibility, scalability and support that businesses on cloud would find incredibly useful.
Be sure to check out their other presentations from the recent Networking Field Day on techfieldday.com learn about the new things they have rolled out in the past months.