Object storage is fast becoming the de-facto primary storage in IT. Cloud object storage already has fast throughput, no doubt. But what if, there was an object storage that had better cost to performance ratio? At the Storage Field Day event of March, MinIO presented its Multi-Cloud Object Storage Solution which seems like a way better version of object storage as we know it.
Modern Applications Need More Power
The demanding AI/ML/DL applications of today are cut for high-performing cloud architectures. That makes performance and portability fundamental to any storage. And when an explosive amount of unstructured data is produced on a daily basis, storage needs to have superior cost performance for long-term data retention.
Security is a growing concern among IT companies today. Storage being infamously weak in that front, users need something with improved security. All things considered, what's required is a storage solution that supports multi-cloud tiering, enables data management across platforms and has security capabilities to protect against the newest strains of threats. And all that should come with performance at scale to support the most demanding of cloud-native workloads.
Object Storage Is the Way to Go
Object-based storage is fast becoming the chosen form of primary storage these days. From secondary tier 2 storage, it has risen to be the preferred form of primary storage. Industry-wide, object storage is seen today as a mature technology with capabilities to support tier 1 workloads. It enables better analysis of unstructured data, has better data security and delivers low-cost data retention.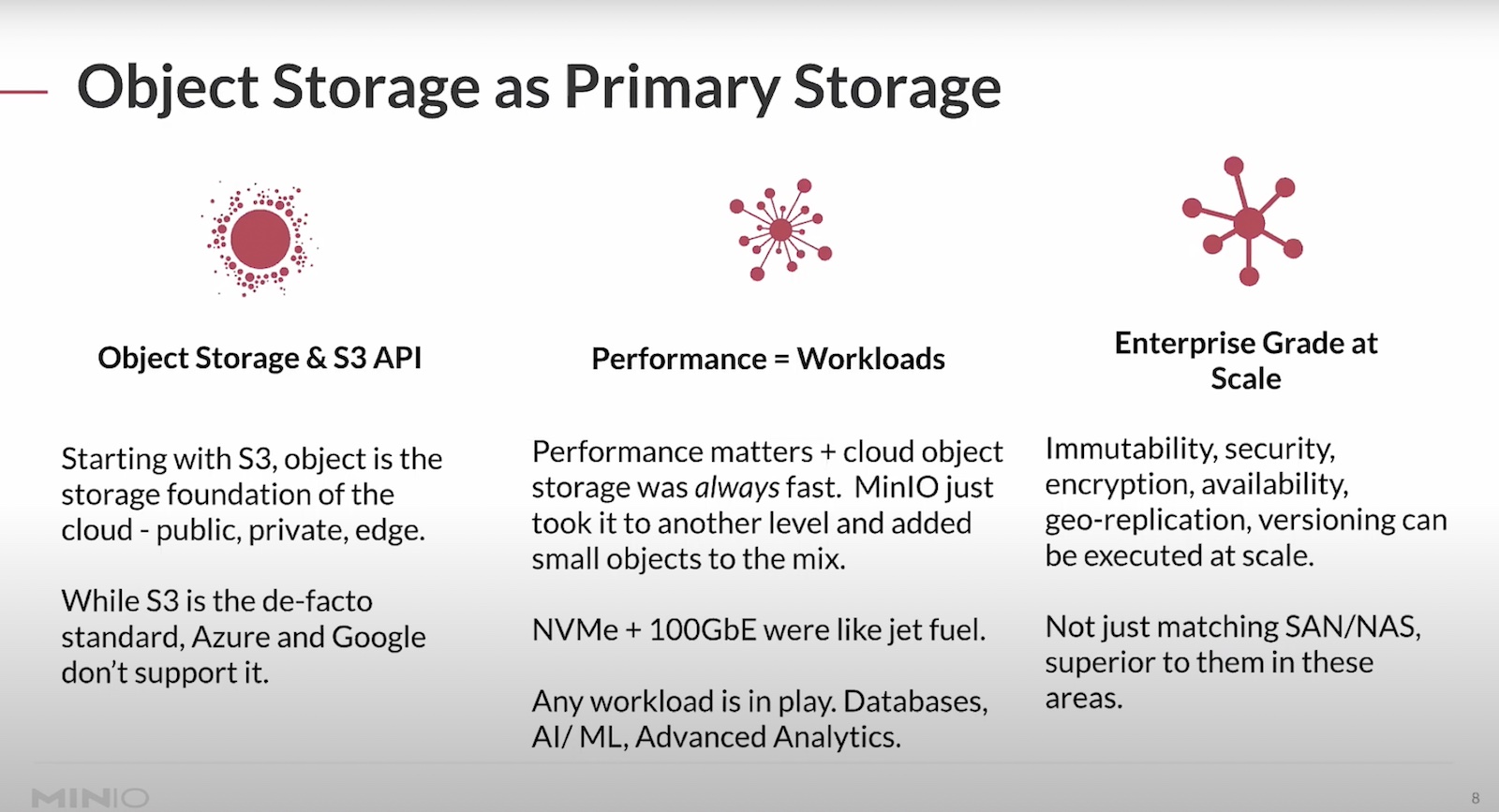 MinIO takes object storage a level higher by combining scalability with high performance in its Multi-Cloud Object Storage solution. S3 compatible, it supports all applications accessing through the S3 API. An object storage that is available on all public cloud, private cloud, colo and the edge, it is Kubernetes-native.
MinIO Multi-Cloud Object Storage for an S3 Compatible Data Platform in the Cloud Anywhere
At the recent Storage Field Day event, Jonathan Symonds, CMO, MinIO talked about their Object Storage solution and how it fits into the multi-cloud model that is driving the industry today.
MinIO is built to be an all in all cloud-native solution. Born in the cloud, it is designed with the key components of a cloud operating model like containerization, API, data orchestration and automation in focus.
MinIO sits on top of the universal Kubernetes infrastructure that connects the bottom-most layer of network, CPU and drives to the MinIO object storage layer. This stateful data store presents a common workspace to run a range of cloud-native applications.
MinIO is targeted primarily towards advanced workloads like real-time data analytics and AI/ML that hunger for speed and performance. Delivering record high throughput and low latency by utilizing NVMe SSDs and flash memory and leveraging disaggregation, it enables businesses to run more applications and process more workloads, even the HPC ones.
MinIO aims to uncomplicate cloud storage and make it simple for the users. With integrated intelligent data movement features, on it, users can manage and orchestrate data across cloud and other platforms.
In addition to that, MinIO also delivers fast backup and restoration. With security baked into it with features like immutability and encryption, MinIO Object Storage enables super-fast restoration from ransomware attacks ensuring minimal disruptions in the operations.
Final Verdict
With structured and unstructured data growing at a lightning fast speed, a performant object storage solution like MinIO's that delivers speed and elastic scalability is what developers need to compute complex AI/ML workloads across cloud platforms and in the edge. With its kind of performance, HPC workloads can be in reach of any business.
If you are excited to learn more about the MinIO Multi-Cloud Object Storage, visit their website or check out their other presentations from the recent Storage Field Day event.