As companies are making a beeline to avail the prized resilience and simplicity in the cloud, they are frequently coming into a reality they're not prepared for. Networking in the cloud era is proving to be overly complex and daunting, in other words, counterproductive. At last month's Cloud Field Day event, we had Alkira present for the first time. Their presentations were focused on the complexities of networking in the age of cloud and how Alkira is ironing out the kinks with their network infrastructure as a service solution.
Networking in the Age of Cloud Is a Nightmare
Cloud networking is wholly different from the lights-out, hands-off operations that we know. The advent of cloud has made consumption of network infrastructure at enterprise-scale absurdly complicated. Consider the hardware, the software and the entire ecosystem of management tools and licenses that a network constitutes, and it's not a surprise that OpEx is through the roof and CapEx is at a record high. To keep up, companies are raising their capitals to build and maintain their physical networks. Short of that, there isn't much else to do, and if you are a company that does not have the privilege of resources, you're out of the race.
For those that are in, things get trickier when the network expands and the complexity rises with it. More remote users are now connecting from distant addresses and the addition of cloud leaves IT teams scrambling to keep up. In that reality, companies designing solutions for networking should start at breaking down the network siloes and minimizing the hardware.
Alkira Reinventing Network Architecture
Founded in 2018, Atif Khan, CTO describes Alkira as a cloud networking company that is focused on catering to mid-market companies to large enterprises. Alkira provides network infrastructure as-a-service that enables customers to build a common unified network fabric flexibly spanning cloud, on-prem and remote users.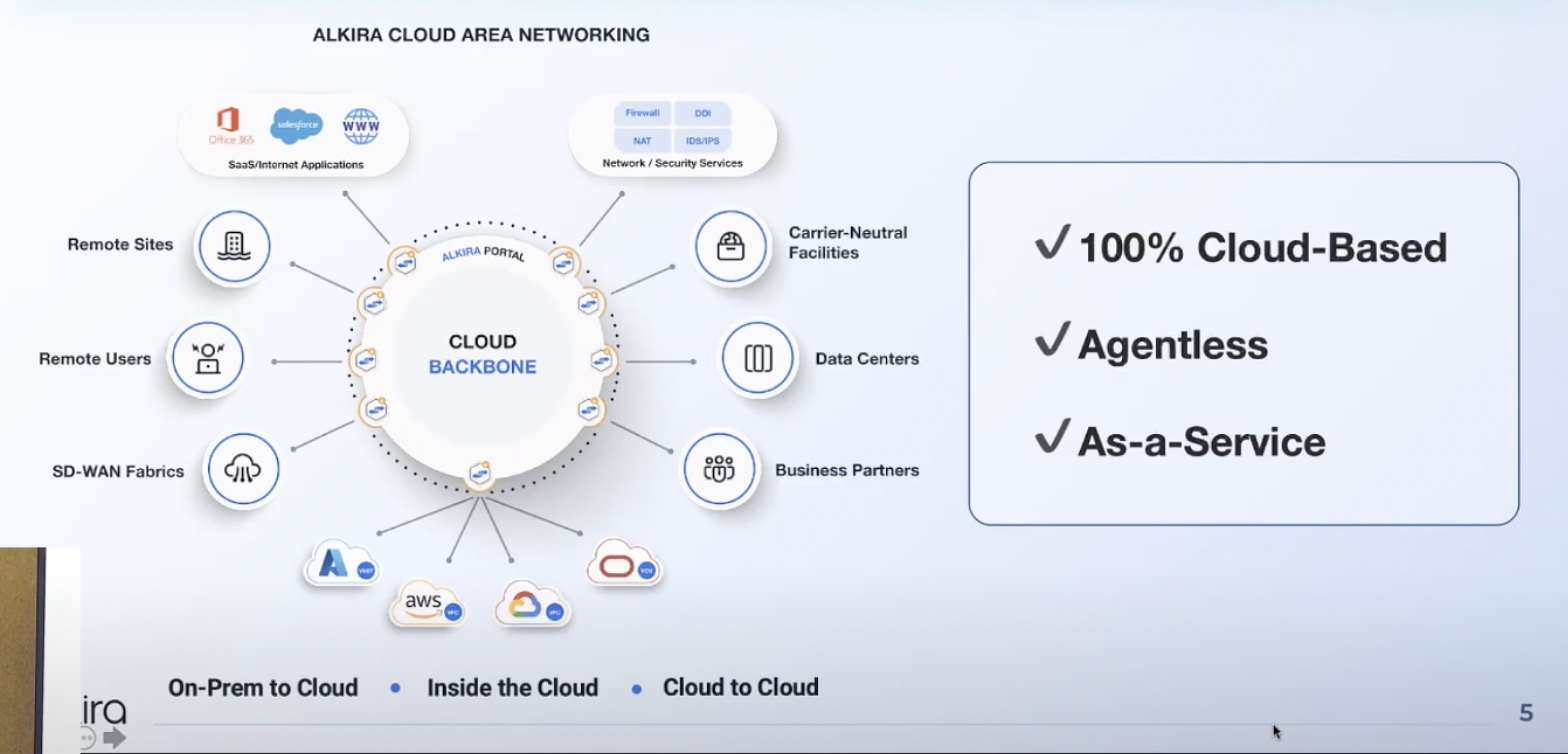 Alkira's Network as-a-service was launched in 2020 focusing on the weighty network complexities that stand in the path of simplified cloud networking. But instead of designing a networking solution that will down the road prove to be a half-measure for a much larger problem, the founders of Alkira decided to reinvent the network architecture itself and in the process built Cloud Area Networking.
Cloud Area Networking helping businesses build one unified network infrastructure across all public and private clouds is only one side of the coin. Built into it are a bundle of sophisticated security and networking features which are topped with a full stack of policy and management features that enable day 2 troubleshooting and provide uninterrupted visibility across the entire network.
A Closer Look at Cloud Area Networking
At the recent Cloud Field Day event in Santa Clara, California, Alkira showcased Cloud Area Networking. Atif Khan, CTO and Co-Founder at Alkira talked about the new challenges that have popped up in networking in the cloud era and how Alkira is empowering companies with a solution that overcomes those challenges by innovating networking.
Born in the cloud and deployed as a service, the Alkira Cloud Area Networking is a platform where all networks can be merged into one unified fabric. A service-only solution, it requires no dedicated hardware, but the most interesting thing is that it's not a software either, nor does it require to install agents in the client systems to function. Being a service, it has a pay-as-you-use model which keeps the expenses fully in control of the users.
Users can simply pick a location anywhere in the world and start building their virtual environment on it. The Cloud Area Networking platform features plug-in services. Alkira brings its own portfolio of services, and also allow integration with third-party services.
Sitting above this layer is a substrate of intelligent policy and management plane. The visibility and government comes at the top. All the three data, control and management planes are Alkira's own. The cloud backbone of Alkira is elastic and can be scaled as required without any service interruptions at the customers' end. Built to be highly resilient and available, adding a new cloud to the fabric is nothing more than a simple drag-and-drop action. Anything from users to sites to clouds can connect to the network directly through Alkira Exchange Points closest to that region.
The visibility and governance layer offers one-click provisioning which is highly timesaving considering the painstaking and lengthy provisioning process involving connecting users from different sites and clouds.
Final Verdict
Alkira's network infrastructure as-a-service provides enterprises the flexibility to build a virtual network of any size without having to invest in or endure the management nightmares of a physical network, from get-go. With point-and-click management and easy monitoring, it provides IT teams the ability to easily perform tasks like deploying solutions, scaling on demand and troubleshooting in no time at all. That is way more than any one networking solution can accomplish by itself.
To learn more about Cloud Area Networking, be sure to check out Alkira's other presentations from the recent Cloud Field Day event.