Amid the rising adoption of cloud, organizations are scrambling to let go of their on-premises infrastructures. Certain workloads are hindering their lift-and-shift to cloud. WEKA calls these the "impossible" workloads, and presents a solution that would help organizations balance out the snowballing infrastructure costs. At the Cloud Field Day event in June, WEKA presented WEKA 4, the newest version of their data platform designed to move the most generic to the most demanding workloads to cloud.
Workloads That Are Holding Off a Full IT Migration to Cloud
Broadly, there are two kinds of workloads – those that are made for cloud, and those that are not suited for cloud. Workloads that are good for cloud can be put in two buckets – the easy ones which are usually the first to go to cloud, and the not-so-easy ones, aka, the "impossible" workloads. These workloads are the barriers to cloud adoption.
Although not unsuitable for cloud like some workloads, the impossible workloads face a unique problem. For large scale AI/ML, life sciences, high frequency trading workloads for example that have high data gravity, the cloud ROI does not make a lot of sense. Then there are performance-hungry workloads that are likely to experience performance issues when moved to public cloud. In the cloud, these workloads need latency and performance equal to what they have on premises.
Re-Platforming Workloads with WEKA
WEKA attempts to knock down barriers in the way of wholesale and successful cloud migration. If you think about it, the thing that is truly preventing companies from hauling all their services off to cloud is not actually the workloads, it's the cloud storage.
WEKA splits up the present-day storage solutions into three basic categories. The first kind is the native cloud storage that is famously simple and quick to deploy but is also slow, and pretty limited in terms of features. The second kind is the cloud-adjacent storage solutions. These are a weird cross between cloud and on-prem that are missing all of the good stuff of the cloud. In reality, these are often legacy storage arrays masquerading as cloud solutions. The third and the last kind is a cloud solution built from the scratch, named eponymously as the vendor's on-prem solution, but has very different features.
Colin Gallagher, Vice President of Product Marketing, WEKA, says, "Customers tell us that cloud needs to be a deployment location and not a set of features." So WEKA focuses on giving them "the exact identical capabilities on premises, in the cloud and at the edge."
WEKA does this by running the selfsame code on-premises and in the cloud. Born in AWS, WEKA has been helping enterprises move their data to AWS since 2017. By bundling up compute and storage together, in this case EC2 with S3 capacity, it delivers 2 to 10 times better performance in AWS. WEKA also provides a broad protocol support that makes data concurrently accessible through POSIX, SMB, NFS, S3 and more.
WEKA 4 for Multi-Cloud Data Movement
At the recent Cloud Field Day event, Gallagher showcased WEKA 4.0, a data platform designed for some of the most demanding workloads. In a short introductory presentation, he gave the audience an overview of the platform and discussed some of its use cases explaining why WEKA calls it the platform for "impossible workloads".
Mid of this year, WEKA announced the fourth generation of their data platform, WEKA v4.0. In it, WEKA packs all its capabilities for AWS and makes them available on all major cloud platforms namely, Oracle Cloud, Azure and Google Cloud. With this, it creates a ramp connecting multiple clouds that makes deployment of all kinds of workloads, even the most demanding kinds, swift and easy.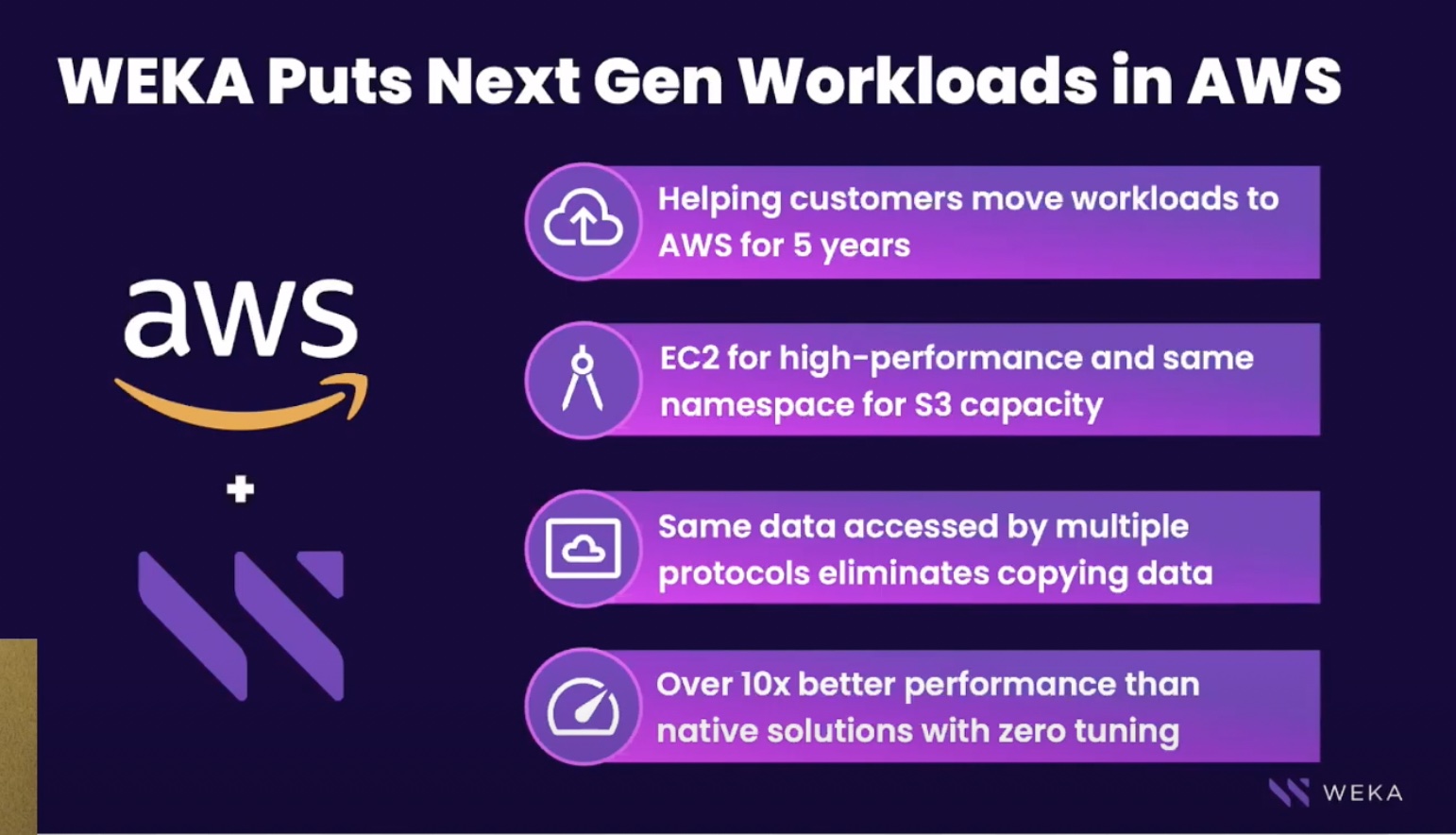 Moving workloads to and between clouds with WEKA 4.0 is quite simple. It captures non-destructive self-contained snapshots of data in private cloud that can be easily populated in the cluster. WEKA 4.0 has a zero-copy architecture which allows data to be accessed universally across applications without having to make multiple copies. This reduces cloud footprint by a lot, and as a result shrinks cloud spend.
WEKA v4.0 comes with advanced data reduction capabilities that compress datasets and identify near-identical data blocks storing only the differences. This leads to much better cloud economics.
Performance-wise, WEKA 4.0 brings the extreme I/O performance at low latency that is more akin to on-premises, from AWS down to all cloud infrastructures. v4.0 hooks into the native storage capabilities like the S3 data lakes of cloud platforms to deliver optimum scalability.
WEKA 4.0 is optimized for both sequential and random I/O and small and large files, and requires virtually zero tuning. Benchmarks show that WEKA on OCI delivers a 2TB throughput per second and 17 million IOPS. This performance is linearly scalable. As your clusters scale, you get more IOPS.
A new feature on WEKA 4 is continuous updating of changes in the filesystem. This means that users don't have to unmount and remount the filesystem on and off disrupting the workflow to see changes reflected in the system.
Wrapping up
With its new release, WEKA is a more mature and agile platform to make the transition to cloud. For a company that is looking to make big steps towards cloud migration, this is a great platform to turn to. WEKA 4 enables a simplistic and non-disruptive re-platforming of both common and compute-intensive workloads. And that is not all – the best part is that it makes movement of these workloads to, on and between clouds easy and economical.
Be sure to check out WEKA's deep-dive presentations from the recent Cloud Field Day event to learn more about WEKA 4.