Security in a hybrid multi-cloud environment comes with its fair share of complexities and pain points. The way to move past those is to have a SASE in place which irons out the differences in security policies of multiple platforms while ensuring ironclad security and compliance for the users. Versa Networks presented a SASE product at the Security Field Day in October which closely fits this description. Let's have a closer look.
Security in Multi-Cloud Environments
A challenge businesses face these days when migrating their data, assets and applications to cloud from an on-prem cloud setup is security. These companies often find themselves wanting for a security setup between on-prem and multi-cloud environments that is cloud-agnostic. Having cloud-native controls and cloud-neutral security ensures a sound cloud environment across providers.
In the multi-cloud environment, the next thing to do is to make sure that workloads from one cloud do not spill out of their separate containers and get mixed up at micro or macro levels. For this, a business needs to pick the right hyperscaler with whom switching between clouds is least bumpy and assured with a cross-cloud security compliance.
Versa Networks' Portfolio in Network Security
Currently a leader in SASE technology, Versa Networks was founded in 2012. Headquartered in Silicon Valley with offices across the United States and outside, Versa caters to over 5000 clients worldwide. As a SASE vendor of high reputation, Versa brings to offer end-to-end network security solutions for businesses of all sizes and verticals.
Versa Networks through its years of operation has strived to achieve three things through its growing portfolio- simplification, scalability and security. Following the goal to make user-app connectivity more flexible, Versa has combined security with networking to solve the issues of connectivity for branches, distributed workforces and clouds.
A Closer Look at Versa SASE
Rohan Ravindranath, Versa Networks' Principal Solutions Architect presented the Versa SASE at the recent Security Field Day Event. Following a brief overview of the problems faced in the context of security in multi-cloud, he takes the viewers through the different features and functions of Versa SASE and explains how it helps make hybrid multi-cloud environments secure and compliant for enterprises.
Versa Networks' SASE is a software-defined stack that is designed to bring together dedicated security stacks with varying upper limits. The Versa orchestrator allows users to instantiate viewers across on-prem and cloud environments so that it automatically downloads all the required security templates and bootstrap the devices, giving ultimate end-to-end cloud protection with zero-touch provisioning.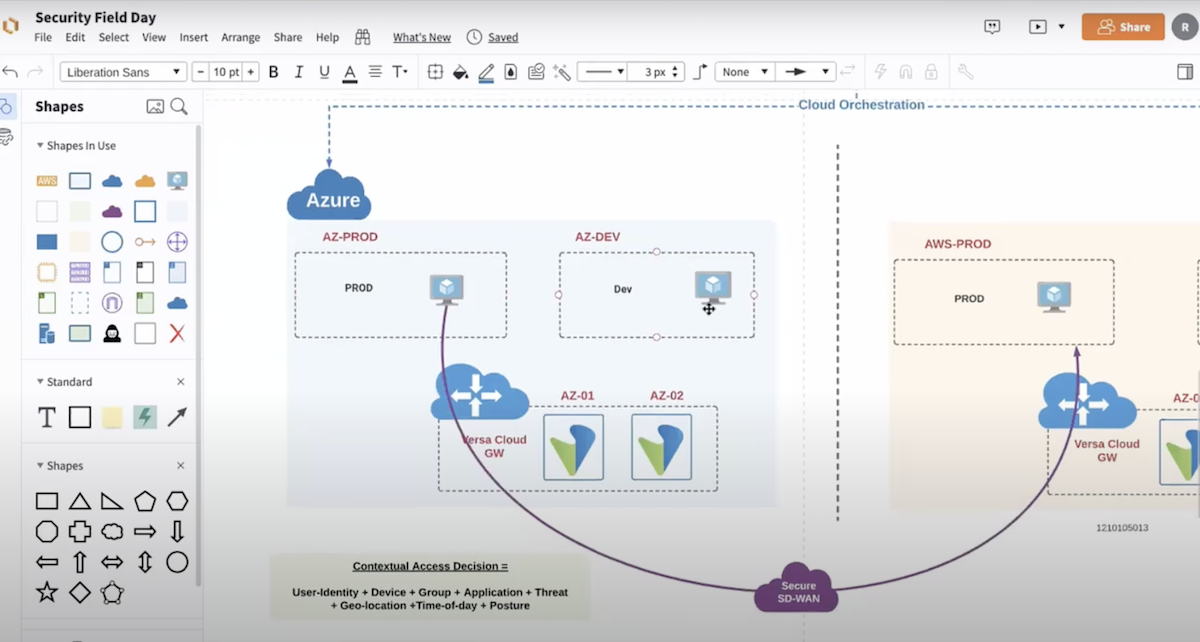 Versa Networks' goal with Versa SASE is to make sure that enterprises do not have to go through the pain of redesigning their security every time they move to multi-cloud or multi-environments. To that end, Versa introduces a security template that can be programmed as required to use across countless instances regardless of the platform or environment.
So when a remote user or distributed workforce working from home tries to gain access into a private internet or workload, they can do so by simply dialing into the SASE system for seamless access.
Final Verdict
Through Versa SASE, Versa Networks has checked a lot of boxes that were formerly unchecked in network security. Having taken layer security from layer 2 to layer 7 perspective, it has made app connectivity simpler, safer and seamless. Overall, it's a reliable solution that simplifies security making it a largely automated and hands-off experience for its users.
Check out all of Versa Networks' Security Field Day presentations here.