COVID happened, work from home happened. With remote work came new traffic patterns, constant security violations, and increased vulnerabilities as teams used their own devices and home networks. Gluware's intelligent network automation solution went from a nice to have – to a necessity.
This change broke the on-prem seal. No longer could an end-user call tech support to their desks, and no-one could physically touch the equipment. This revolution is driving deeper and deeper network automation to ensure data and network access is secure.
Gluware set its sights on fully developing and updating its SaaS offering in the face of this sea-change. With several enhancements in Gluware Enterprise and the launch of its new Gluware Pro, the company has succeeded in creating a next-gen SaaS offering that ticks a lot of boxes.
Gluware Gets SaaS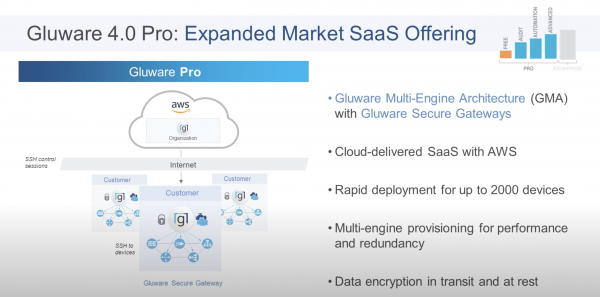 The new Gluware Intelligent Network Automation 4.0 release now contains Gluware Pro, the company's SaaS offering, which started cloud-native from day one on multi-engine architecture, a key to scaling for either one customer or a host of customers.
The tiered SaaS offering includes a free tier for network inventory and expands the Gluware Enterprise offering's scale and flexibility. Gluware Pro is designed to work for networks of up to 2,000 devices and delivered on AWS.
The SaaS offering has three tiers and a free offering, which allows the Device Manager to perform network discovery and inventory for anything up to 100 devices, includes a 45 day free trial of both Config Drift and the Audit app. This allows users to try out the system and use Gluware's network automation to identify network problems at no initial cost.
The three Gluware Pro tiers are Audit, Automation, and Advanced Automation. According to Gluware, the Pro Audit tier includes Device Manager and the Config Drift and Audit app. The Automation tier adds OS Manager to automate OS upgrades, while the Advanced Automation tier adds full intelligent configuration management with Gluware Config Modeling's power.
The Gluware Secure Gateway (GSG) is designed to provide a secure SSH connection to the AWS-hosted Gluware instance for Gluware Pro and Gluware Enterprise offerings. The GSG is part of the multi-engine architecture to leverage an integrated Gluware Engine Server component to execute the provisioning jobs (inventory, drift, audit, config management) via SSH to the network devices, keeping all of the device connectivity on the enterprise network. According to Gluware, a single GSG is designed to offer dual provisioning engines, and Gluware Pro supports the deployment of two GSGs on each customer network.
Gluware 4.0
Gluware's 4.0 release also adds new features, including interactive dashboards, config search, ad-hoc query, Syslog integration, multi-vendor EVPN-VXLAN, and more. It also includes increased vendor support with Aruba and Juniper and introduces Terraform integration for multi-cloud IaaS automation.
Gluware 4.0's interactive dashboards are user-intuitive. Having previously been very software-focused and not so focused on making the system 'pretty', Gluware has now prettied up its system for users' benefit, making the dashboard more comfortable to use and easier on the eye. The Gluware Enterprise dashboard can have as many personas as a user wants for admins, for executives, for audit, and is fully customizable. Dashboards is the new home base, and Gluware is rolling out this new look and feel through its UI (including a dark mode for those of us with not so great eyes!).
Other features included with the Gluware 4.0 release include:
Unified and Enhanced Device Logging: Creates a unified look and behavior for all device interactions with color-coded logs for simplified understanding with search
Banner Acknowledgement – Supports user define Gluware login banner and acknowledgment
Open Domain LDAP & RADIUS – Optionally removes domain name requirement for authentication
FileServer Proxy Support – Ability for the Master FileServe and its remotes to be behind a single proxy
OS Manager Anonymous FTP Support – Support for FTP mode
Enhanced Global Settings – New and updated settings, including SMTP, are available in the updated system settings
Overhauls
Talking of UIs, Gluware is completely overhauling its UI, including low code no-code drag and drop (robotic process automation and workflow management). This is an app it is building with the same UI tech drag and drop. It will also have more visualization topology. The reason Gluware created this is that the company will begin to focus heavily on analytics.
The company is also officially throwing its hat into the multi-cloud ring, with terraform integration and onboarding native calls with AWS Azure and GCP.
A New Shine
Gluware 4.0 is not just a matter of the company automating current production networks, which have shined in the past, but now it also has the customer base and know-how to go out and automate cloud environments. 
Gluware is one of a handful of companies that can intelligently automate both current production networks in an intent-based manner, as well as modern cloud networks.