Pure Storage announced today, February 16th, 2021, that the FlashArray and FlashBlade are expanding their support of Fibre Channel and SMB connectivity protocols. The 3.2 release of Purity//FB adds native SMB 2.1, enabling it to support more applications including shares between both NFS and SMB clients. Purity//FA 6.1 now supports NVMe and ActiveCluster connections over low-latency Fibre Channel and adds a "SafeMode" to protect snapshots from ransomware. These enhancements cement the use cases for Pure's storage solutions in the datacenter.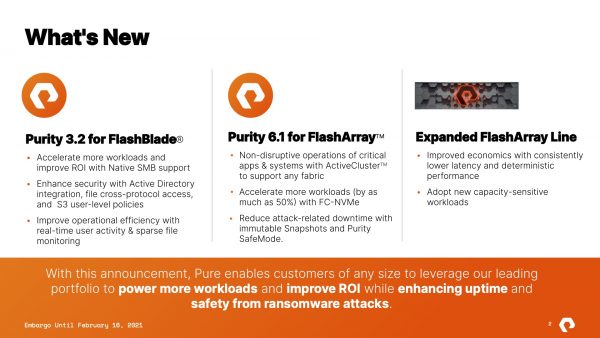 Cross-Platform FlashBlade
FlashBlade was introduced in 2016 as a massively-scalable all-flash array but has always supported NFS. Still, the product was mainly intended for new markets and applications, not as a mainstream storage array. The primary goal of the product was to be scalable and offer diverse interfaces, contrasting with the existing FlashArray which supported structured data.
Over time, Pure Storage added new capabilities and expanded the range of applications for FlashBlade. In 2017 Pure added object storage for next-generation applications, including cloud-native applications and large data stores for AI and analytics. This was a clever move for Pure Storage, since it expanded the range of applications for all-flash storage without cannibalizing the core FlashArray market.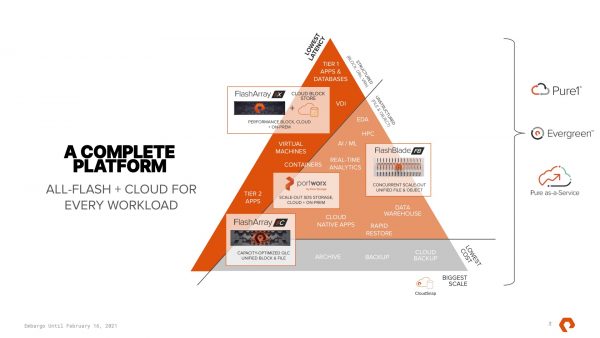 Purity//FB version 3.2 brings another long-awaited protocol upgrade to the FlashBlade platform. Now touted as "Unified Fast File & Object", FlashBlade supports multi-protocol NAS access, mixing NFD and SMB clients. This broadens the range of applications for the FlashBlade platform, opening the door to use cases like SQL backup and PACS imaging. And this, in turn, makes Pure Storage more relevant in industries like healthcare and media.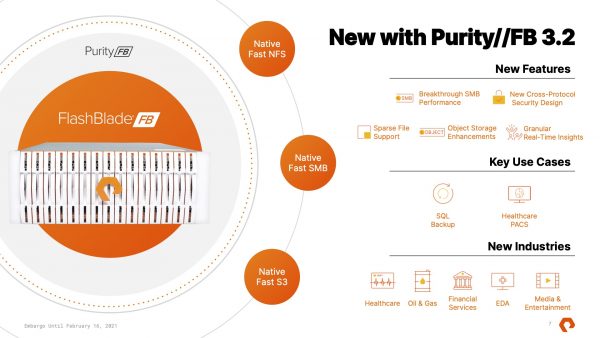 For now, Pure only supports simple SMB 2.1 access, but the range of SMB features supported will likely expand. The company claims that this was an internal development and is unrelated to its recent acquisitions. Given the scope of the SMB protocol, it deserves credit for taking on the project and delivering even a basic level of SMB support. If its history is any judge, the new protocol support is a deep rethinking of the entire platform, not a simple protocol gateway.
NVMe Over Fibre Channel
Another big story out of Pure Storage is the further expansion of Fibre Channel support in the mainstream FlashBlade. Purity//FA 6.1 adds support for ActiveCluster and NVMe over Fibre Channel, which dramatically reduces latency and increases throughput for applications using them. It also adds a "SafeMode" for snapshots, protecting them from ransomware.
FlashArray is a familiar product for Tech Field Day viewers and Gestalt IT readers, and has become one of the dominant products in the modern datacenter. It is an all-flash storage array supporting mainstream workloads, including SAN and NAS, and can be expanded with QLC flash capacity.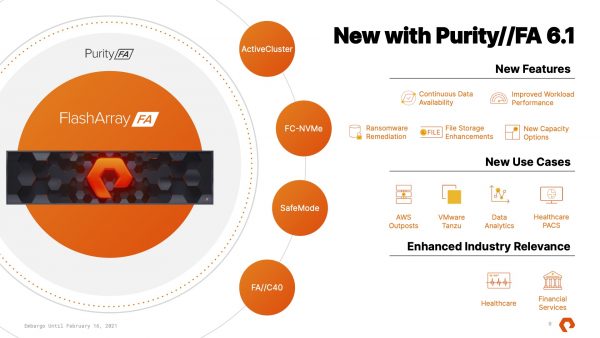 Although FlashArray has long supported Fibre Channel connectivity, ActiveCluster and NVMe was not supported there until now. ActiveCluster has used IP based connectivity since its 2017 introduction but will be much faster now, thanks to Fibre Channel. Pure promises 5 ms latency for FC clusters, a reduction of more than 50%. NVMe support was previously limited to RoCE but now adds Fibre Channel Fabrics, an increasingly popular alternative. One assumes that the company will add NVMe over TCP/IP in the future, but that's not part of version 6.1.
Another interesting new feature is SafeMode. This marks snapshots as immutable, protecting companies against increasingly-sophisticated ransomware attacks. We are hearing that ransomware is targeting backups, snapshots, and archives these days, and SafeMode will block that avenue of attack. Pure Storage tells us that even administrators and the vendor itself will be unable to delete a SafeMode snapshot! Although this is an optional feature for now, we're excited to hear about this new capability.
Stephen's Stance
Since the very first product, Pure Storage has remained focused on the mainstream storage market, and Purity//FA 6.1 is a nice upgrade. I am especially excited to see what SafeMode can do to protect against ransomware, but the FC updates are a nice added capability. And the expansion of the company's footprint into scale-out applications thanks to SMB support in Purity//FB 3.2 is a great enhancement as well.