Most of us can't imagine computers before SSDs. SSDs, without a doubt, stand for the best of innovation in storage in the recent years. In one fell swoop, they changed the storage game everywhere, from consumer electronics to datacenters. But as innovation marches on, the top-tier workloads are once again in need of more capacity and processing power. As we approach the limit of computing power, the demanding nature of new workloads is telling us one thing- we need a better SSD.
Recently, Gestalt IT's publisher Stephen Foskett met with JB Baker, VP of Marketing at ScaleFlux to learn about their offerings that seem to perfectly fit the definition of a better SSD.
More of the Same
The past few years, vendors have been working at a frantic pace, bringing to the market new lines of SSDs from budget SATA to blazing fast NVMe. For the most part, these products live up to the hype. But they don't particularly stand out from one another in any significant way that matters to the workloads.
"If they're on PCIe Gen 4, they all have this same range of performance. It's a similar curve for everybody in terms of how they perform across various workloads," noted Mr. Baker. "A 1 Drive Write Per Day (DWPD) class product that has one group of performance curves, and a 3 Drive Write Per Day will have a slightly higher set of performance curves," he added.
Vendors make their case on performance numbers and prices, but with very narrow margins, they are really more of the same. In the end, they're unable to fully meet the skyrocketing requirements of high-performance workloads like AI/ML and data analytics. As far as enterprises are concerned, their workloads are still starved of performance-optimized storage.
ScaleFlux and Computational Storage
ScaleFlux's SSDs are however a class of their own. ScaleFlux took an ordinary NVMe SSD, and elevated it with computational storage.
For years, compute and storage have been put in separate bins. Now architects have reason to believe that moving data between storage and CPU wastes power which can be otherwise used to process data. Computational storage is an architecture that provides computational storage capabilities within the storage.
By bringing compute to where the data is, computational storage enables faster data-processing by taking load off of CPU. Reduced data movement and workload offloading also lead to lower power consumption.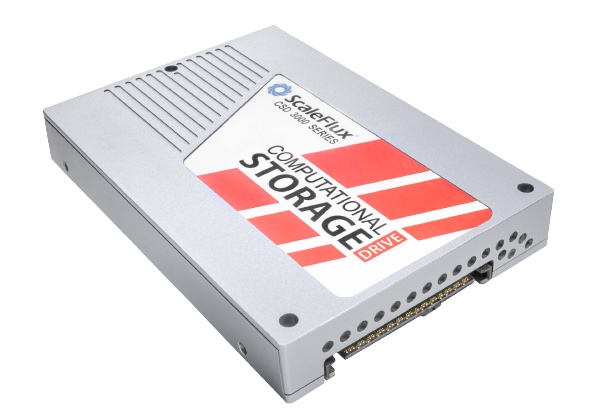 With innovation focused around computational storage, ScaleFlux has come up with two lines of drives – CSD 2000 and the more recent CSD 3000 that deliver significantly better performance and surprisingly more capacity.
"What we have done is integrate a computational storage engine into an ordinary NVMe SSD functionality. That's how we get to being a better SSD," informed Mr. Baker.
High performance workloads can greatly benefit from ScaleFlux's SSDs for the obvious reason that they introduce computation capabilities in storage itself, thus reducing latency. But the benefits don't end there. ScaleFlux intelligent SSDs have onboard compression and decompression engines that perform transparent in-line compression for optimized capacity. Data is compressed as it's written and uncompressed when reading. This allows users to store data up to 4 times the physical capacity of the drives.
"We do compression right in the drive. So as long as the data isn't encrypted before it gets to the drive, we get to see a benefit in terms of the performance, endurance, and latency," said Mr. Baker.
ScaleFlux integrates everything into a single chip for significant, power, space and cost savings. In addition to that, ScaleFlux SSDs also retain the standard capabilities of enterprise-class SSDs.
"We provide power loss protection, and end to end data protection on all of the buses."
ScaleFlux is simple to deploy and works with any NVMe compatible server. ScaleFlux drives come in U.2 form factor.
Wrapping Up
ScaleFlux drives undercut a lot of the products in the market in terms of performance, capacity and economics. They're fast and highly capable, and offer good value for money when compared to other drives. But their real superpower is high capacity, increased endurance, and most importantly, superior application performance at an overall low cost per GB, which means users can take advantage of them for a lot of burdensome workloads.
To get a demo, head over to ScaleFlux's website. For more such stories, keep reading here at Gestalt IT.