While cloud vendors and edge computing companies are absorbed dialing into new opportunities in their respective fields, HPE has eyes set on a much bigger game. As a technology company, Hewlett Packard Enterprise needs no introduction. Its decorated reputation and inventory full of iconic technologies make the case. But in the past few years, HPE has sustained some down curves in its trajectory since it parted ways with HP Inc.
Sunny Days Ahead
The split was necessary – an action taken to separate the PC business from the cloud business, and now post-COVID, as an economic slowdown looms on the horizon, the market has started to look favorable for HPE. And with all the ways the company has reset since 2015, it is now extremely well-positioned for a better future.
HPE has some exciting goals set in the coming years. Having gathered steam from undergoing several internal recalibrations, it is now going full speed ahead towards those goals. But HPE's not aiming for small successes; its goals transcend the smaller ambitions of other vendors. CEO Antonio Neri, the man behind the wheel is determined to restore the company's former glory, and that begins with revitalizing the market. His ambitions are fueled by a cloud vision so complete that very few in the industry can match it.
Shifting Gears
Market reports clearly show that whatever Neri's gameplan is, things are going well. There has been a substantive uptick in share value since October, and decent revenue numbers were reported by the Aruba Network division. These developments bode well for the future.
A lot of HPE's recent efforts are geared at converting into a subscription business whereby its products and technologies would be offered as services as opposed to conventional products for one-time purchases. HPE adjusting to the subscription economy is more than just a momentary thing. It plans to grow its XaaS portfolio through the coming years. The new HPE GreenLake for Private Cloud Enterprise is another step in that direction, as HPE pushes the XaaS model deeper into its portfolio.
HPE GreenLake
For those you who're unfamiliar, HPE GreenLake is a platform that connects cloud to on-prem and edge. Through GreenLake, HPE extends the advantages of public cloud to on-prem and the edge. As noted earlier, HPE is not in the cloud business like other hyperscalers. It has its eyes set on the hybrid infrastructure market instead.
To power the hybrid market and drive up adoption of hybrid infrastructures, HPE's GreenLake plays a pivotal role. Very few companies, besides HPE has the fullness of portfolio to create a service as comprehensive as HPE aims to build with GreenLake, and for that it has a competitive advantage over others.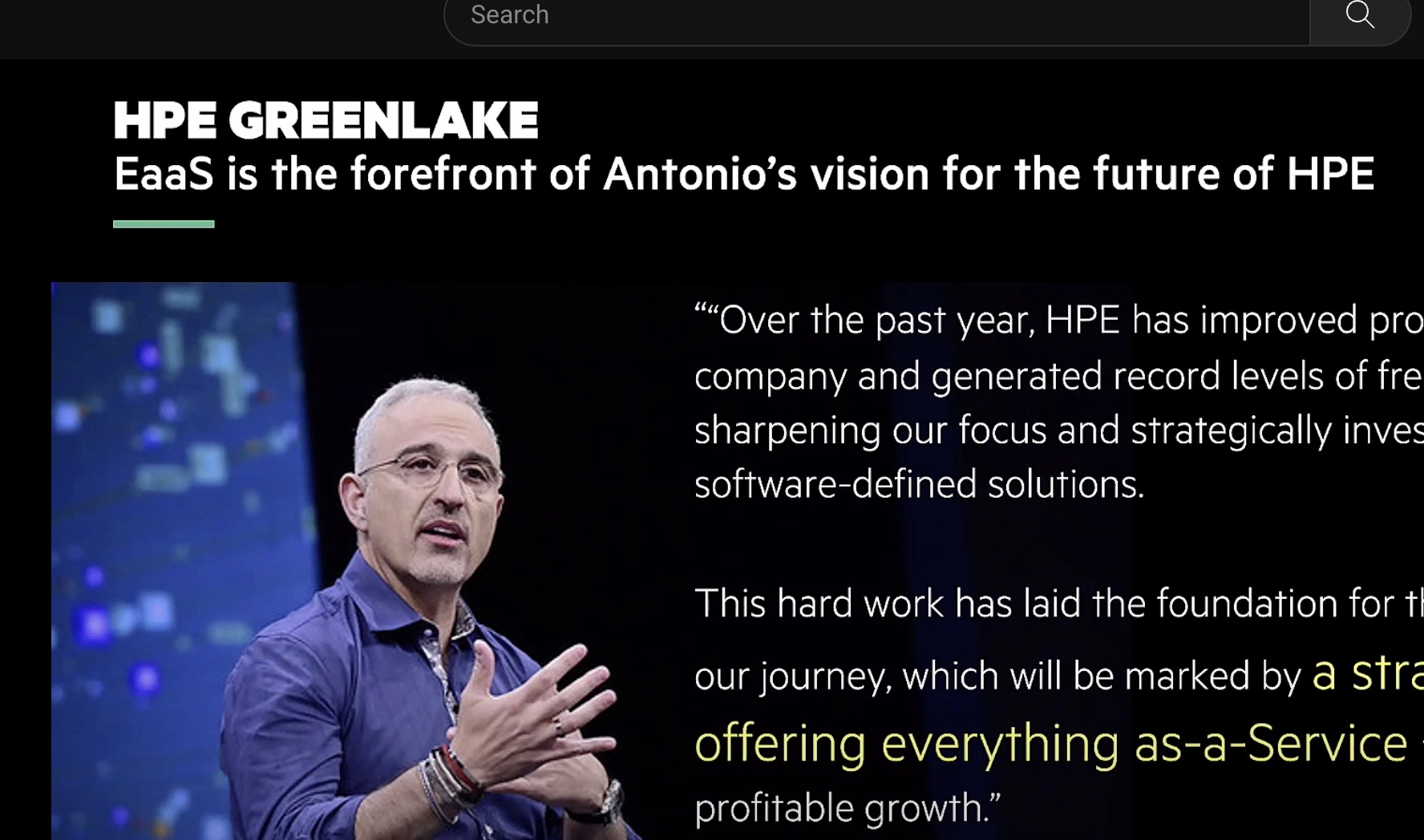 What does GreenLake do? Besides creating a secure and open edge-to-cloud superhighway to unify the estates of a hybrid environment, it has a set of pre-packaged infrastructure configurations of varying sizes to choose from. It allows users to provision VMs and containers from a central control plane that HPE aptly named GreenLake Central. Users can also validate and resolve compliance issues on the portal.
Next up, HPE tackles the troubles of app migration with HPE Ezmeral. Ezmeral is a data management platform, which in this case GreenLake customers can use to move applications and data around using one interface.
Additionally, HPE provides users cloud consumption analytics on GreenLake Central so that they can monitor, measure and manage their resource consumption and spend.
Much like public cloud, HPE's consumption model for GreenLake is as-a-service. HPE fully manages and maintains its infrastructure, meaning users have no responsibility whatsoever. For all intents and purposes, it is its own cloud. In fact, judging by the more recent GreenLake releases, analysts believe that GreenLake will eventually turn it into a full-blown cloud service.
Tapping into the Private Cloud Trend
This year, HPE made a flurry of important announcements. Earlier in July, HPE announced GreenLake for Private Cloud Enterprise, a new offering that enables organizations to have their own private cloud that combines the comforts of public cloud and facilities of on-prem. With it, enterprises can deploy cloud-native and traditional workloads on-premises. One of HPE's biggest announcements this year, the new version of GreenLake offers HPE customers a hands-off experience on-premises.
Built with the goal to accelerate the original GreenLake platform, HPE has retrofitted Private Cloud Enterprise with a bundle of new capabilities that brings users a customized private cloud experience on a pay-as-you-go model. The platform has improved automation and scalability, backed by enterprise-grade SLAs.
HPE's announcement of GreenLake for Private Cloud Enterprise came at a time that worked favorably for both the company and its customers. In the current recessionary market, where customers are retrograding to an in-house operating model in an effort to cut back cost, a private cloud service is exactly what they need to find a balance between optimizing cost and using cloud services.
Other Expansions
More recently, HPE expanded its GreenLake for Private Cloud Enterprise by adding in a set of new capabilities. These include integration with the Amazon Web Services EKS Anywhere Kubernetes service, six new instances for storage, memory and compute, and improved cloud cost analytics. There's also an early access program for the new HPE Ezmeral Kubernetes for those who are interested.
The new features are likely to bring down the costs of hybrid cloud deployment, while making the process push-button simple.
The Server Tug of War
Meanwhile, HPE is also engaged in a tight race with Dell Technologies, with both vying for the leadership crown in the server market. In order to get ahead in the game, HPE is building a computer portfolio focused on AI/ML. As part of that initiative, HPE recently released the ProLiant Gen11 servers.
Coming from a long line of ProLiant servers that have been a staple in HPE's portfolio for years, the 11th generation is primed for AI, ML, Data Analytics, virtualization and other compute-intensive workloads. All of ProLiant servers are optimized to deliver high performance on all popular hardware architectures including the latest AMD EPYC and Intel Xeon Scalable processors.
A Possible Merger on the Horizon
Besides Dell, another company competing closely with HPE is Nutanix. Nutanix is an established name in the cloud space, especially in hyperconvergence sector. Word is, HPE is on the path to acquire Nutanix.
All major news channels have reported that the Nutanix buyout is a distinct possibility for HPE this holiday season. If the Wall Street rumor mills are to be believed, the talk of this acquisition has been going on since October. If it comes to pass, it will be one's HPE's biggest acquisitions that will give its GreenLake XaaS platform a major boost.
Wrapping Up
Since Antonio Neri took over as the new CEO, HPE has doubled down on getting more XaaS products into its portfolio, committing more and more to the hybrid cloud market. Under his leadership, HPE is set to make a full recovery from the past bumps and is ready for a comeback. The Nutanix buyout will hopefully seal the deal and give HPE the thrust it needs to make a breakthrough in cloud. While that may still be a few years in the future, it is likely the key to its success in the coming years.
Watch HPE Aruba present GreenLake at the Networking Field Day Experience at Aruba Atmosphere 2022 at the Tech Field Day website. For more exclusives like this, keep reading here at Gestaltit.com.