You may have just seen the exciting news that Ekahau is getting acquired! The hottest name in wireless design and planning today is getting acquired by Ookla. You may not recognize that name, but I can almost guarantee you that you know the brand they own – http://speedtest.net.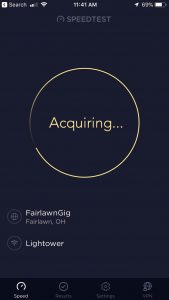 Why Ekahau?
Ekahau has been turning the wireless design market on its head for many years now. From their first humble presentation at Wireless Field Day 2, Ekahau has been building a rock-solid platform that appeals to a wide range of professionals in the industry. One of the reasons why is that Ekahau has always been responsive to the needs of the wireless professional. They've constantly improved their software by adding features that have been requested. They've added tools and views that make it easy for pros to focus on their job and not on making software work.
The biggest piece of Ekahau's wireless tool arsenal may also be the smallest: The Sidekick. This little diagnostic device packs a huge punch. I've talked to several Wi-Fi pros that have used them and the reviews are all positive. The Sidekick provides the flexibility needed to collect data about wireless deployments and designs without the need to Velcro adapters all over your laptop or 3D print something to keep them all in line.
Why Ookla?
Where does Ookla fit into all this? I had the opportunity to talk to Jussi Kiviniemi (@JussiKiviniemi) today about the acquisition. He told me that Ookla had been looking to acquire a good company that had a similar alignment to what they are doing from a metrics standpoint. As the discussions with Ookla went on, people on both sides recognized that there was a huge culture fit between the two companies that would benefit them both.
Ookla doesn't just operate an Internet speed testing company. They have built an entire enterprise business around the things that Speedtest enables, such as enterprise network analytics. Now, instead of just figuring out how fast your Internet connection might be, Ookla can also tell you about latencies inside your network. And they can do it on a continuing basis. So you can see where slowdowns happen and how you can mitigate them.
But wireless is a huge part of the enterprise campus network today. And wireless metrics are a bit different from traditional wired measurements. You need to know about retry rates and duty cycles and co-channel interference. You need to partner with a company that has a history in measuring those metrics effectively and showcasing them to the user in a way that makes sense. And that's why Ekahau is a great fit for Ookla and their plans to expand in the enterprise.
Ekahau gets the backing of a big company with lots of enterprise experience. They get a partner that can introduce them to new markets and place the intelligence of Ekahau's toolset front-and-center with a lot of clients. Ookla gets the benefits of the leading company in the wireless industry. And both companies get to trade smarts about analytics and design. It's a win-win.
The Future
Ookla intends to operate Ekahau as an independent entity. The Ekahau brand will remain and be operated by the existing management team. The reaction so far to this news is positive. Sam Clements (@samuel_clements), Wireless Practice Manager, said that the acquisition is "a strong cultural fit." He went on to say, "this match seems far more complimentary than many our industry has seen in recent years." This does bode well that the partnership of the two companies is so well received and will continue to pay benefits in the future.
For more information, make sure to check out Ekahau.com.