This pandemic has completely changed many of our working conditions and environments. People went from working in an office to working from home. This has provided companies that host events with a very hard adjustment to make. Gian Poalo Boarina provides us with some tips on how to have an effective setup for presenting without breaking the bank.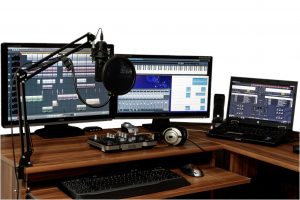 The first item on your tech shopping list will be a webcam. Laptop cameras are generally a poor choice for presenting at a virtual event, so Gian recommends a Logitech C920 Pro if you are in need of a high quality, low-cost webcam. Next, you might be looking to buy LED lights if you do not have a lot of natural light where you are recording. The recommendation for lights is to buy cheap, adjustable USB LED light panels to provide users with a clear image while you present.
For a few more tips on how to optimize your home office setup, take a look at this post by Gian to check the link below.
Gian Poalo Boarina comments:
Due to Covid restrictions NFD23

as many other events is remote.

As a delegate

it is my duty to adjust the quality of my home studio to the standards that viewers of Tech Field Day

events expect.
Read more at Home office setup for remote events on a budget