In this day and age of working from home (WFH), especially at a company like Gestalt IT where we make lots of video-related content, having a good audio/video (A/V) setup is crucial. I mean, in reality, your laptop's built-in microphone and webcam work just fine, but when you want crystal-clear sound and picture quality, you need to have the right equipment.
An Ideal AV Setup
If you're in need of some tips on how to make the most of your WFH A/V setup, look no further than Eric Shanks. Shanks is the Senior Technical Marketing Architect at VMware and a long-time friend of Gestalt IT. In his personal blog, TheITHollow, Shanks writes top-of-the-line guides on vSphere and other parts of VMware's product line, as well as strong how-tos around IT basics like Kubernetes.
He also updates his readers as to the state of his home lab, and, in a recent post, his WFH setup. Here's a preview of what his A/V workstation has going on under the hood: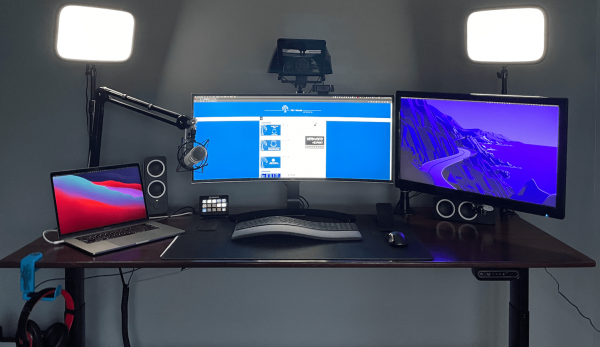 Regarding his desk specifically, Shanks comments:
One of the best things I did for my office was to switch to a standing desk. I was spending way too much time sitting in a chair and a standing desk helped to alleviate muscle pain. It also kept me in a bit more active mood if that's a thing. After doing a bit of research I decided to try the Terra 2 desk.
Find his other equipment recommendations, including his teleprompter, lighting, and microphone in his original article, Home Audio/Visual Setup, at theITHollow.com