As Compellent, a sponsor for Gestalt IT's Tech Field Day Seattle, interviewed me for a post on their blog, I thought it would be fun to turn the tables and interview them right back! You will notice some similarity in the questions and answers – this was entirely coincidental, since we did not see each other's answers prior to submitting them!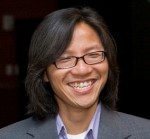 Following are three questions answered by Compellent Director of Corporate Communications,  Liem Nguyen. Read my answers over at Compellent's Around the Block blog!
What makes the Field Day event a good match for Compellent?
A typical tradeshow gets a bunch of people together in one location and you end up with vendors showcasing their wares in booths and holding meetings with customers, partners, and thought leaders. Compellent goes to many each year, and we love them because we meet lots of people in our community. However, not everyone who has a day job — i.e. bloggers – can take time away to meet with us to get the scoop on product updates and share ideas on important trends.
Tech Field Day is unique because it allows Compellent to make connections with a lot of sharp people who we might not normally meet face to face — or may have known only through Twitter or their blogs. It's a great forum for exchange of ideas and for us to get feedback on our product strategy and direction – listening to feedback and acting upon it is something we've always tried to do, even before we launched our very first product.
What will you do to make your presentation really stand out?
I've always felt that giving people great content to chew on makes a big difference. We're planning to give the usual overview to introduce ourselves to some new folks, but we're also going to do some chalk talks to really get into the bits and blocks on what makes Fluid Data tick and what makes it different from other virtualized storage vendors. I'm excited that we'll have a great group of folks who've been with Compellent for years, have seen us through a lot of change and growth, and were there almost at the beginning. Guys like Bob Fine, Scott DesBles and Justin Braun. They're the big brains. I'm just the not-so-pretty face.
How will you know if the Field Day event was a success for Compellent?
Well, a big indicator will be whether the delegates understand the Compellent differentiators and report on them–such as the notion that not all automated tiered storage and thin provisioning are created equal. I'm just being honest here. If we were successful at describing who we are and the storage pain points we're trying to address with Fluid Data, then we'll know soon enough when we get their reactions in person and online. I'm sure nobody's going to hold back their opinions, and frankly, we want honest feedback. It's the only way we get better as a company.
Second, I hope to know people a little better afterward, talk to them online and continue the discussion. So we better get a lot of new followers on Twitter!
Follow  @Compellent on Twitter, or use the @TechFieldDay Twitter lists: Seattle Sponsors and  Seattle Delegates. More information is available at our Tech Field Day Seattle page!