As 2019 comes to an end, it is easy to check out. Halloween is behind us and soon dreams of turkey, stuffing, and pumpkin pies will begin to occupy more of our thoughts than many of us are willing to admit. But, if you check out before November 13th, you are doing yourself a disservice.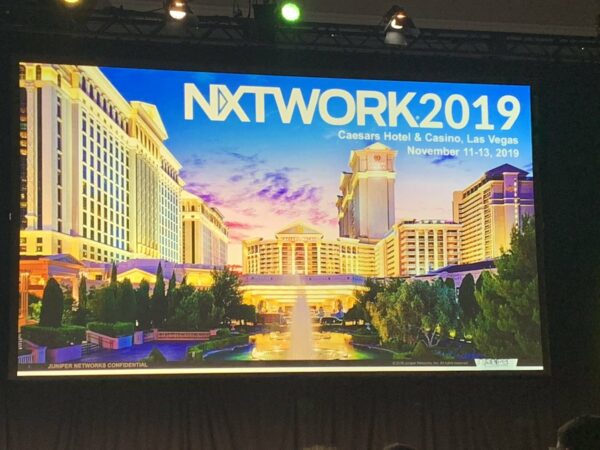 Juniper NXTWORK 2019 is taking place from Monday, November 11th to Wednesday, November 13th at Ceasers Palace in Las Vegas, Nevada. Tech Field Day will provide coverage on Monday the 11th with another Networking Field Day Exclusive. As always, we have a great list of delegates who would love your interactions and questions during the event.
My career has only included minimal interaction with Juniper Networks. Early on I spent hours with Olive virtual routers in an attempt to learn the OS. Sadly, my job never required it, and much of that knowledge fell by the wayside. Since then, my career has taken a strong focus on Wi-Fi. I love wireless.  That love of all things Wi-Fi brought me to Mobility Field Day 2, 3, and 4. At those events, a different company presented: Mist Systems. As many of you know, Juniper Networks went on to purchase Mist Systems in March of this year.
Now, I again find myself learning more about Juniper. The decision to purchase Mist Systems was brilliant. Juniper acquired a Wi-Fi company that is firing on all cylinders, growing at a ridiculous rate, and built with a microservices cloud-based focus from the very beginning.
While competitors are considering how to migrate to a cloud service, Mist is there. While other cloud services struggle with how to scale while providing access to the critical features their customers require, Mist has a fully exposed API making all of the 'nerd knobs' available.  Mist's more technical customers are happy, while still being approachable for small to mid-sized companies who might not have a dedicated Wi-Fi engineer on staff.
This architecture fits perfectly within Juniper's toolbox. NRE Labs, their contribution to OpenStack, and even their FreeBSD underpinnings all demonstrate a commitment to open and accessible automation and monitoring. Juniper doesn't build an expensive walled garden around its networks. It provides the tools network engineers need, then gets out of the way.
Juniper provided Mist with a whole new set of customers, the ability to scale and grow faster, and of course, the influence that comes with being associated with a company the size of Juniper.
In addition to a compelling Wi-Fi product, Mist Systems brings Marvis, their ML-based natural language troubleshooting tool. Many of Marvis's features for Wi-Fi could also interact with a LAN network. The question "Why is John Doe's computer not connecting to the network." requires much of the same logic as "Why is John Doe's computer not connecting to Wi-Fi?"
I'm looking forward to seeing how this relationship develops. The fact that Juniper already builds with interoperability in mind bodes well for integration between the products.
I'm also looking forward to learning more about who Juniper currently is as a company. There have been many changes since that time when I played with Olive.
NXTWORK 2019 is going to be an excellent opportunity to dive deeper into the Juniper business and technology, and there is a lot to anticipate. NRE Labs has been on my list of things to explore for some time. I may sit an exam for JNCIA-Junos, a first for me. I'll want to hear more about what Mist is doing with their new AP43, which we discussed back at MFD4, and I wrote about it on my blog. As will all conferences, I am looking forward to hearing from Juniper's leadership about what they see as the most important trends, and how they plan to address those.  Despite being on vacation for the conference, I'm looking towards projects for my employer; firewalls and new BGP routers are both on my lists of future projects.
Finally, the community of attendees always makes a conference for me. I'm looking forward to hearing their personal experiences and connecting over our love for technology and what we can empower with it. With all of that in mind, there is no way I will check out and miss Juniper NXTWORK, and you shouldn't either.