Companies seeking a secure and reliable network connectivity at the edge today have an extraordinary number of vendors to choose from. The competition gets intense as more enterprises dump traditional WAN technologies. But not everyone has the same set of requirements or priorities.
At the recent Edge Field Day event, Mako Networks showcased the Mako System – a solution purpose-built to solve networking problems in retail sites. The presentations revealed how Mako is taking a different approach to networking at the edge. 
Tuning into the Specific Needs
The software-defined wide area network (SD-WAN) and secure access service edge (SASE) markets have experienced significant growth in the recent years due to various changes in the IT landscape. One of the most significant shifts has been the transition away from private WAN connections such as MPLS, toward a public WAN-first strategy consisting of broadband and wireless internet services.
Despite facing cut-throat competition, not many vendors have chosen to differentiate themselves by honing in on the unique challenges of retail, MNSPs, healthcare and other verticals they serve. These industries face steep challenges relating to security, privacy and regulatory concerns that only the most purpose-built network solutions can help overcome.
For instance, businesses in the retail industry need to ensure the protection of customer data and comply with PCI DSS standards, while MNSPs require a secure and manageable distributed network management solution. Healthcare organizations have complex and strict regulatory and compliance requirements like HIPAA to meet to ensure patient data protection.
Companies that have designed their products to squarely meet these unique needs have a distinct leg up over others in the race.
Separate from the Rest of the Pack
One company that has plugged significant effort towards addressing these challenges, and in the process differentiating itself from others, is Mako Networks. Mako was founded in 2000, long before the terms "SD-WAN" and "SASE" were coined. Over the last two decades, it has curved a niche for itself in the networking space by committing to the needs of what they describe as "distributed enterprises".
Working closely with clients across the retail sector, Mako has developed a deep understanding of both the business and technical barriers.
The Mako stack, from network devices to the management system, was the first to receive a PCI DSS Level 1 certification. This feature alone dials down the risks, overheads and efforts of achieving full compliance.
In a time when businesses are under constant attack, this steadfast focus on security is critical to maintaining a strong security front. The cost of compliance alone, in time and money, takes away from organizations the ability to produce better products and services for their customers.
Everything Expected and More
Mako offers a comprehensive set of network appliances and services, including security gateways, managed switches and access points. Ethernet and LTE/5G capable security gateways serve as the edge router, providing a full set of SD-WAN and SASE capabilities.
One of the unique features that Mako has incorporated in its hardware design to receive PCI certification is the removal of local control and reset features. This ensures that tampering is limited to just turning off the device.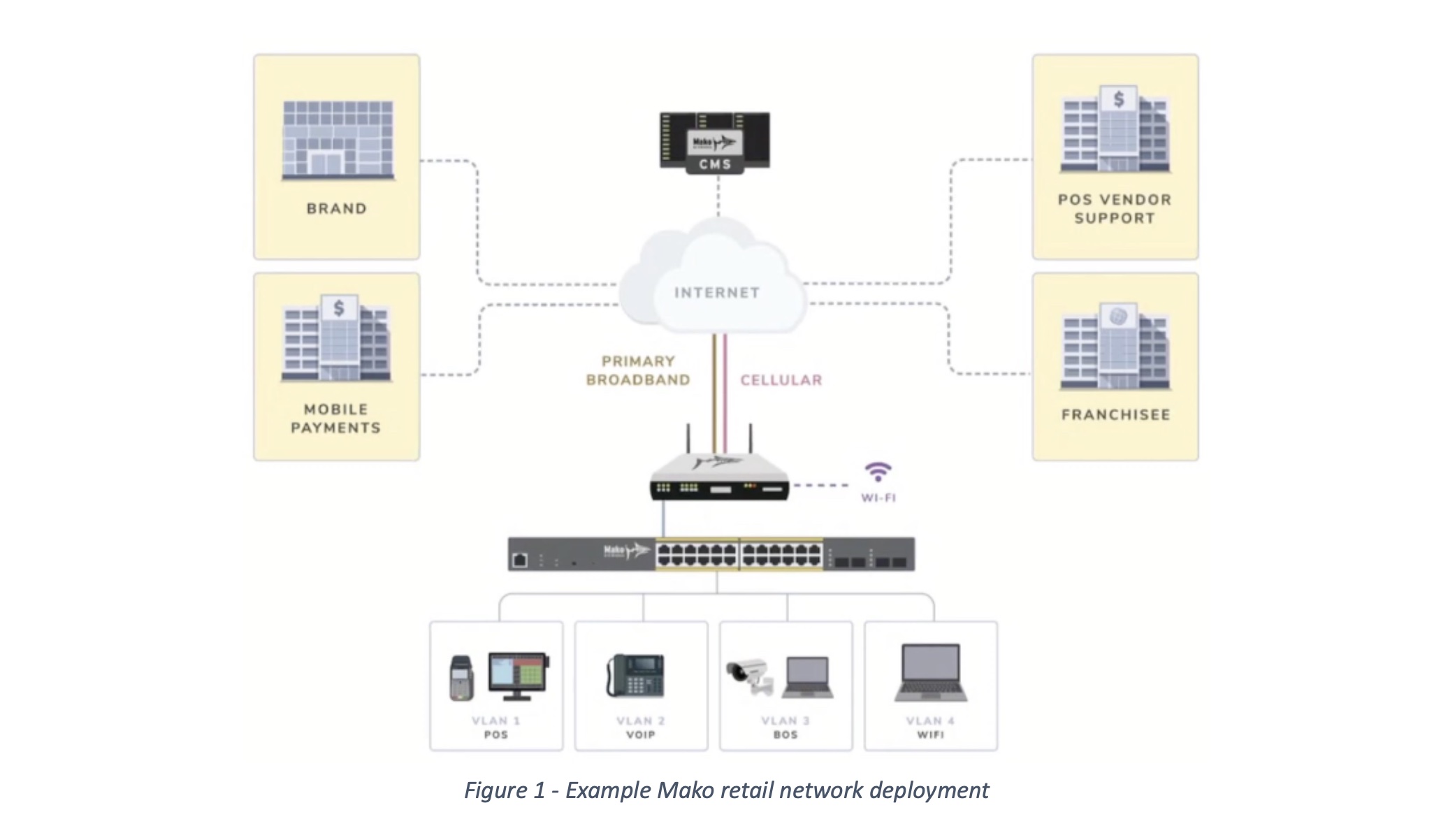 The Mako System is centered around a cloud-based platform called the Mako Central Management System (CMS). This hosted network management plane provides full configuration, observability and operational management of all Mako products from security gateways to access points.
Administrative functions are controlled not only based on role, but also by 'network function'.  This allows the service provider or brand to delegate management of back-office control to others such as franchise operators.
Closing Thoughts
Professionals working with SD-WAN and SASE offerings on a daily basis will find Mako Networks' almost obsessive focus on differentiating their products impressive. They have uniquely positioned themselves as a must-have solution for retail environments and sectors where governance and compliance are critical requirements. The multi-operator management model which enables independent management of different network zones at a site is a feature not encountered on other like products. Hopefully, more companies will follow Mako's lead in targeting features that support specialized use cases in the future.
Mako Networks provided a detailed brief of their solution stack at the recent Edge Field Day event, if you are interested in getting more information.