Introduction
The question today isn't if public cloud is a viable operations model, but how can a company manage a cloud strategy that uses multiple public cloud services? Is a strategy that is effective for one cloud also going to work for another? What about multiple public clouds at once? Given the difference between on-premises and cloud, how does a cloud architect take the best of both worlds and make "cloud" work for their organization?
NetApp is leveraging their strength in on-premises datacenter infrastructure and combining it with the hard-learned lessons of cloud-native computing to make something more than evolutionary – something tangible and empowering for the customer. And if NetApp does it right, there could potentially be more customers to on-board!
The big challenge that NetApp is facing head on with over 3 decades of experience is in forging the "unified data management" experience, no matter the locality of data – on-premises, hybrid, or in the public cloud. NetApp knows that the customer isn't sitting still and is willing to adopt technologies to meet evolving business needs.
Background
How can an IT organization adopt the cloud in a changing landscape that is full of evolving economic challenges? The factors to determine TCO and ROI probably aren't the same as the last time they made an architecture decision.
First, there is a series of questions to answer correctly. Does the purchasing strategy and consumption of IT align with their constantly-changing IT demands? It there more to consider than 3-tier vs HCI vs cloud? Is their data available when and where they need it? Does it fit a multi-cloud strategy? This is a new reality for some, but it could be a necessity to be multi-cloud to meet business requirements. And does their strategy meet security compliance (Sec-Ops) and financial considerations (Fin-Ops)?
NetApp and Hybrid Multi-Cloud
NetApp has been a trusted partner for decades. The company has over 30 years of innovation and experience in storage infrastructure, and each iteration of NetApp's technology grows from the challenges previously met by customers. They moved into data management and now cloud management along with their enterprise customers, and are looking forward to expanding to meet new challenges to come.
NetApp believes that their approach to technology is successful with hybrid strategies and is ready for multi-cloud. Customers will want to see if this strategy rings true for their needs. The cornerstone of the business of IT is how to make digital data available, reliable and secure. The key to this is a consistent operational model and toolset.
Simplicity, Security, and Savings
Enter NetApp Cloud Volumes ONTAP powered by NetApp BlueXP. Yes, it is available in all public clouds but with BlueXP, customers have "a single, unified control plane that delivers a simplified hybrid multi-cloud experience designed for an evolved cloud state". The challenge with multiple public clouds and multiple management interfaces is to unify service delivery. NetApp seeks to simplify that experience and empower the administrator to do more with less complexity.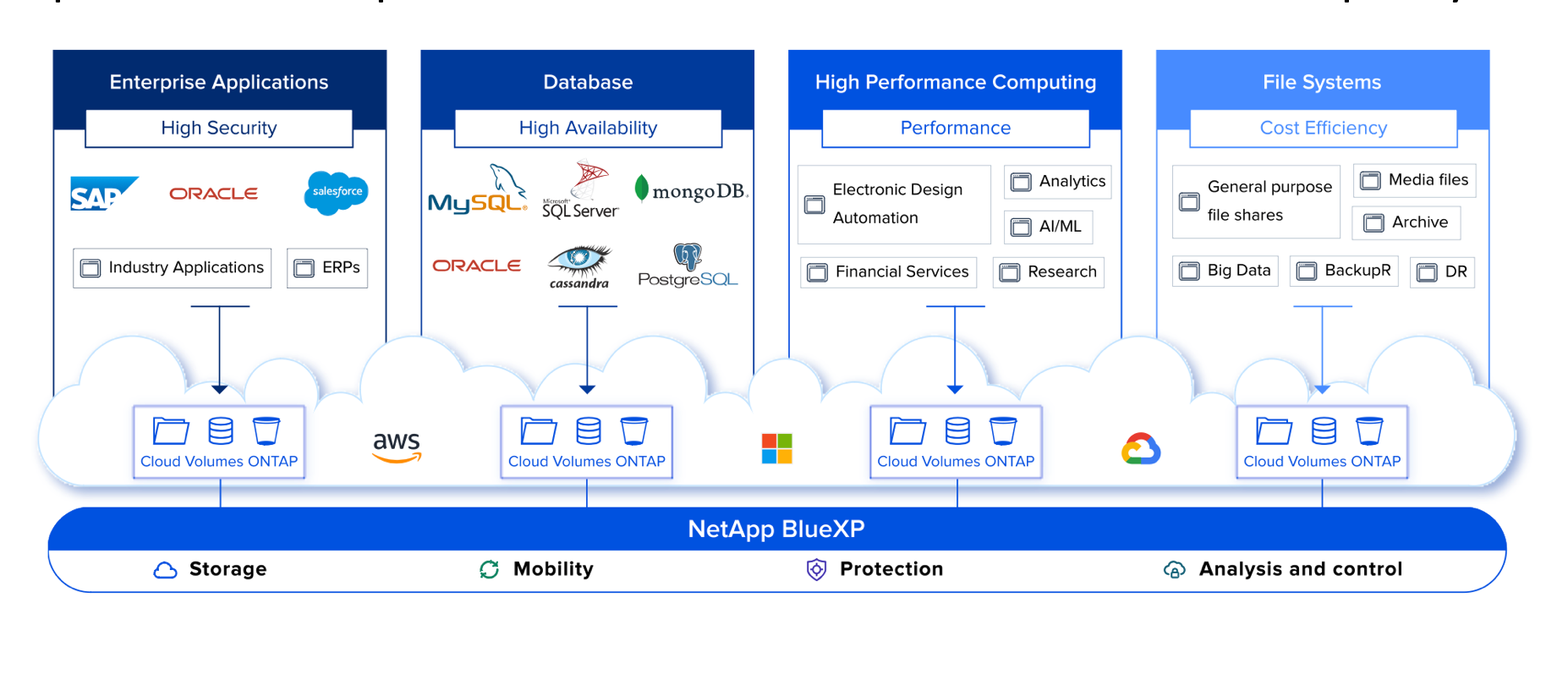 Innovation continues at NetApp with the incorporation of AI to empower ONTAP.
NetApp is calling it AIOps, powering any topology – on-premises, and public clouds (AWS, AZURE, GCP). It brings with it AI-enabled health and status monitoring, alerts, and, most importantly, proactive guidance and suggested actions to avoid further trouble, and to optimize and automate. It is almost a self-healing datacenter!
Security in the cloud isn't left to chance. NetApp knows the last cyber resilience is backup. BlueXP has block-level, incremental-forever backup capability (including replication, mirroring, and synchronization options). All Data Services of backup, sync, tiering, data governance, and more can be turned on with "one-click".
But a NetApp AI-ML powered management plane provides not only simplify operations but also enables FinOps to cost optimize operations. Technology objectives are a consideration when reconciling financial objectives. Flexible consumption can be re-directed in the cloud to meet both objectives with BlueXP providing the data to help customers make the best decision for their business applications.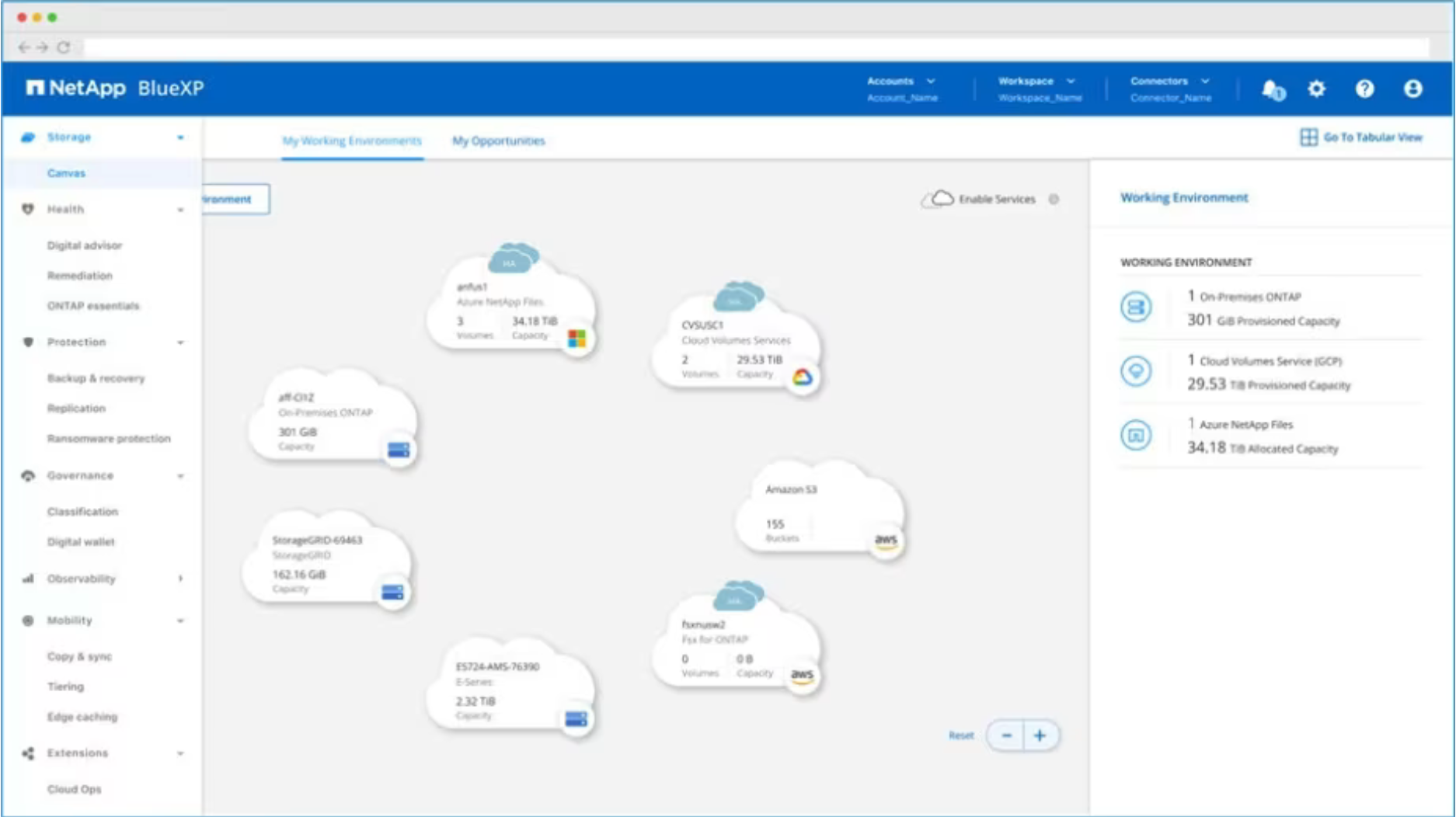 Conclusion
Solution Architecture is not the same as the Operations side of the house. NetApp realizes the complexity of this situation and how a multiple public cloud strategy can make it more difficult to reach the desired outcomes. Multiple clouds brings a multitude of choices. The burden of choice can very easily over-complicate IT operations. NetApp provides a very opinionated solution that is focused on simplicity, security, and savings. Its not just marketing that NetApp is raising the bar making operations easy for organizations in the multi-cloud.
It is a challenge to master multiple user interfaces for every public cloud, and more so to ensure security and keep cost under control. The complexity of multiple-public clouds is inherent for that strategy and NetApp ONTAP powered by BlueXP not only acknowledges but provides a powerful solution. NetApp takes on the cloud of today – the Evolved Cloud. It embraces the cloud and does not shy away from a very specific methodology that is forged with over 30 years of data management experience.

Learn more about how NetApp is taming public cloud management with its powerful multi-cloud management solution. You can dive deeper into the NetApp multi-public cloud solution offering here.