Over the last few years, we've seen an increase in discussions about the hybrid multi-cloud, as this has become the de facto operating model for most IT organisations. In research conducted by NetApp at the end of 2021[1], 77% of respondents said they intended to operate using a hybrid cloud model. Additionally, 93% of respondents using the public cloud stated they already work across on-premises and multiple (more than one) public clouds today[2].
The multi-cloud model is here to stay, but what does this actually mean? In the early days of the public cloud, businesses undoubtedly used cloud resources tactically, including for new projects and test & development environments.
Over time, the use of multiple clouds hasn't evolved to span infrastructure for application redundancy but instead has allowed IT organisations to pick the best solutions across the available platforms. What we now see is a series of islands of compute linked by the common thread of data.
For example, a business may generate data at the edge or within a traditional data centre and then move it to a specific cloud for immediate processing. Once completed, the data set gets moved to another data centre for offline analytics work before finally being archived in another cloud with the most cost-effective long-term storage. The future of the hybrid multi-cloud model is being implemented with data pipelines and application workflows.
Challenges
Operating across multiple clouds at scale and with efficiency is a formidable challenge. By their very nature, public cloud service providers have developed cloud solutions independently with different approaches to service functionality, cost models and APIs. As enterprises look to adopt a new cloud platform, IT teams must go through the learning curve to gain new skills, understand the financial impact of resource consumption and adapt processes to cater for the new cloud operational model. There are no standards common to all public clouds while implementing data mobility between public clouds (and on-premises) risks fragmenting data into silos.
The Evolved Cloud
Businesses want to see an "evolved cloud" model where the complexities of interoperability are mitigated or completely removed. Data silos are eliminated, and operational challenges including managing security, data protection, application deployment and data mobility are all aligned. This transition is essential to making a hybrid multi-cloud model work, as it avoids the friction of adopting a new cloud platform and reduces the risk introduced when aligning multiple disparate solutions.
NetApp BlueXP
At Insight 2022, NetApp introduced a new approach to address the issues of transitioning to an evolved cloud model. The announcements begin the process of aligning and integrating NetApp's two cloud portfolios. BlueXP is a new platform that delivers a consistent user experience for existing NetApp infrastructure and data services solutions. Spot provides optimisation of application and compute services. Both sets of solutions are delivered through separate user consoles or portals but share a common services API layer.
The rationale for adopting BlueXP is to transform NetApp's existing products and solutions into a service-based model. Businesses expect the multi-cloud to deliver services, with most (if not all) of the implementation details obfuscated from the user. BlueXP follows six tenets:
Storage – on-premises and public cloud storage solutions
Health – monitoring and remediation of infrastructure issues
Protection – backup, recovery, ransomware protection
Governance – data classification, billing & licence management
Observability – data insights, data efficiency and placement solutions
Mobility – data copy and synchronisation, edge caching
The Spot portfolio, including a raft of recent acquisitions, addresses Application Service Management, Infrastructure Optimisation and Operations Optimisation. Joining both portfolio solutions are NetApp Common Services, delivering a single point of truth for credentials management and security, billing, and multi-tenancy.
To understand why NetApp is repositioning the portfolio in this way, we can look at one example causing concern for all businesses – ransomware. Most approaches to mitigating the ransomware problem address the ability to protect and restore data after an attack has occurred. However, where possible, prevention is better than cure. Spot Security can detect issues in the network and could, in the future, provide advanced warning of a ransomware attack, allowing additional data protection to be automatically put in place.
There are many more challenges facing businesses today, including cost efficiency, ability and sustainability, all of which will be addressed by BlueXP and Spot.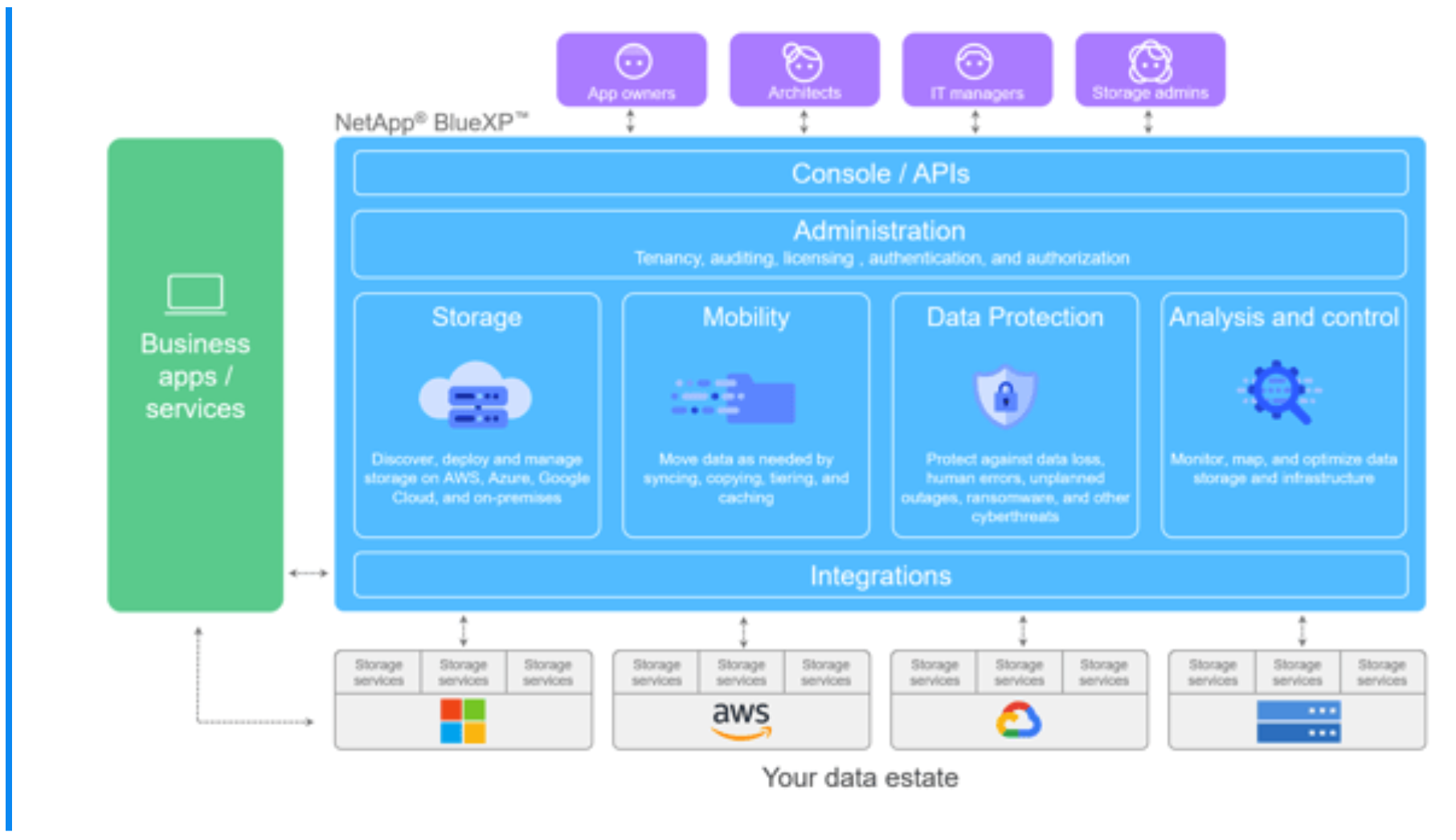 Conclusions
Over time, we can see the development of an increasingly integrated suite of service offerings as NetApp evolves to hide the implementation details of storage and data management. However, the most significant benefit for customers is the successful integration of the two NetApp portfolios to deliver something that is greater than the sum of the parts. Bringing together Spot and BlueXP offers the chance to address customer challenges of scaling the hybrid multi-cloud in a way that isn't being addressed elsewhere and can't be solved by any one public cloud service provider.