NGINX Sprint 2.0 has come and gone, and I was delighted to be a Tech Field Day Delegate for this year's event once again. The event was three days in length with the Tech Field Day crew and delegates participating the first two days. As was the case last year, the first day consisted of the event keynotes with the second day loaded with the supporting demonstrations for the keynotes. The third day was devoted to training sessions focused on the newer products released by NGINX over the past year or two.
Highlight: Recommitting to Open Source
Overall, NGINX Sprint 2.0 did a good job of highlighting the NGINX product portfolio that the open-source community and casual users may not have been aware of. Kubernetes came up several times through the event, not surprisingly, given the overlap of the two communities. Interestingly, the NGINX Ingress Controller for Kubernetes provides a mechanism to introduce F5 proper into a Kubernetes environment, highlighting the interworking between the parent company. Seeing a recommitment to Open Source by NGINX was a key highlight for me.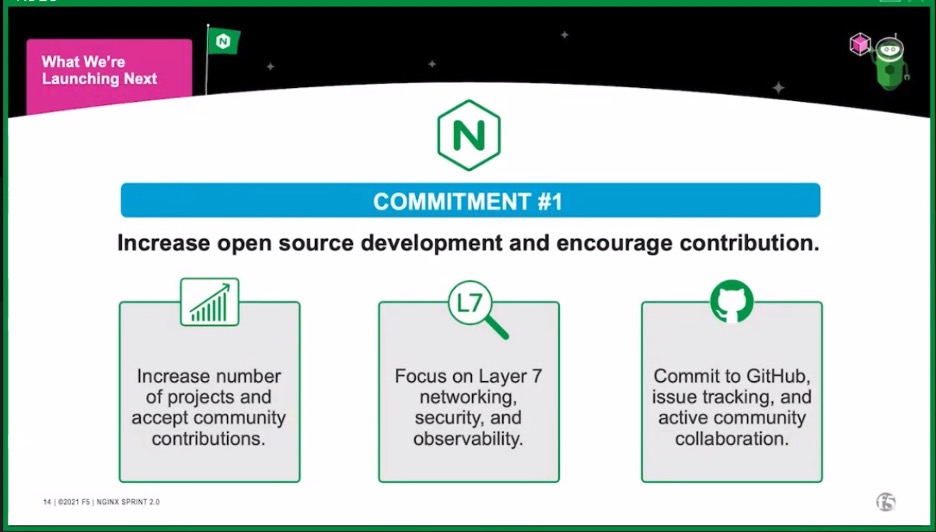 For those that may not be entirely familiar with NGINX, prior to becoming a company, NGINX existed as an open-source project. As is the case with many open-source projects, to provide the proper care and feeding to the project, as well as the maintainers, you need to have more than just community contributions to the codebase. There are a few ways to fund your open-source project, most commonly through monetary donations or running it as a side project while holding a full-time job. While for the smaller projects, this is likely to suffice, the larger projects tend to need something a bit more. Unfortunately, not all projects are as intrinsic as, say, the Linux kernel where many different companies sponsor employees to work on the project. For projects like NGINX, it is more common to see them develop a business around an Open Core model.
Open Core is where a business is built around an open-source project but also provides proprietary paid additions to the project and productizes the result. While you do have an open-source base that does benefit from the larger community, your proprietary components don't have the same benefit.
What Does This Mean?
Does the recommitment to Open Source by NGINX mean that they are moving away from the Open Core model? No, now that they are a part of F5, quite simply, they have more financial freedom to contribute and seed projects to the community. Prior to the acquisition by F5, NGINX needed to focus on building proprietary features and products they could sell to obtain funding. This funding wasn't just customer money from selling products, but also investor money to support the growth, research, and development. Now part of a larger company and settled in, NGINX is in a position where investing back into the community can come back to the core of their operations.
Refocusing on Open Source also means that more attention can be given to community requests and desired features. This benefits the core project as well as the paid product in providing features that both sets of consumers need.
Going from the open-source edition to the licensed NGINX Plus is as simple as installing the repository, which means that you do not lose any organizational investment you have with NGINX. This was highlighted in the demonstrations and shows how you can develop an application on the open-source version on your laptop and deploy it with NGINX Plus in production where you may need the additional features.
NGINX Sprint 2.0 did improve upon the prior year's event. There were some hints dropped about some new open-source projects, but unfortunately not too many clues. Hopefully, we don't have to wait for NGINX Sprint 3.0 to find out what they are. Either way, I'm already looking forward to NGINX Sprint 3.0 and finding out where NGINX goes over the next year.
Until then, you can see everything that happened at this year's NGINX Sprint 2.0 by watching its on-demand content here.