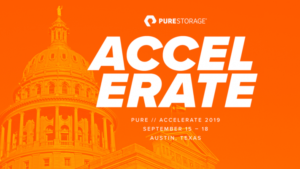 Orange, orange everywhere. I can't remember when I've seen so much of one color in one place and felt such excitement that wasn't a high school pep rally. As if orange clothing, purses, and shoes weren't enough zeal, I'd like to give a shout-out to the guy that got tattooed with the Pure Storage logo while in Austin.
Pure Accelerate celebrated its 10-year anniversary by hosting its largest conference attendance to date with over 3,000 attendees. This was my first-time attending Pure Accelerate. You can find my pre-attendance thoughts here: Pure-ly My Pre-Attendance Thoughts for Accelerate – Gestalt IT
One of the things that I hoped to glean from my conference attendance was Pure Storage's story.  In case I didn't get my questions answered, we were gifted a book about their history. Pure deserves bonus points for publishing a book of their journey and sharing it with us.
A Principled Approach
Pure Storage states that some of their underlying principles include simplicity and making the best choices that we can make today. In both their messaging and their product announcements, you don't have to look hard to see those principles at work.
More than that, though, you can see their approach to "evergreen" storage in which a refresh doesn't mean throwing everything out and starting over. Instead, you get an installation guide the size of a folding business card and the simplicity on the same APIs for both cloud and on-premises as the reflection of these principles.
Here are some announcement highlights:
Cloud Block Store for AWS
Cloud Block Store, "industrial-strength block storage," allows Purity OS to run in the cloud with High Availability spanning multi-availability zones.  Also, Cloud Block Store supports storage efficiencies like deduplication and thin-provisioning that are typically lost in the cloud.  While Amazon handles the hardware, Cloud Block Store offers a consistent experience with all of the same APIs. On-premises FlashArrays and Cloud Block Store also appear the same to third-party software.
FlashArray//C
One of the bigger announcements included a new capacity-optimized model with NVMe, dubbed FlashArray//C. Pure claims that this storage array, a customer-driven response, is for non-tier 1 workloads. This solution is 40% cheaper and 10-20x times slower than FlashArray//X.  However, FlashArray//C is still pretty performant and could be a good upgrade option for anyone who hasn't gone all-flash yet.
How did Pure make flash storage cheaper?  This array relies on a more affordable QLC flash that's software optimized for durability. Pure's DirectFlash architecture provides the flexibility to accommodate different flash generations and types like QLC and TLC. While FlashArray//C is available today with TLC flash it will become available at a later date with QLC flash.
FlashArray//X
To further differentiate FlashArray//X from capacity-optimized FlashArray//C, higher-end, FlashArray//X models like //70 and //90 can be upgraded to Intel Optane drives as Direct Memory Modules.  Adding these storage-class memory drives for read caching could boost performance 50%. While this caching uses a Least Recently Used (LRU) algorithm, plans to support other caching algorithms may be added later.
Hyping What's Available
If you've ever been to a tech conference, you expect to see exciting, cool announcements. Announcements for products/solutions that won't be available for months or maybe even years. An interesting part of Pure's announcements was that everything is available today.
One of the mentions that appealed to me, but wasn't a major announcement is that Pure plans to take intellectual property acquired in its CompuVerde acquisition to add file protocols like SMB and NFS to their FlashArray line. Because this feature isn't available today, it wasn't overhyped.
Conclusion
Having followed #PureAccelerate Twitter threads each year, I'm incredibly grateful to have the opportunity to finally attend the conference.  Thank you for the invitation, Tech Field Day and Pure Storage Analyst and Influencer Experience program!
One of the things that impressed me most about this conference is the clarity of Pure's messaging. I also think that the FlashArray//C, especially once file services are added, could be a compelling product in a world where many organizations want to minimize what they spend on-premises infrastructure.