Today Pure Storage is advancing their commitment to their Evergreen Family, including the introduction of a new product: Evergreen Flex.
News Flash: People Still Need On-Premises Storage
You may be wondering why anyone still uses on-premises storage. With all the emphasis on moving to the cloud, it is easy to forget that cloud computing is an operational model. So, what is it about this operational model that is so attractive to organizations?
In short, the model built by public cloud providers gives organizations the agility and flexibility required for modern applications. They need only pay for the storage that is used. Additionally, it is easy for them to scale storage up and down as it is needed. Let's be honest, the attraction to the cloud computing model is more than architecture; it also includes operational features such as consumption billing.
However, the cloud operating model isn't some magic spell that only public cloud providers can conjure. Pure understands that there are organizations with use cases that require storage to be on-premises. There are many reasons for this. Perhaps it's culture, or older applications that won't lift or shift. Regulations may keep the data bound on-premises. Or it could be data gravity that is keeping the data grounded.
No matter the reason, we all know that when it comes to IT, one size does not fit all. One thing is for sure: Pure has a track record of innovating storage to make sure businesses can consume technology in ways that fit their unique operational models.
Pure Evergreen History
Pure Storage has been innovating storage for over a decade. They were one of the pioneers of flash storage. They launched Pure Evergreen in 2015 to solve traditional storage delivery issues such as forklift upgrades, tech refreshes every 3-5 years, and disruptive upgrades with a subscription service for storage. Evergreen//One (formerly Pure as-as-Service) was launched in 2018 to provide storage as a service, using a cloud-like subscription model.
Today Pure Storage is announcing an expansion of its Evergreen portfolio. They are calling it Evergreen//Flex, a new fleet-level Evergreen architecture, which extends the power of Pure's Evergreen technology to the full Pure portfolio.
Pure Evergreen Next Gen
Evergreen//Forever
This was formerly known as Evergreen Gold. It's their traditional storage model.
This is the Pure Storage subscription service. It is a term-based Evergreen subscription. In short, with this option, organizations own the storage appliance, with a subscription that upgrades the hardware and software at regular intervals.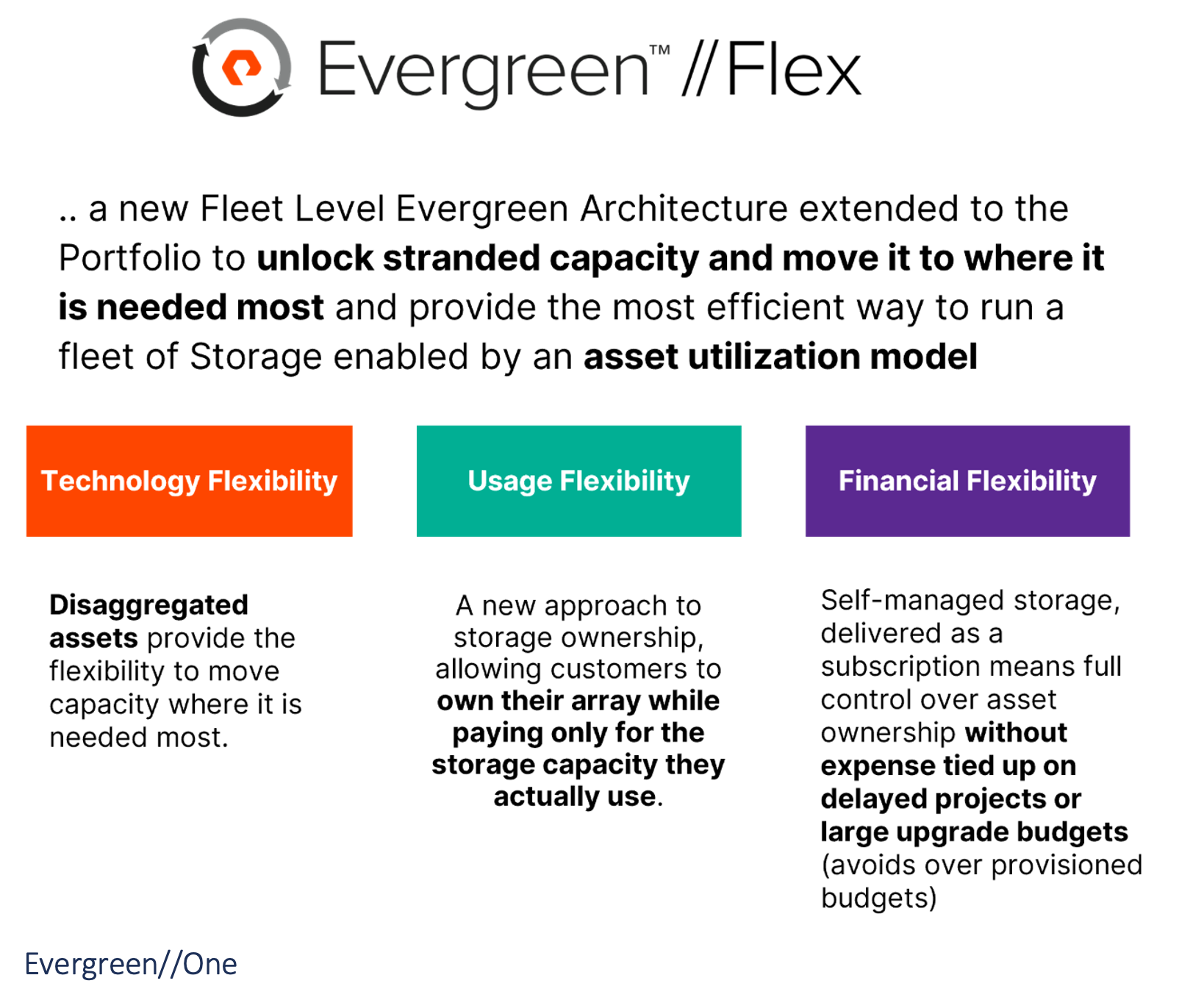 This was formerly known as Pure as-a-Service. This is their Storage-as-a-Service (STaaS) consumption-based model.
It is a usage-based service, true consumption model. With this model, Pure retains ownership of the hardware, along with the responsibility of delivering additional storage as it's required. Customers have access to data storage, management, and services but don't own the storage array.
Evergreen//Flex
This is the new offering. It is an asset utilization model.
This model will allow customers to own their array, but only pay for the storage capacity that they use. Pure is calling it "fleet-level architecture" because it allows customers to move performance and stranded capacity any where in the fleet where it's needed by applications.
Why Is the New Model Needed?
Pure understood that there is always a fit gap with storage arrays. It's difficult to reliably predict how to tune storage, and arrays are usually under or over utilized. Pure has customers who need to have a cloud operating model but also want to own their own hardware. Why? Well, remember we're talking about an operating model, not just the technical components.
Here are scenarios that would lead people to the asset utilization model:
Desire to take advantage of usage-based consumption economics but have requirements to own and/or control the hardware.
Not set up to get the funding for initial outlay of Capex purchases. Additionally operationalizing as-a-Service is going to be a challenge.
Financial model requires they carry assets on their books.
Hot Take
I'd also encourage you to rethink just the bits and bytes of storage. Those things are important, but so are the business level offerings. We must understand that the cloud is just an operating model. If your organization is not able to move to the cloud, how do you provide a cloud-like environment on premises? Pure has been thinking about that for years, and it shows in their announcement today.
While I didn't get into the technical details of the new Evergreen//Flex model in this post, I'd encourage you to do so! The ability to manage an entire fleet and move capacity to where it's needed when it's needed is very much a cloud operating model principle and providing it on-premises is an interesting technical challenge. I'd suggest tuning into Pure//Accelerate techfest 22, happening today for those technical nuances.