At Pure //Accelerate Digital 2021, Pure Storage's Pure1 was in the spotlight with a dedicated session focused on the latest innovations of this holistic AI-powered management platform.
Assessments & Observability
Pure1 has been enhanced to include critical new features: ransomware audits and VM search capabilities.
Ransomware protection audits will be available for the FlashArray //X and //C platforms, FlashBlade, and Cloud Block Store. Pure Storage protects customers with SafeMode snapshots, a feature that creates read-only snapshots of data and associated metadata catalogs. When enabled, those snapshots will be locked for up to 30 days. The ransomware audit feature allows customers to assess their entire environment and see whether SafeMode snapshots are enabled or not. Pure1 will allow organizations to enable SafeMode directly from its management interface.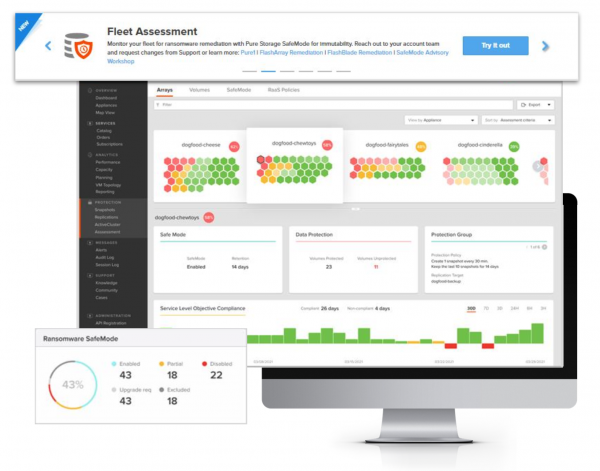 Another seemingly unassuming yet powerful feature is the addition of VM search capabilities. Implemented following strong customer demand, this feature allows Pure1 users to search along the entire estate managed by Pure1, and across many metadata fields.
AIOps with Pure1 Meta
Pure1 Meta is where all the cool stuff happens at Pure Storage, this unique AI platform provides self-driving storage capabilities and predictive analytics, helping to simplify and automate activities.
Today, Pure Storage adds two AI-Driven Recommendations capabilities to Pure1 Meta: Net New Workloads, and Pure-as-a-Service Instance Calculator.
Net New Workloads allows administrators to estimate the impact of adding new workloads to their environments. They can either use built-in profiles previously assessed by the Pure Storage services team or fully customize them as needed. Pure1 Meta will use its AI engine and its global database to assess the impact of those workloads and propose recommendations relevant to performance, capacity, and eventual workload re-balancing.
The other capability is the Pure as-a-Service instance calculator. Pure-aaS is a modern way to consume storage infrastructure based on actual consumption, starting with a minimal commitment of 50 TiB and one year.
This calculator greatly facilitates cost estimation for application instances that organizations plan to run on Pure-aaS. Assessments are simple and straightforward, with customizations possible where needed. In service-based consumption offerings, pricing is important and not all vendors show upfront what the customer will pay. Pure has taken the route of transparency, an approach that customers will appreciate.
Digital Self-Service
Building upon its approach around simplicity, automation, and cloud economics, Pure have also expanded their Pure1 Digital Self-Service offering to include Cloud Block Store on AWS and Azure, Pure as-a-Service, Portworx, and professional services. Organizations can now order those services and manage their subscriptions directly from Pure1.
Pure channel partners are not left out of the picture either. From this release, Pure Storage partners can designate personas that will have access to digital self-service to track orders and billing. Customers have a consistent user experience by ordering hardware and services through Pure1 and maintain their privileged relationship with partners who know them and their needs.
Conclusion
The Pure1 Digital Experience concludes with a rich series of announcements. Ransomware prevention is a key security challenge that requires multi-level mitigations. While data protection remains the last line of defense, organizations have to take a proactive stance starting with production data. Pure1 helps administrators quickly assess and protect their data.
Organizations also need to continue delivering agile storage services that can meet sustained demand both from a capacity and performance perspective. The addition of new capabilities to Pure1 Meta, such as the new workload planner and the Pure-as-a-Service instance calculator are essential for proper planning and provisioning of capacity, without impacting performance.
When additional capacity is required, organizations need to choose between a CAPEX-based model or a modern pay-as-you-go, OPEX approach based on consumption as a service. One of the biggest barriers to OPEX adoption, especially with "aaS" approaches, is the lack of transparency in pricing and the prohibitive entry commitments that often negate the flexibility sought by the consumer.
With Pure as-a-Service, organizations can start small, commit reasonably, and grow their "aaS" estate as needed. The entry commitment is acceptable, and customers get full transparency on costs.
Finally, Pure Storage's commitment to the channel partner ensures that organizations benefit from the innovations of Pure Storage while maintaining a privileged relationship with partners that understand their needs and operating model.