One big thing the hyper scalers all got right was the prolific adoption of infrastructure as a service by people, teams, and companies. This gave rise to the concept of infrastructure as code. Storage and IT admins gave way to developers when it came to provisioning applications in the public cloud.
IT admins and developers were faced with challenges around providing compute, network, and Storage-as-Code. These notions have been around for a while; however it is only recently that we are seeing vendors step up to the challenge and bring an offering to the table. One of the first to the table is Pure Fusion by Pure Storage.

What is Pure Fusion?
Pure Fusion is a cloud operating model management layer that allows providers to give consumers access to storage resources via a multi-tenant control plane accessible by API, CLI or a GUI.
Existing Pure Storage admins will love the familiar feel of the Pure1 Cloud interface, and as many upskill to provision Storage-as-Code via an API, they will have the best of both worlds. Developers will gain access to more locations as not all workloads are best suited to public clouds. Industries such as Finance, Telcos and many others through Managed Service Providers or in-house IT teams still run workloads on premise or in a data centre. This is where Pure Fusion will not only have an edge, allowing developers and admins to control Storage-as-Code workloads, but also gain the ability to run them at the edge if required, using the same API.
What Does Pure Fusion Provide?
If we boil things down, Pure Fusion provides cloud-like resource management:
1) For providers, a management layer to better manage their storage estate and offer multi-tenant, multi-zone Storage-as-Code capabilities to consumers on a pay-as-you-go basis
2) For consumers, an API and a GUI to consume Storage-as-Code, aligning to performance and protection policies
Today most on-premise workloads are managed on an array-to-array basis, which is comparatively inefficient, when compared to service level scalability across multiple regions and availability zones. When you factor in Pure Fusion's ability to treat Pure Cloud Block Store resources as an availability zone within the hyper scalers, you can now deploy and manage workloads and protection policies, anywhere via a single API or pane of glass.
How Does That Work at Near-Infinite Scale?
Using the tool sets that developers are already friendly with, such as Terraform and Ansible with an API first approach.
These tools have allowed developers to address many of the problems that consumers faced when trying to better scale and manage workloads. Pure Storage already has a proven track record of very high levels of SLAs in terms of availability.
Pure Fusion builds upon this by wrapping an API, CLI and GUI accessible AI, around proven mechanisms to scale, optimise and protect Storage-as-Code workloads both on premise and in a public cloud.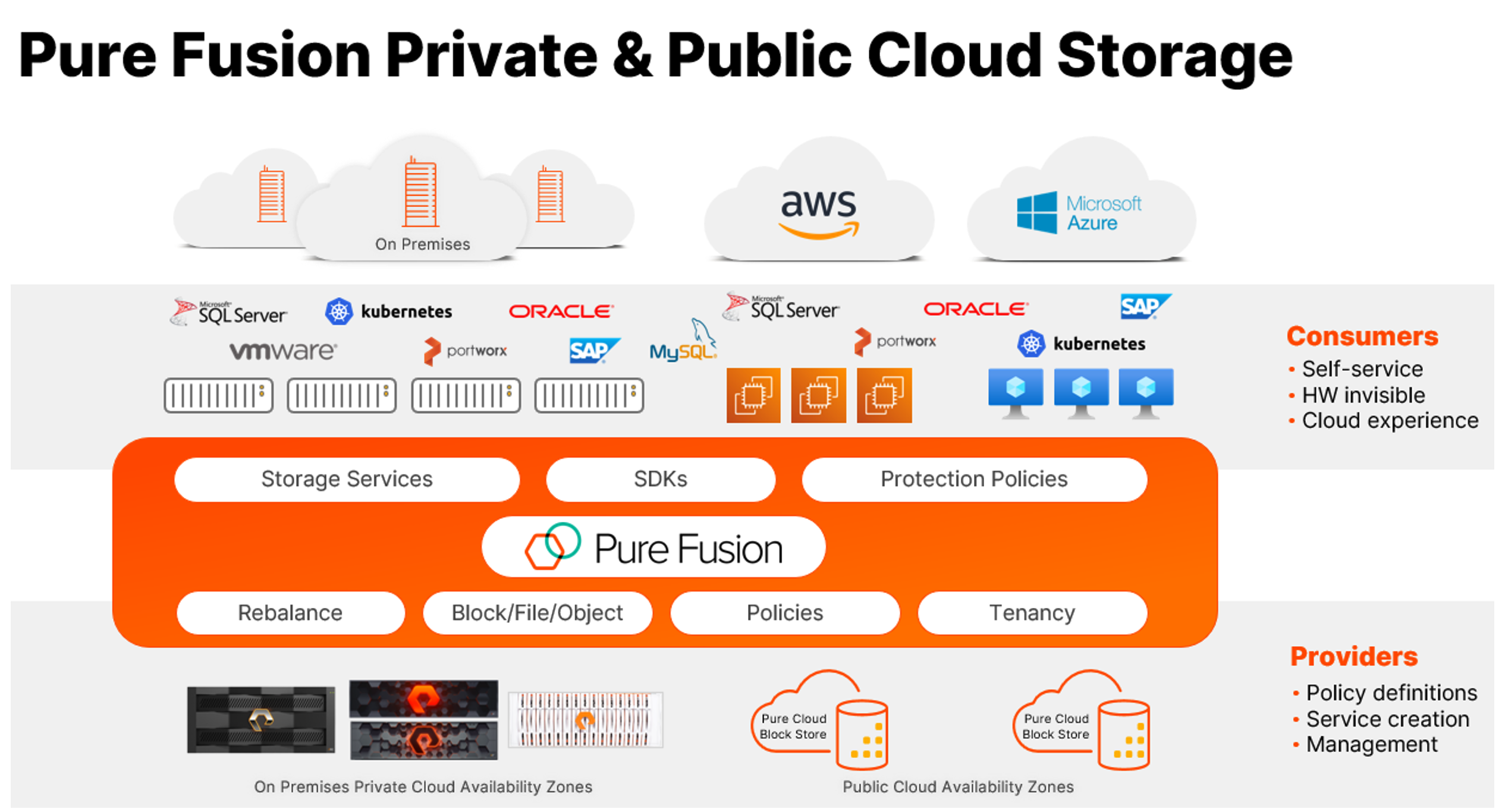 What Are the Key Takeaways Here?
Separation of provider and consumer roles. Providers gain access to a centralised management layer that solves many of the problems associated with making an efficient leap from Storage as-a-Service to Storage-as-Code. Consumers get to focus on building applications oblivious to the underlying architecture by simply concentrating on building applications that meet the performance and protection policies for storage they need to meet their goals; this is the cloud operating model.
Pure Fusion has been built not only to scale, but to help make self-service on premise storage become a reality, empowering developers with more options to consume Storage-as-Code. You will see more around this as Pure Storage ramps up their Pure Dev program.
So can you actually bring a cloud-like operating model to on premise enterprise storage?
Yes, it appears so. Learn more about Pure Fusion by registering at the upcoming Pure//Dev event on May 11, 2022 at 9am PT.
Pure Fusion was also covered this in Cloud Field Day 13 and you can learn more about how Pure Fusion works using the link below:
https://techfieldday.com/appearance/pure-storage-presents-at-cloud-field-day-13/