Pure Storage just introduced a new FlashArray family member: FlashArray//XL. This isn't just an "XL" version of the FlashArray //X series; although the //XL provides improved scalability, it has much more to offer. Let's explore the why and the how of FlashArray//XL.
Foreword: Addressing the High-End Enterprise Storage Market
Organizations deploying high-end storage require support for mission-critical enterprise workloads such as SAP HANA, Oracle, Microsoft SQL Server, VMware, and more. They also require systems capable of supporting modern, containerized applications at scale. Consistent performance (high IOPS, high throughput, low latency) brings little value if the platform can't provide ample capacity, scale well, and has a robust architecture that is able to seamlessly consolidate multiple workloads.
The high-end enterprise storage market is characterized by monolithic, rack-scale storage systems capable of delivering great performance, massive scalability, and outstanding reliability. These attributes come at a price: high complexity and high power/energy costs. In addition, disruptive forklift upgrades lead to monstrous, months-long upgrade and project migration that divert limited resources and prevent them from delivering added value to the business.
Pure Storage saw an opportunity to displace this market and got almost all the parts covered: a unique no-forklift upgrade approach with Evergreen, and a compelling Storage-as-a-Service consumption model (coupled with Fusion and Pure1, but we will cover these in a future article).
The only challenge left was providing a hardware platform capable of meeting several requirements of the high-end storage market: performance, reliability, and scalability, while also providing these capabilities in a dense and power-effective form factor.
FlashArray//XL in a Nutshell
FlashArray//XL was developed with these requirements in mind. The solution provides:
Top-tier performance in IOPS, throughput, and latency, providing an overall 70% performance increase over the FlashArray //X90
Higher capacity (60% more compared to FlashArray //X90) and improved rack space density (20% better rack density per rack unit)
Higher resiliency and availability to support mission-critical workloads
Where the FlashArray //X series could deliver up to 20GB/s throughput, the //XL almost doubles this with up to 36 GB/s throughput, while offering the same ultra-low latency. As can be seen below, this redesign introduces significant improvements over the previous flagship model, the FlashArray //X90.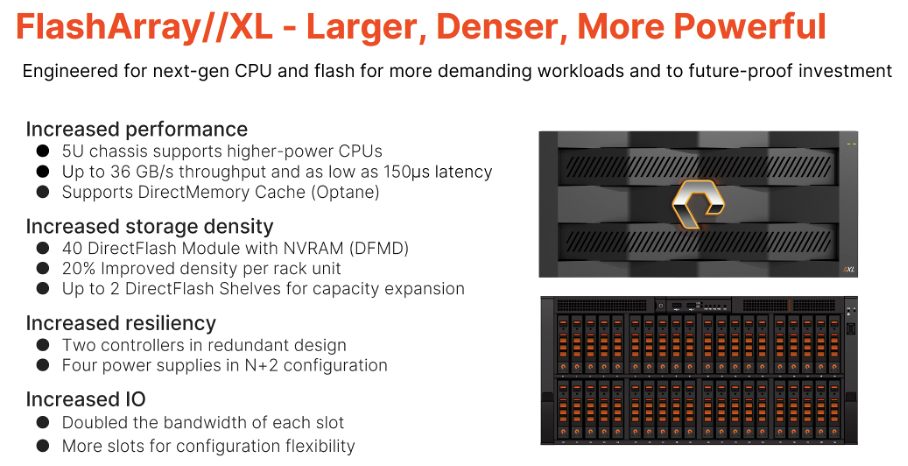 FlashArray//XL is introduced with two models: the //XL130, delivering up to 3.53 PB effective capacity, and the //XL170 which can provide up to 5.5 PB effective capacity (meant as usable capacity after all data reduction capabilities are enabled). The 5U base models can be extended with two additional DirectFlash shelves, with a total footprint of just 11U.
Architectural Improvements
Building a new hardware platform means looking at the future and considering future scalability, non-disruptive upgrades, and performance improvements. The new //XL chassis is, in line with Pure Storage's approach, built to support non-disruptive upgrades, providing outstanding value to organizations, and breaking the infernal circle of disruptive upgrades.
One of the key engineering decisions on the FlashArray//XL is the introduction of new DirectFlash modules with embedded NVRAM. NVRAM becomes globally addressable across all installed DirectFlash modules (Distributed NVRAM). Not only does NVRAM scale alongside capacity, but performance also remains constant, by always providing an optimal NVRAM to storage ratio.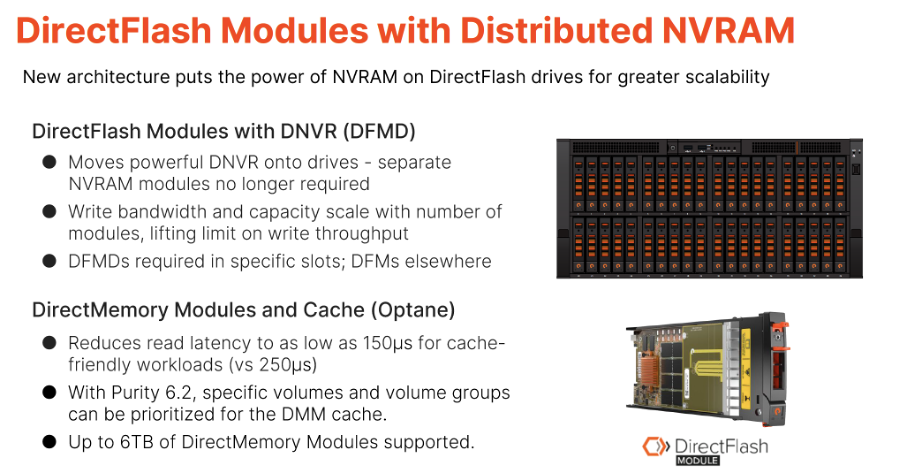 The solution also supports DirectMemory Modules (DMM) with Intel Optane Persistent Memory. Systems with DMM can reach read-latencies as low as 150 µs for cache-friendly workloads, a 100 µs improvement over models without DMM (those can reach as low as 250 µs). Greater capacities are supported, with up to a total of 6 TB of DMM installable on an //XL system. A new update on PurityOS 6.2 allows the prioritization of specific volumes and volume groups on the DMM cache.
Pure Fusion Integration
Pure Fusion introduces the concept of Storage-as-Code, an on-demand provisioning service that allows developers and users to consume storage through a cloud operating model. Hardware becomes invisible, and traditional storage boundaries are lifted, providing instead a virtually limitless storage plane that can comprise of hundreds of arrays and thousands of volumes. Pure's intelligent management capabilities self-drive the storage and optimize data placement, rebalancing workload placement without intervention.
Fusion is based on various storage classes (performance tiers), and FlashArray//XL introduces a new top-tier in Pure Fusion, allowing organizations to execute the most demanding workloads in terms of performance and capacity on the //XL series.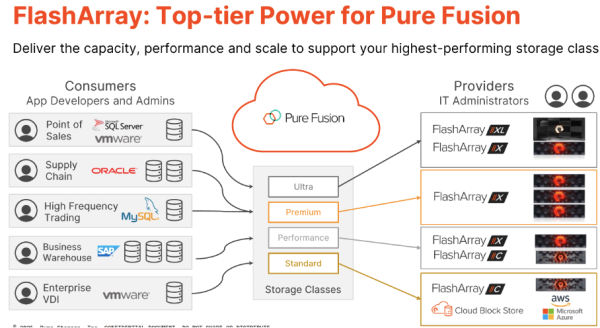 FlashArray//XL also benefits from Pure Storage's application ecosystem. AI-based analytics and AIOps capabilities are handled by Pure1 Meta; organizations seeking Kubernetes support can use Portworx Essentials without any node count limit, and seamlessly migrate to the Enterprise edition when ready to move in production with their cloud-native workloads.
Conclusion
The new FlashArray//XL mission-critical storage platform has all the necessary attributes to challenge existing monolithic high-end enterprise storage solutions. But most importantly, it displaces the game on a field where Pure Storage reigns uncontested: services and software stack.
The potential for improvement in the high-end storage market is staggering. Beyond its inherent hardware capabilities, organizations using FlashArray//XL get the following benefits:
Non-disruptive upgrades with Evergreen, eliminating complex procurement / replacement activities and never-ending migration projects
Storage-as-Code, providing consumption simplicity, intelligent operations, and limitless scalability with Pure Fusion
Advanced AIOps with Pure1, providing autonomous driving storage capabilities
Cloud-like economics and flexible consumption with Pure-as-a-Service, breaking CapEx-based investment cycles and making infrastructure sizing exercises a thing of the past
With FlashArray//XL, Pure Storage has now all the cards in its hands to significantly disrupt the high-end storage market and shake it off from its lethargy, bringing hopefully more innovation and even better outcomes for customers.