Cloud Journey Challenges
Technology is evolving constantly, leading to adoption cycles where organizations embrace new work methodologies and associated application / infrastructure deployment paradigms. However, besides the innovation loop, these organizations and especially their CIOs must also handle the complex reality that constitute present workloads and the weight of legacy applications.
Each of those silos has its own "raison d'être", its own history and purpose. If we consider legacy workloads, we may find core systems of records based on mainframe technology, or legacy databases. Components that might be technologically outdated, but their complexity, impact, or business processes is such, that replacement is not an economically viable option. Current workloads also have their own specifics — bleeding-edge technology doesn't always offer enterprise-grade reliability or a comprehensive set of features. Furthermore, a rip-and-replace approach can be costly while delivering minimal business value.
Some organizations try to meet all ends by designing, building, and managing everything on their own. Such initiatives often end up crippled by the overwhelming complexity of supporting too diverse requirements, a lack of skillset, or massive cloud cost overruns. Furthermore, the time spent on such projects diverts limited funding and labor.
Infrastructure Through the Lens of Time to Value
From a business perspective, IT spend finds its justification in providing the organization with the necessary application and infrastructure services to ideally deliver positive business outcomes to the organization, its customers, the society, and finally, its employees and investors.
Time to Value defines the time it takes for an investment (in our case, the IT spend) to start delivering value to the stakeholders mentioned before. In our case, the more complex an infrastructure project is, the more time it may take to be delivered and be used to produce value.
The longer the Time to Value, the more the business side of the organization will have to wait to start creating value, translating into a loss of momentum, opportunity, and revenue.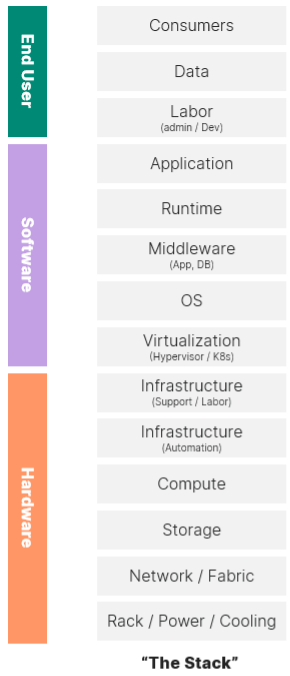 If we consider the entire IT stack required to deliver services to end-users, the hardware stack is where most of the complexity and time lies, with multiple components requiring procurement, racking & stacking, configuration, as well as cabling and connectivity. To deploy an entire "stack" just for the hardware layer can take months to years to deliver a production platform. While these steps are essential to ensure the up stack will operate normally, it remains the lengthiest to provision.
Bare Metal as-a-Service Reduces Time to Value
When it comes to infrastructure provisioning, organizations can reduce the Time to Value by considering Bare Metal as-a-Service (BMaaS) solutions. Those offerings provide organizations the ability to deploy infrastructure at software delivery speeds by proposing a pre-installed hardware stack with all the necessary interconnects in place.
Those solutions implement Down Stack Automation to significantly reduce deployment times, therefore, drastically accelerating Time to Value and enabling a faster path to business outcomes.
Organizations evaluating BMaaS should consider a platform that can support diverse workloads, as stated at the beginning of this post, while providing unified storage and connectivity capabilities that deliver uncompromising performance and global data efficiency. Finally, such platforms should also be well connected to the public clouds to enable a true hybrid cloud experience, regardless of the location.
Pure Storage on Equinix Metal: Faster Business Outcomes
Equinix Metal, an interconnected BMaaS offering that is built with Pure Storage at its heart, is one of the platforms that perfectly matches these imperatives while providing enterprise-class availability.
The solution consists of a ready-to-consume infrastructure stack, comprising of compute, network, and storage that can be automatically deployed in minutes with cloud-like ease and simplicity. It benefits from Equinix's recognized experience in hosting and dedicated cloud interconnects with Equinix Fabric, such as ExpressRoute or Direct Connector to private networks if required, allowing for the best throughput and latencies to both public cloud providers such as AWS, Azure, and GCP or to private on-premises or colocation data centers. One of the highlights of Equinix is the ability to get an interconnect ready within 15 minutes, and the availability of flexible connectivity choices.
The cornerstone of the offering is the storage layer built on Pure Storage's products and the result of a tight collaboration between Pure and Equinix. Equinix Metal customers can reap the benefits of FlashArray //X and //C product lines, as well as FlashBlade and Portworx. The direct cloud interconnects also enable an even better data mobility experience when organizations deploy Cloud Block Store and Portworx on public clouds, providing unparalleled storage deployment options.
Pure Storage also provides enterprise-class data protection options with ActiveCluster, ActiveDR, and Purity Async. ActiveCluster delivers synchronous, Zero RPO data protection for metro distances, ActiveDR provides continuous replication and near-zero RPO for DR use cases beyond metro distances, and Purity Async enables asynchronous replication for less stringent data protection use cases.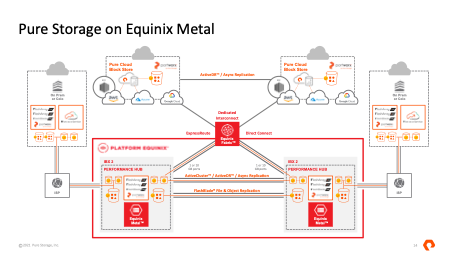 Equinix Metal offers several compute options built on Dell or SuperMicro servers and delivers a fully automated on-demand compute provisioning experience built on Terraform and Ansible, which can be accessed either through their customer portal or through API integrations.
The solution is currently available in 18 metro areas, with 8 core metro areas where BMaaS is instantly available, and 10 expansion metros where the BMaaS service can be ready in less than 45 days.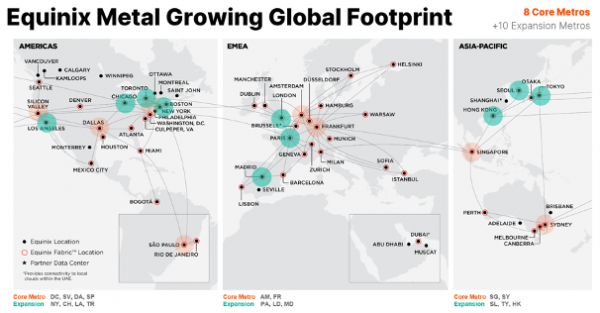 Conclusion
With Pure Storage on Equinix Metal, organizations can achieve a faster Time to Value through a turnkey infrastructure that is instantly available in key geographic metros, eliminating lengthy provisioning times and the burden of managing the underlying infrastructure and environmental complexity.
The solution delivers all-around enterprise-grade capabilities, best-in-class connectivity, and the ultimate storage platform built on Pure Storage technologies, with end-to-end management capabilities, comprehensive data replication / DR protection options, uncompromised performance, and one of the best AI/ML-enabled data analytics platforms available on the market.
Read this solutions brief for more information regarding the partnership between Equinix Bare Metal and Pure Storage and see how you can incorporate it into your environment.