Storage Flexibility and the Demand for Cloud Economics
Almost every organization has come in touch, one way or another, with the cloud, whether for SaaS applications or cloud infrastructure and therefore, with what is commonly referred to as "cloud economics": the ability to consume services at a publicly available price, based on capacity or time pricing metrics.
Despite initial concerns, organizations have come to appreciate the flexibility provided by this consumption model. They usually do not need to make an upfront investment to get started, as they can begin small and scale as needed. Moving from a CapEx model to an OpEx one enables organizations to free up capital and invest money where it is needed, here and now, rather than lock it upfront for 5 years, the typical life cycle duration for infrastructure hardware such as storage.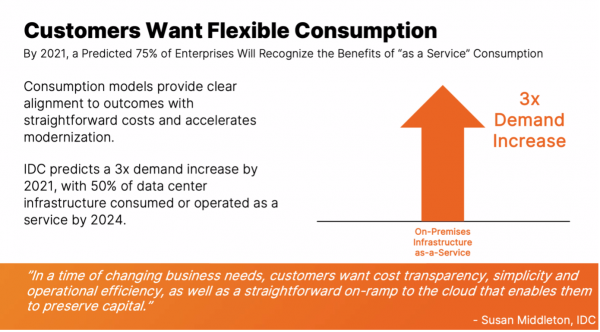 And this flexibility also provides a hedge against some of the most typical issues when architecting a solution: either under-provisioning and facing the risk of increased expenditure to meet current demand, or over-provisioning, and locking capital into a superfluous investment.
In the past 24 months, the IT industry has witnessed the rise of new "as-a-service" solutions that cover various portions of IT infrastructure foundational components such as storage with Storage-as-a-Service (STaaS). Are those solutions similar? And what should be their characteristics?
Five Key Tenets of Storage-as-a-Service
Not all STaaS offerings are similar. All the stakeholders involved in the evaluation of such a solution should not neglect terms and conditions. In fact, it is highly recommended to read the fine print: various parameters such as minimum commitment times, capacity costs, capacity overflow surcharges, and upfront investments are among the parameters that will determine the flexibility and cost-effectiveness of the solution.
Ideally, a STaaS solution should deliver on each of these five characteristics:
Bi-directional scalability: the solution should scale up and down seamlessly, allowing the customer to pay only for the capacity consumed, without floating thresholds that usually increase minimum spend but never go down.
Proactive capacity prediction: the solution should include intelligent monitoring / trend analysis capabilities that can accurately estimate predicted growth and make proactive recommendations.
Capacity reserve: sufficient additional reserve capacity should be provided on top of the initially requested capacity, to ensure seamless expansion in case of demand surges. This reserve capacity should also be charged at a fair price, below the costs of active capacity.
Elastic capacity allocation: Hybrid Cloud is the norm and organizations need to meet capacity demand not only on-premises, but also on public clouds. A flexible STaaS solution should allow capacity commitments to be flexibly distributed between on-prem and cloud environments based on the actual demand.
Cloud economics: Organizations expect STaaS to operate as close to public cloud models as possible. These solutions should offer transparent, clearly understandable upfront pricing.
Pure-as-a-Service: Delivering on STaaS Without Compromises
Pure-as-a-Service is Pure Storage's vision of what STaaS should look like. Their solution was built upon the premise that most of the available STaaS solutions on the market are mere traditional OpEx based subscription contracts revamped to feel cloudy. The challenge with these is that the commitment requirements are so stringent, they can hardly be called "Storage-as-a-Service".
Pure-as-a-Service aims to deliver a consistent cloud experience to storage consumption with a true subscription model that delivers adequate flexibility to customers, upfront public pricing, and fair costs for capacity reserve. Their Evergreen technology provides always-on operational support, ensuring that no hardware-related downtime impacts the availability of storage. Intelligent operations and proactive capacity management are handled by Pure1, one of the most acclaimed AI-based infrastructure management platforms available on the market.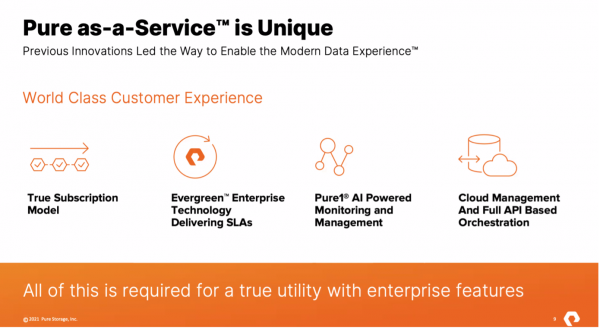 Beyond the technological foundations of Pure Storage products, the key element of their STaaS strategy is found in the Pure-as-a-Service catalog, which provides different services (block of unified fast file & object) and tiers, each with their own capacity commitment and pricing. This catalog allows customers to select the adequate STaaS services they want to deploy based on performance requirements and typical use cases for the given tiers.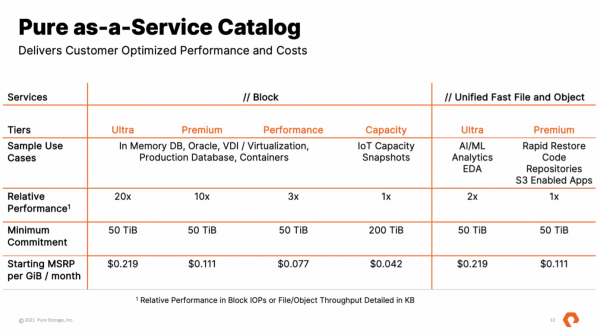 This allows organizations to flexibly define what storage types and tiers they intend to use, with clear indications around minimum commitments and MSRP pricing per GiB/month.
Conclusion
Storage-as-a-Service is an efficient and flexible way to consume storage, provided that the service provider adheres to the cloud principles of scalability, flexibility, and pay-as-you-go economics.
While it is not always possible to implement true pay-as-you-go without any upfront commitment, organizations should nevertheless be vigilant to select solutions that truly deliver storage-as-a-service and not subscription-based infrastructure lease under the disguise of a cloud service. Flexibility and scalability, both in terms of capacity, commitment duration, and pricing conditions will show the difference between the former and the latter.
Being laser-focused on storage helps Pure Storage understand the needs and expectations of organizations not only from a technological perspective, but also from a financial and commercial perspective. Pure Storage acknowledges that budget spend habits are undergoing a deep transformation with OpEx, cloud-based consumption models taking a lead over traditional, CapEx-based expenditures, which are expected to regress in the coming years.
With Pure-as-a-Service, Pure Storage continues to build upon their expertise in providing customers with efficient, flexible, and cost-effective storage solutions that cater to the needs of diverse workloads while delivering uncompromising performance, state-of-the-art management capabilities, and unrivaled enterprise-grade advanced data services.