Pure Storage recently announced they reached a significant milestone with their subscription-based Evergreen Storage program: 7,000 non-disruptive controller upgrades since 2015, performed by over 2,700 customers. Pure also noted that the average number of upgrades grew by 38% YoY.
Following the recent rise of Pure-as-a-Service, the company's Storage-as-a-Service (STaaS) solution, it's worth commenting on this milestone, as well as why Evergreen is not only a key foundation to Pure-as-a-Service, but how it also makes the service fundamentally different from competing solutions.
The Vicious Rip-and-Replace Cycle
The traditional infrastructure and storage consumption model generally consists of a 3-to-5-year lifecycle, based on the industry needs, with a lifecycle of around 3 years for performance-intensive workloads, and 5 years for general-purpose workloads.
If we consider the 5-year cycle, the most common one across enterprises, we would be inclined to think that a company purchasing a storage solution will effectively be using it for five years.
However, the reality is different. Refresh cycles usually take between 18 to 24 months, and consist of:
An initial RFI / RFP phase to identify potential replacement solutions and address requirements
A possible PoC phase to assess performance, capabilities, and the ability to meet requirements
Procurement matters (these usually happen in parallel, but can also impact timelines)
Hits (and misses) around properly sizing the new solution
Upon solution selection and sorting out procurement matters, wait for delivery
Racking and stacking
Infrastructure qualification in regulated industries (example: IQ, OQ, and PQ in Healthcare)
Operational Handover
Migration phase
The last point is interesting because having the storage delivered and operational doesn't mean it will be immediately used at full capacity. Workload migrations could take days, weeks, or months based on the size of the infrastructure and the criticality of the workloads.
Migrations also imply that the source and target storage systems must be concurrently operational until migrations have been fully completed, with an impact on operational / environmental costs. The other implication is that the end-of-life period of an existing storage array is also shortened by the time necessary to perform migrations unless the organization wants to risk running out of support or paying a premium for extended support.
These costs are however negligible compared to the overall cost of the refresh cycle in terms of labor. Planning a lifecycle refresh requires the involvement of qualified, expensive resources whose time is limited. In such projects, a sizeable share of their time is diverted for weeks/months, delivering little value to the organization.
Evergreen: Foundations and Mechanisms
Evergreen was launched in 2015 and promised organizations a future with "no forklift upgrades". By forklift upgrades, Pure meant disruptive, rip-and-replace upgrades where the forklift would carry away old hardware and bring in new pallets of hardware.
This service offering allows customers to initially purchase their storage via CapEx, but then shift most upgrade costs to an OpEx-based subscription. This allows them to consume Pure storage solutions on a subscription basis, effectively ending the cyclic infrastructure refreshes highlighted in the previous section. This model cuts off recurring CapEx investments and provides a better return on investment by eliminating unnecessary refresh cycles while ensuring customers always operate a robust, performant, and up-to-date infrastructure.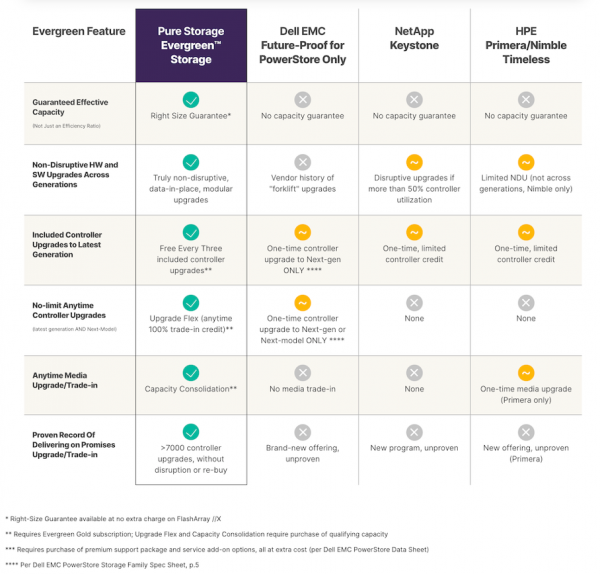 The necessary condition to make Evergreen a viable solution was to architect the products in a way that would make upgrades a seamless process:
At the controller layer, array features were decoupled from software capabilities (data services)
At the hardware layer, the solution was designed around a chassis made to last 10+ years (currently in use for ca. 5 years)
At the data services layer, provide all improvements via software only. For example, recurrent upgrades provided a 14x increase in data reduction since the start of the Evergreen program
The outcomes of these decisions are the Evergreen subscription and are offered the following benefits and migration paths:
Continuous software-based feature upgrades
Included, non-disruptive upgrade of the array controllers every 3 years
Ability to non-disruptively upgrade controllers to a higher model (for example from a FlashArray //X20 to FlashArray //X90). This is done via a trade-in mechanism, where credits for the current model controllers are fully taken into account, and the customer only covers the difference to move to the higher model, along with a qualifying amount of capacity.
These architectural decisions enable a "continuum of simplicity" where customers continuously benefit from software and hardware improvements without having to pay a "refresh tax" with an extensive negative impact in terms of collateral costs and activities.
Conclusion
Pure's Evergreen Storage has a compelling value proposition: the ability to provision and consume storage services without being affected by technological or financial depreciation of the assets. Organizations can start small and seamlessly grow to a higher capacity or higher model range, without having to worry about making the right product choice, not only for the present, but into the future, as it would happen in a traditional lifecycle refresh project.
Evergreen also keeps infrastructure up to date in terms of performance and features, keeping bottlenecks in check and maintaining elevated customer satisfaction. The solution is also good for Pure Storage: it helps the vendor achieve better sales cycles and better customer retention, thanks to a no-brainer solution that meets the needs of our times.
Finally, Evergreen is at the heart of the Pure STaaS solution. Whether customers choose Pure-as-a-Service or traditional consumption models with Evergreen, the benefits are unique in the storage market, as no other vendor has developed a solution of this kind that is deeply integrated at the hardware and software layers.
Learn more about Pure's Evergreen Storage by visiting their website. Also, you can learn more about the new technologies coming out of Pure Storage by watching them at the upcoming Storage Field Day event in August or Tech Field Day event in September.