The Digital Experience?
The folks at Pure Storage like to talk about the Pure1 Digital Experience. I thought it would be worthwhile explaining exactly what that is. Think of it as three pieces of the storage management puzzle.
Cloud Economics
One of the big advantages of Pure1 is the visibility it provides into how your storage is being used. Combined with Pure's Storage as-a-Service offering, you only pay for the storage you need, when you need it, whether the data is in the private or public cloud.
AI-Driven IT Operations
You also get access to Pure1 Meta AIOps for proactive and predictive recommendations. What this really means is that you can manage your storage from anywhere, while getting access to full-stack monitoring with predictive analysis and support. You can also effectively plan your resourcing for new applications and only buy what you need, leaving you to focus on growing your business.
Adaptive Architecture
The Pure Storage Evergreen architecture has historically enabled customers to stay ahead of the storage curve by providing access to platform refreshes as part of the standard hardware lifecycle. These benefits have also been extended to Pure's Storage as-a-Service offering.
What's New?
So now you have a feel for the Pure1 Digital Experience, what's new?
Proactive Upgrades
As part of the standard Pure1 upgrade view, you can now evaluate the Purity OS version, perform pre-flight checks, address any issues in time for the upgrade, and schedule the upgrade. You no longer need Pure Support's intervention to perform these checks, and the information is given a priority view inside the Pure1 interface, making it easy to see when upgrades are available.
Data Protection Assessment
You can now also get a complete fleet view of on-array protection policies, with automated support case scheduling when issues arise. This feature offers recommendations for Purity upgrades, SafeMode configuration, and Policy review. Previously, you'd have had to dig through the interface to see which arrays were protected by SafeMode snapshots (Pure's ineradicable snapshot technology). With this view, you can easily see which arrays (and volumes) are protected. This is particularly useful in large environments where the number of arrays under management may be in the hundreds of units.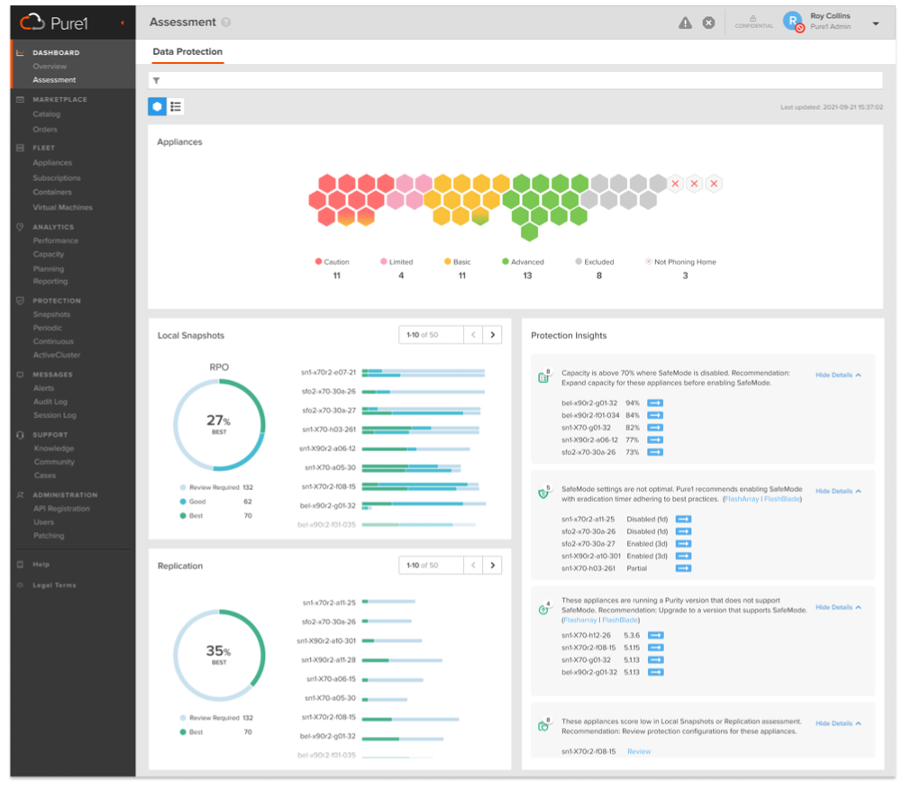 Portworx Container Topology View
You can now get a view of your Portworx Container topology, providing a simple way to identify issues in your container landscape. It also allows you to understand drivers of storage usage (thus providing insights into improving efficiency). You can view the cluster details including storage, volumes, and nodes.
Conclusion
Performance has always been an important consideration when choosing a storage system to service your organisation's workloads. It's also important to consider things such as price, support, and availability. With Pure1, Pure has taken a storage solution that performs well and wrapped a whole bunch of useful support features around it. But it's also understood that visibility is critical to the smooth operation of infrastructure that supports critical applications. You don't just get a lot of graphs and performance metrics on a pretty dashboard though; you get actionable insights and the ability to perform maintenance activities on your fleet from those insights.
Sure, you might tell yourself that you could put together a dashboard of your own that will look like this, and you might be able to incorporate various elements into your existing management framework. Pure Storage, after all, remains relentlessly devoted to an API-first approach when it comes to its various solutions. But for enterprises with particularly large storage estates, or for those organisations lacking in-house development skills, solutions like Pure1 really make the management of Pure Storage products a breeze. Remember, there's no point owning the fastest storage environment on the block if you don't know how it's really helping your business.
Learn more about how Pure Storage's recent portfolio updates can benefit your business by watching either their recent video Interview featuring Ajay Singh or reading the live blog from their launch event.