Last week, I met with the Pure Storage's FlashBlade product team to hear about their newest offering for unstructured data storage. Given Pure's focus on high-performance, scale-out all-flash solutions, I assumed that I'd be hearing about a new edition of FlashBlade//S. But instead, we talked about their new software-plus-hardware product aimed at workloads with similar access performance needs: FlashBlade//E.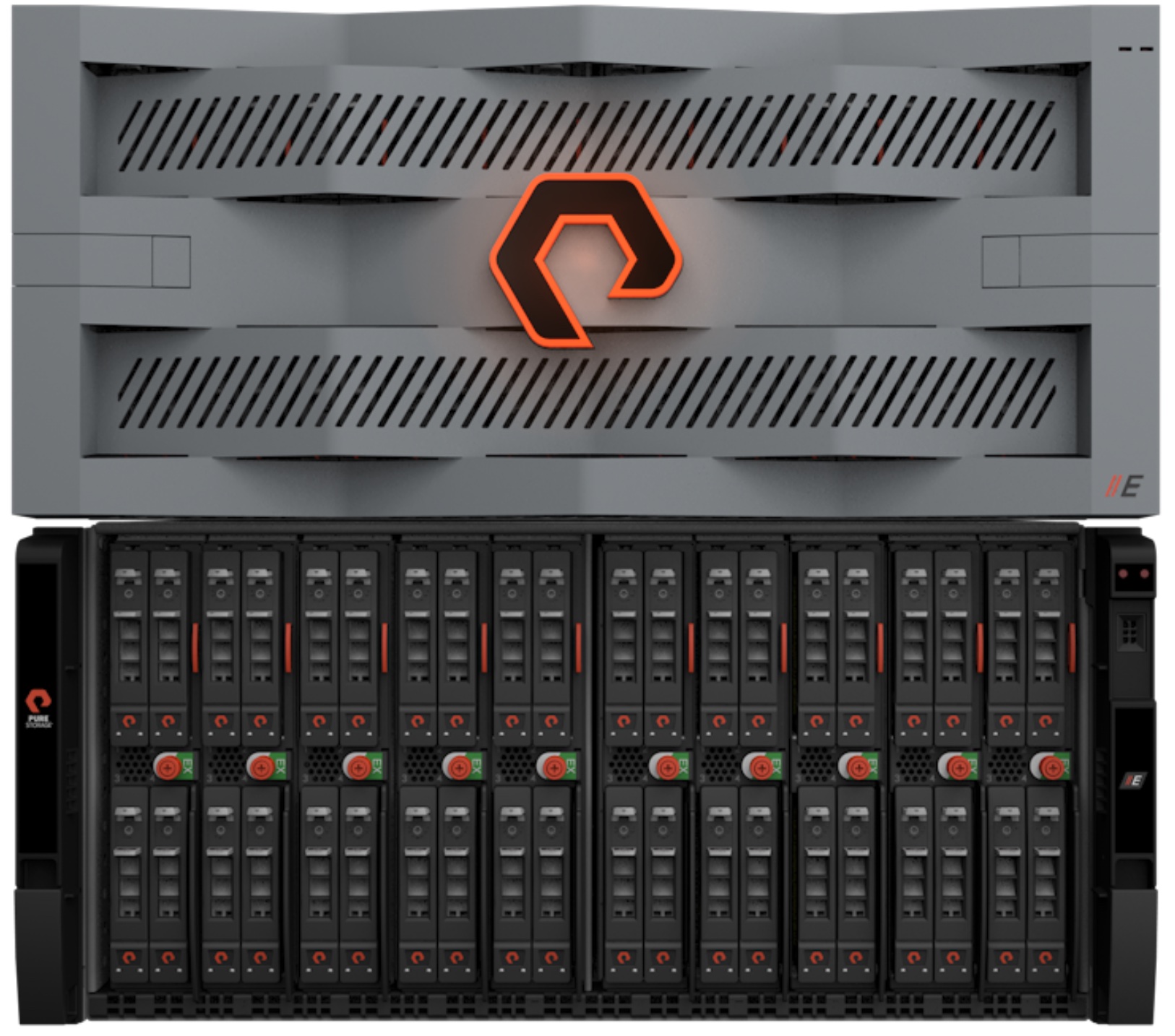 The Current Storage Market
Typically, oragnizations keep their cooler data sets stored on spinning disks or other non-flash options to save on costs. Although they tend to be slower, these technologies remain the cheaper alternative for large data sets that are very infrequently accessed.
Traditionally, data professionals think of data access needs as hot, warm, cold, and archive. The acquisition and operational costs decline from hot to archive.
However, until now, the most cost-effective option for cold and archive data is spinning disks that are available at affordable price points. There is hardly any organization left that uses tape backups, for these reasons.
Of course, nothing stops an organization from hosting all its data on high-performance infrastructures other than the fact that data growth continues to be a significant factor contributing to the total cost of ownership for storing more and more data. Additionally, most of these cooler datasets tend to grow faster than transactional data. That runs up the cost really really quickly.
FlashBlade//E
Pure's new solution builds on the same software and hardware architecture as the FlashBlade//S for unstructured data. Pure is delivering this offering with nearly all the features of their premier product while cutting costs to the point where organizations can save money moving from non-flash options.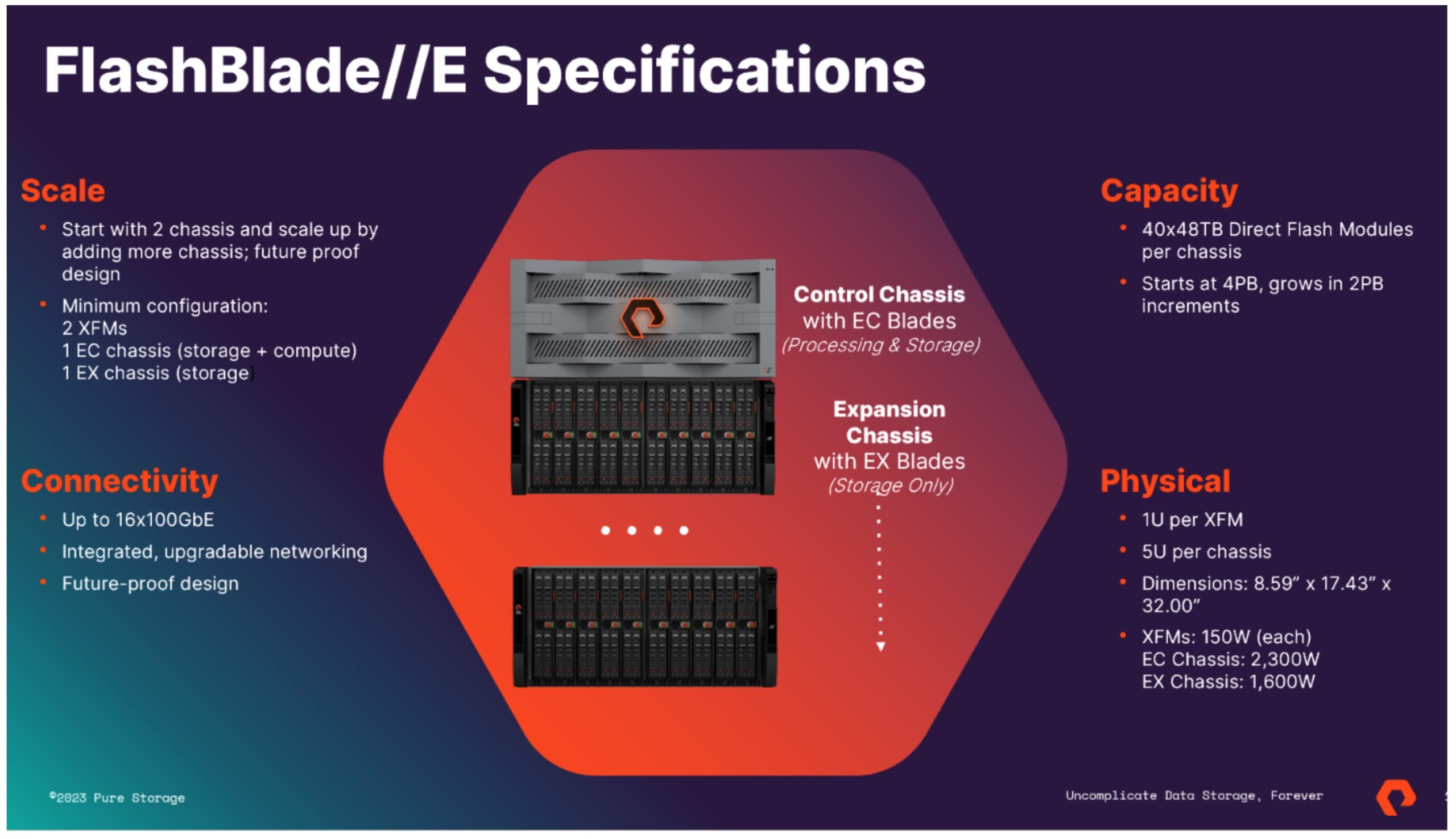 Same Features
Pure Storage wishes to make FlashBlade even more accessible and convenient for their current and new customers. To that end, it has included everything that FlashBlade//S solutions have:
Scalability: Hardware uses the same extensible and upgradable Direct Flash Modules
Capacity: Up to tens of petabytes
Networking: Up to 16x100GbE
Energy: 2,300W (Compute plus Storage) or 1,600W (Storage only)
Software: Runs the same Purity/FB software
Size: Hardware dimensions are much smaller than disk storage
Data Security: Supports the same features such as SafeMode™ immutable snapshots as well as always-on encryption
The datasheet for FlashBlade//E has more technical specifications.
Lower Cost
Lowering costs is the primary focus of this product. Pure says that the acquisition costs are similar to those of comparable disk solutions, and at a total cost of ownership of about $0.20 US per GB raw, it is 40% lower. Pure also points to costs savings over traditional storage because all-flash saves on energy use, at about one-fifth of that of disk systems.
Target Workloads
Pure uses the term repository workloads to describe the best fit for data access and usage for FlashBlade//E, and I think that helps explain the types of workloads they want to support. These include traditional unstructured data such as media, backups, snapshots, data lakes, documents, and records. These are large volume datasets that have a huge variety of performance and access needs.
Sample Use Cases
Consider medical imaging as a use case. It would involve storing digital artifacts like these at a high resolution for a very long time. But in reality, they get accessed only a few times a year, depending on how long ago they were created.
The same goes for large data lakes, where data always flows in but never leaves the lake. Moreover, given that data lakes typically support data in its raw, non-aggregated form, they tend to be loaded with mostly uncurated data, and have no set structure to the same data from multiple sources. Add to that the fact that we often store raw, cleansed, and curated versions of these data. Data lakes grow faster than transaction systems such as data warehouses.
IoT streaming media is another great example of large volumes of data being stored in raw, cleansed, and analyzed versions. You might need to process all that data at the time of ingestion and archive it to storage for the longer term.
Target Customers
Pure wants to entice their existing customer base to migrate all their spinning disk storage to FlashBlade//E, and that makes perfect sense. Expanding footprint in a datacenter is always easier if you already have products there. So if Pure's estimates for cost and energy savings come anywhere near what they are predicting, it's a win-win for both organizations.
However, Pure also sees a path for new customers with different requirements for high-performance all-flash storage. With the new price points and cost savings, these organizations with large unstructured data needs will see sense in considering FlashBlade//E as a solution for their repository workloads.
What Does the //E in the Name Stand for?
As you may have guessed, the main focus of the E branding is Environmental. However, Pure also points to the lower cost feature as Economical, the simplicity provided as Effortless, and their Evergreen//One™options as Everlasting.
With 10 to 20 times greater reliability and innovative designs, Pure claims that their products deliver 85% e-waste reductions over traditional disk storage. Given all this, I think this product deserves the //E branding.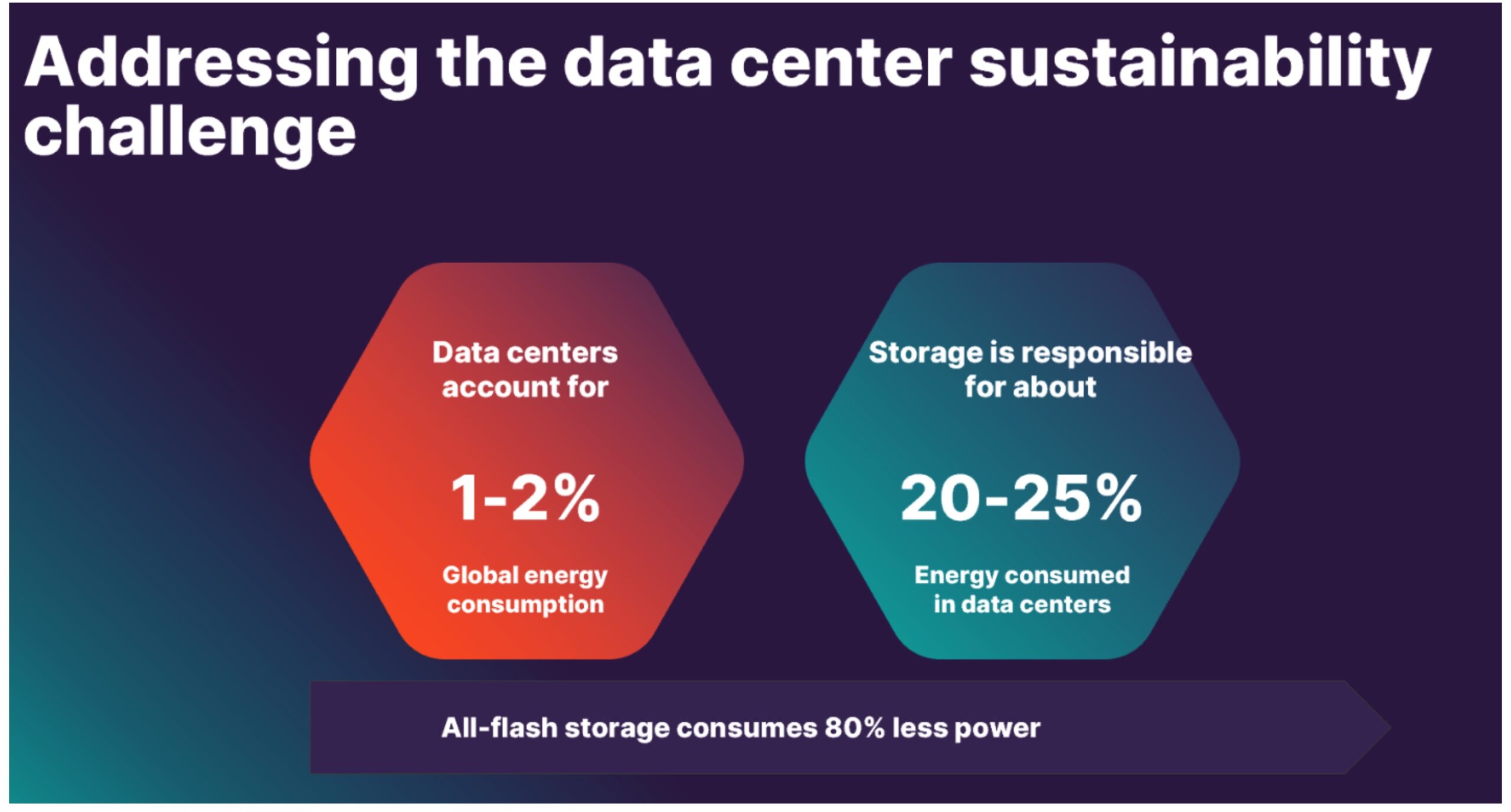 Karen's Observations
Pure has created a new entry point for organizations that have not yet transformed to an all-flash storage. With FlashBlade//E, they have opened a door for current customers to move to a more sustainable, energy-efficient set of storage solutions. I've previously written about Pure Storage's commitment to building products that reduce energy usage and mitigate planned obsolescence. Their scale-out framework enables companies to extend the life of their storage infrastructure easier and with less downtime. To quote from my previous article, "This is the way I want all technology to go: upgrade instead of replace."