Within the IT industry and among practitioners, Scality is a well-known brand that has built its reputation around its flagship product, RING, a proven software-defined file and object storage solution whose strength lies in its simple petabyte scalability, hence the company's evocative name. In their recent joint Tech Field Day event with HPE, Scality announced they would be expanding their focus to the enterprise developer with their new ARTESCA solution.
New Focus on Cloud-Native Application
RING has served and will continue to serve applications mainly deployed on-prem and spanning to the cloud, but in the meanwhile, new application architectures and models for data ingestion, storing, and manipulation have surfaced and are now an established reality. These container-based workloads cross the boundaries of core datacenters and extend beyond public clouds to reach any location where there is a need or an opportunity to collect precious data streams: in short, they live at "the edge".
We are rapidly diverging from an "infrastructure-defined" IT model to an "application-centric" one where the focus is targeted on the business value generated by data, regardless of its source location. Infrastructure should not become a constraint in this scenario, but rather a steadfast enabler for applications.
This new approach requires an easy-to-scale storage solution deployable anywhere and in multiple form factors. The resulting enterprise's distributed data estate must be kept in check by some kind of data management platform providing full visibility and policy-based actionability.
Enter ARTESCA, RING's Younger Sibling
Scality firmly believes to have the right solution to this challenge and – after four years of development starting with a blank slate – the company boldly announced ARTESCA in exclusive partnership with HPE (more on that later): ARTESCA is Scality's Lightweight, Cloud Native, Application-centric Object Storage solution for modern data-intensive workloads (AI/ML, Big Data Analytics, 5G, IoT, In-Memory applications, etc.) that live simultaneously across core, cloud, and edge locations.

ARTESCA is lightweight because it can start as small as a single node with 50 TB of storage and easily scale to petabyte deployments in true Scality style. It is cloud-native because the entire system is built as containerized services deployed and operated on Kubernetes. Finally, it is application-centric as it decouples the placement of data from the application consuming it, thanks to the powerful data management policies that enable mobility and lifecycle control across edge, cloud, and core locations, unleashing the potential of the workloads it backs.
ARTESCA's main features can be summarized as follows:
Amazon S3-compatible APIs including standard bucket and object APIs, Multi-Part Upload, versioning, lifecycle management, replication, and object locking
Multi-tenancy and security through an AWS-compatible Identity and Access Management (IAM) capability
Prometheus-compatible monitoring API implementation
Automated provisioning through Kubernetes with support of upcoming CNCF standard (COSI)
Data durability through dual-level erasure coding with distributed network codes and local repair codes for self-healing
Federated Cloud Data Management with single Global Namespace across ARTESCA, RING, and public cloud object storage instances
Built-in data management through lifecycle and replication policies to public clouds
API-driven UI for monitoring and management of the federated namespace
Object browser and metadata search directly accessible from the UI
Deployable on x86 bare metal servers and VMs on all-flash and hybrid storage configurations (HPE has an initial six months distribution exclusive)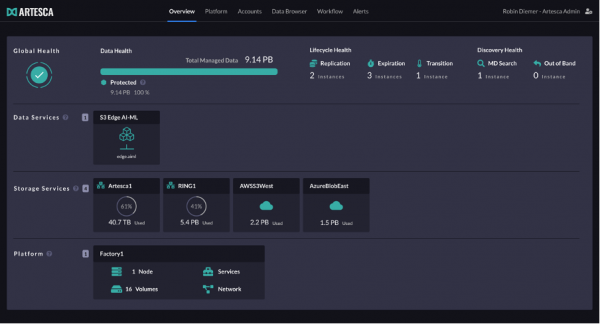 ARTESCA makes the familiar, ubiquitous S3 object storage protocol available anywhere: the real differentiator here is ARTESCA's capability of pooling into single logical and easily manageable namespace buckets created on ARTESCA and RING instances on-prem and/or at the edge and on AWS, Azure, Google Cloud, and other public providers. Policies can be implemented by operators and developers with little to no storage administration experience to configure and enforce cross-region replication and data lifecycle rules for data expiration or migration across any buckets within the global namespace.
The Scality – HPE Partnership: The Key to Enterprise Adoption?
ARTESCA was launched jointly by Scality and HPE, which has a six months sales exclusivity deal through November 2021. During this period, the only way to purchase ARTESCA will be in conjunction with a supported HPE server solution; HPE has identified a wide range of server models that should satisfy any possible customer needs in terms of initial capacity, future growth, and placement, covering any scenario starting from a single small unit in the field to huge clusters in the main DC.
HPE has also made ARTESCA available through the Greenlake "Data Center as a Service" subscription offering, making it really easy to access and utilize for existing customers.
This might seem like a contradictory marketing approach for a software solution that seems to be targeted at developers, but in reality, it makes a lot of sense. ARTESCA is meant to be used by developers but is to be chosen by the enterprise. After all, it is the enterprise IT organization that envisions the company's IT strategy and has control of the budget to make it happen. The potential strength of ARTESCA is that developers should welcome it even if they are not involved in the decisional process as it is a solution they are already somehow familiar with (being it an S3 store) and that, being ubiquitous by design, will allow them to stretch their applications literally anywhere without constraints.
Conclusion
ARTESCA's capabilities make it an interesting proposition for the developers, who will be able to build global-scale applications backed by the familiar S3 protocol while, at the same time, CIOs can sleep peacefully at night knowing they can deliver value through a reliable and well-supported enterprise-level solution.
The initial distribution exclusive agreement with HPE will be instrumental in facilitating the introduction of ARTESCA wherever the green HW manufacturer already has a foothold, while at the same time also making it appealing to non-HPE customers.
What has to be seen is how things will evolve after the six months exclusivity period will expire, allowing customers to access the bits directly and deploy on their hardware of choice, more or less like what has happened with RING before. Time will tell and, for sure, we will be there to have our say.