As software introduces better consumption models for underlying technologies, the appetite to consume more resources continues to grow. Composable infrastructure feeds this hunger by serving up resources as and when they are needed.
At the recent Storage Field Day event where Solidigm presented its QLC SSDs, composable architecture took centerstage.
A veteran of the SSD industry, Solidigm recognizes that CPU and memory have largely outpaced storage in terms of speed and density increases. Newer configurations are working on larger datasets, and many of the workloads – AI and machine learning – are data-centric. Their progress is limited by their ability to get to the data.
Solidigm's use of Enterprise Datacenter Standard Form Factor (EDSFF) truly stands out in this context. EDSFF is front-loading and hot-pluggable, and provides better density options than the standard drive form factor.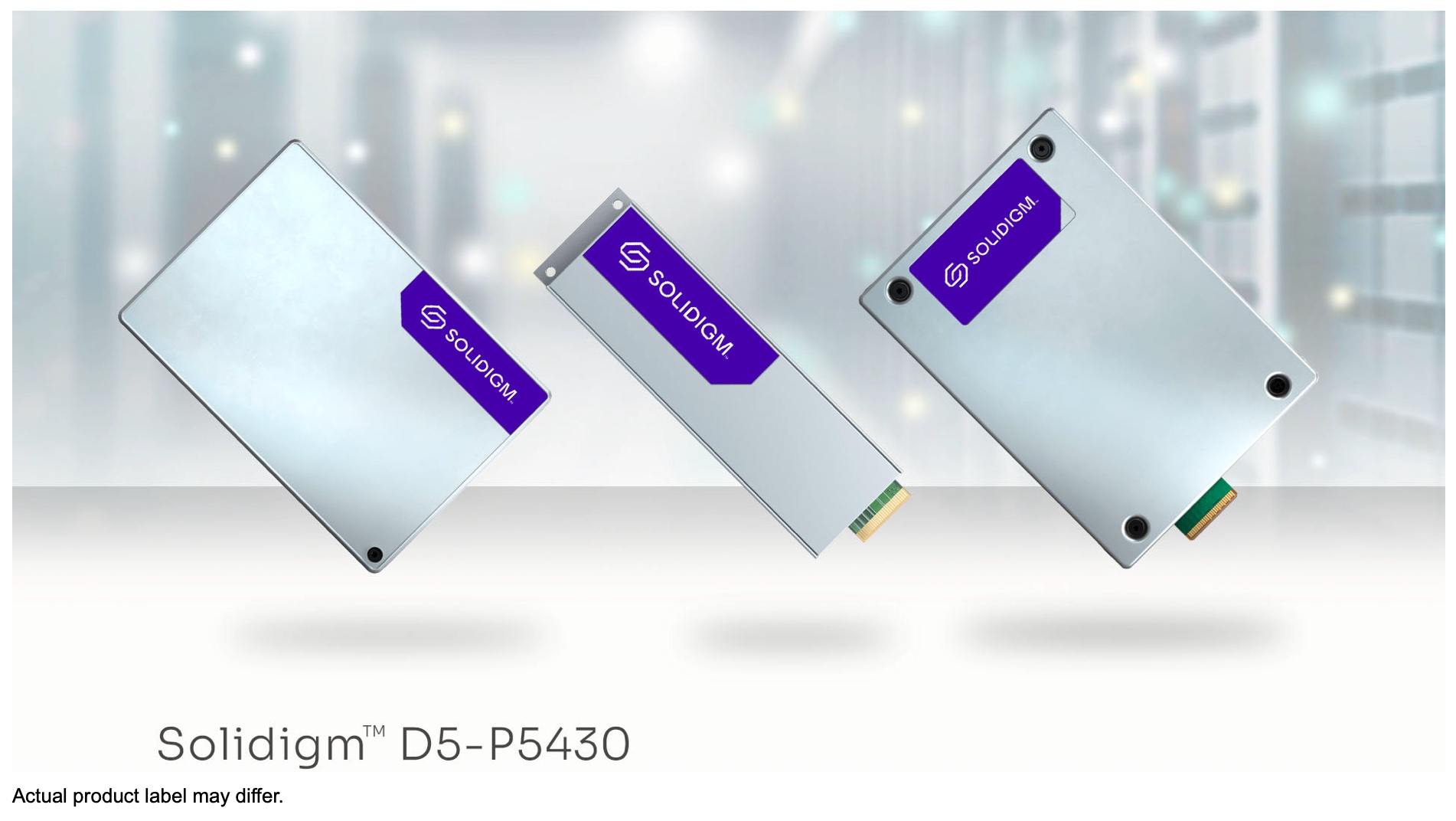 Solidigm D5-P5430
At the post-event roundtable hosted by Solidigm and Supermicro to kick off the Solidigm D5-P5430 offering, Soildigm's Tahmid Rahman and Supermicro's Patrick Chiu fielded questions about the product and Supermicro platforms designed to work with its high-density drives.
In a nutshell, the D5-P5430 is available in a U.2, E1.S and E3.S form factor and in a range capacities from 3.84-30.72TB IT is a storage device that communicates via NVMe over PCIe gen 4.0. It's one of the first devices to be offered in the EDSFF E3.S package.
The E3.S form factor is designed for both density and efficiency. Tahmid and Patrick claim five times the density of traditional SSD packaging, and almost twice the power density with it.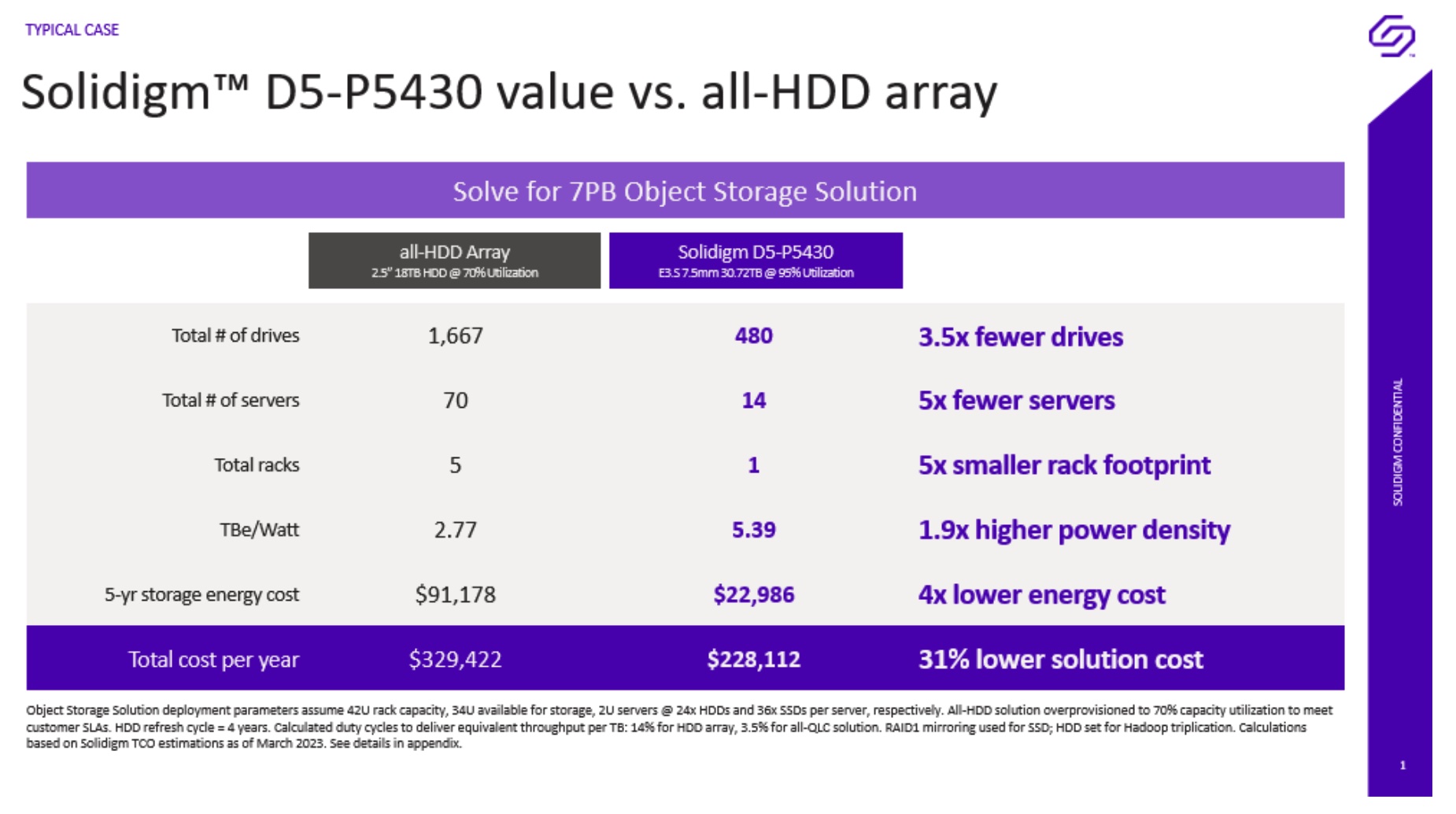 The form factor is especially valuable for composable infrastructure, due to being hot-pluggable and front-loading which allows users to get the right size for their needs by just adding and removing drives.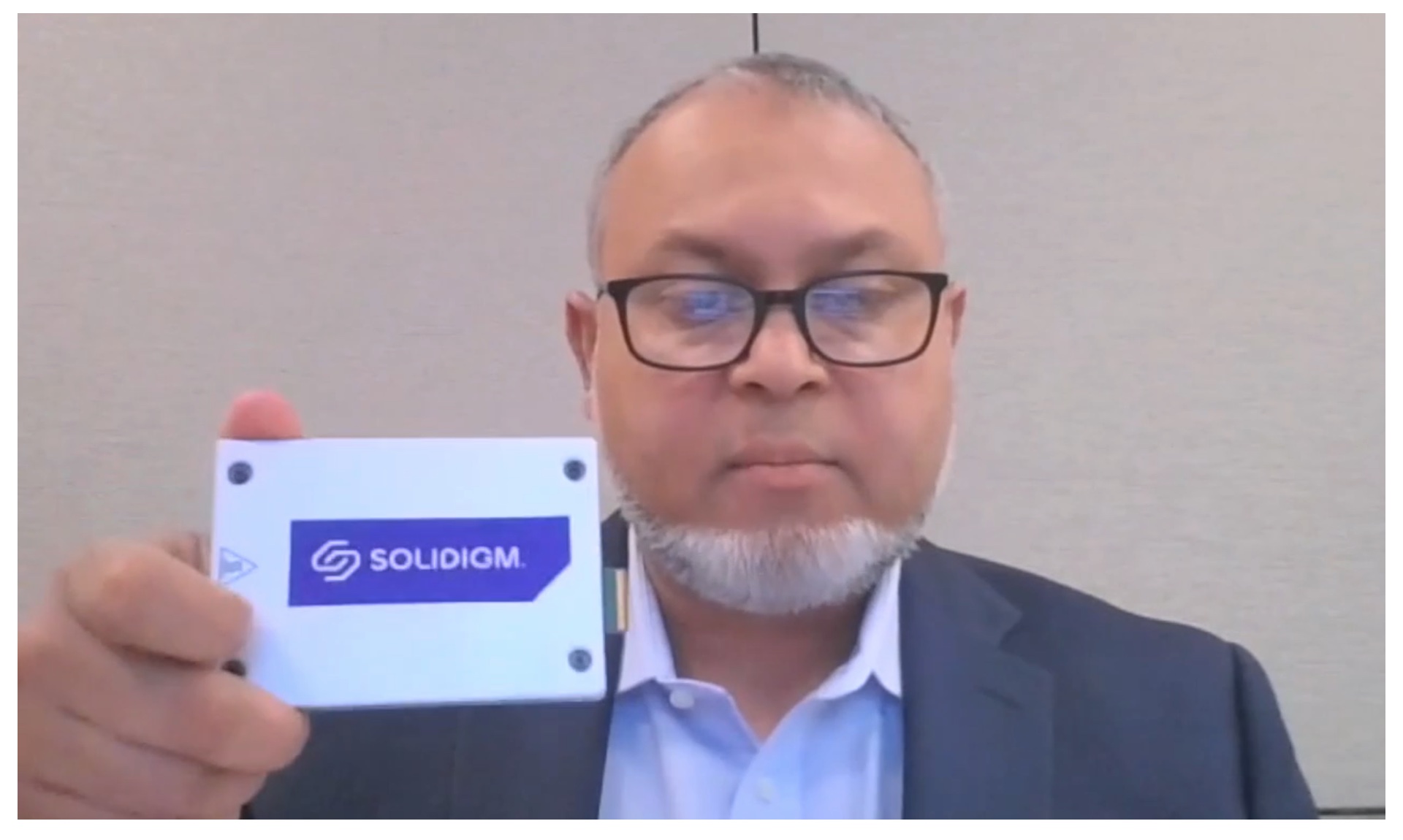 New Platforms from Supermicro
Supermicro has designed a set of new chassis to accommodate the drives, allowing incredible density. Their offerings provide 16 E3.S slots in a 1U chassis, or 32 in a 2U configuration. (Real estate on 2U puts the absolute maximum count at 40).
The newest platforms are designed around a single AMD Genoa processor, and alternatively, a pair of Intel Sapphire Rapids CPUs. The AMD Genoa sports 128 PCIe 5.0 lanes, while the Sapphire Rapids have 80 lanes each. That's more than enough to handle the full bandwidth of the maximum number of drives available in the chassis, with plenty to spare for network connectivity.
These numbers help explain why the density available on this platform with the Solidigm SSDs is useful. This much density is essential to keep pace with the throughput available on the newest generation datacenter processors.
Tahmid points out that over recent history, storage expenses are outpacing compute by 4.5x. These drives are helping storage density stay in the race with CPU and memory advances.
Real-World Users
Who has need for this type of composable infrastructure? That would be top-tier enterprises, when dealing particularly with large datasets. Hyperscalers, content-delivery networks and streaming media services gobble up storage prodigiously. These systems will be ideal for their scale and use cases.
It's also an ideal workload for QLC technology as these are largely read workloads. Tahmid emphasizes that on a realistic content delivery network workload these SSDs can be written at a rate of 2.4TB per hour for the full 5 years without wearing them out.
Solidigm also highlighted a study, driven by the University of Toronto where they found nearly 99% of SSDs taken out of service were at less than 15% of their wear limit.
Conclusion
In modern IT, one size doesn't fill all. Sometimes the users need more. Designed to deliver more, composable architecture allows for the existing pieces to be fit together in new ways that expand the capabilities of systems. As a concept, composable architecture has come of age.The Solidigm D5-P5430 is proof of that. With its blend of performance, density, affordability and optimized form factor, it has the potential to become a key component in right-sizing datacenter infrastructure.
Find out more about the Solidigm Data Center SSD offerings on their site or contact them for more information. You can also watch the Gestalt IT Roundtable Discussion available now.
Another resource to check out in this connection is – CXL meshes nicely with Composable Infrastructure.