VMworld Cloud Roundtable Discussion
At VMworld, I had the honor and privilege to participate in a roundtable discussion with some fellow visionaries of Cloud Architecture and we discussed the past, present, and future of Cloud Architecture and Infrastructure as we know it.
Our panel was comprised of:
Bob Ghaffari, @BobGhaffari General Manager, Enterprise & Cloud Networking Division at Intel
Joep Piscaer, @jpiscaer Blogger, CTO, Technical Advisor
Tim Van Herck, @VeloCloud, Director Product Management VMware VeloCloud
Brian Payne, VP Product Management and Product Marketing VMware Cloud at Dell
Theresa Miller, @24x7ITConnect, Principal Technologist at Cohesity
Andrew Conry-Murray, @Drew_CM, Content Director at Packet Pushers Interactive
Adam Post, @semi_technical, Principal Consultant at IT Partners
Rohan Naggi, @lifeboy, Sr Technical Product Manager at VMware on VeloCloud
Christopher Kusek, @cxi, Hey that's me! CTO, Evangelist
Varun Chhabra, @broomio, VP Product Marketing at Dell for Dell EMC Cloud Platform
And last but not least, our moderator, Ken Nalbone, @KenNalbone, Tech Field Day Event Lead.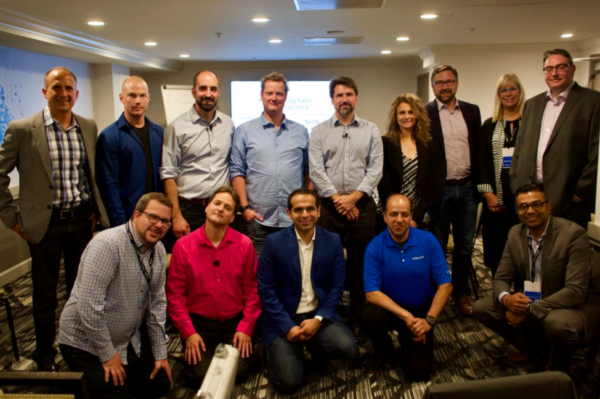 Now that we got all of the formalities out of the way, what did we discuss? What does it all mean? Did we fight about containers and security?!
The conversation started off with cloud delivery (public, private, or hybrid) and what is needed to make it work. Like all good conversations, it began with a vision of best practices.
The vision, rightly so, for cloud delivery was centered on a few key principles:
Solid understanding of business requirements
Understanding of the application
Traffic flow for the application, ingress, and egress
All of these are essential in determining which platform to deliver your application on. The decision is often blurred because of the market's expansion and adoption of Kubernetes. While there is more flexibility, there are also more challenges in the general scale of the market as every major cloud vendor offers their own "version" of Kubernetes (e.g. Microsoft's AKS, Amazon EKS, Google GKE, Pivotal's PKS).
Even in a perfect world with a perfectly baked vision, organizations will often succumb to data gravity and attach more of their application and use-cases on the heaviest platform vs. the best platform due to the heavy burden and cost of ingress and egress of data. This is further complicated by the fact that each cloud vendor does things 'a little differently' when it comes to networking, their APIs, and their software-defined functions.
During our conversation, Rohan Naggi succinctly said, "Cloud Infrastructure should be independent of the choice of cloud Infrastructure."
This led into a deeper discussion about multi-cloud and how we can do that well and effectively, which was met with some pushback from panelists due to challenges we face regularly surrounding regulatory, compliance, and security.
The challenge with multi-cloud does not directly stem from the difficulty of getting each cloud to act 'alike' so you can handle things like-for-like across each platform, but instead centers on the fact that most businesses do single cloud poorly. This is whether they're using a single public cloud provider, a hybrid cloud solution, or have no cloud leveraged and are entirely on-premises. Regulatory, compliance, and security in their own operating environments are far from ideal or perfect, so this causes natural concern when trying to do things right across a slew of environments.
With standardization on platforms like Kubernetes, infrastructure as code, and deployments that are YAML driven, this will make great strides in minimizing some challenges in the long-term, but the legacy near-term still results in people sharing their Amazon S3 encryption keys publicly, or the business running off of an application tied to an end-users credit card and account. These are all fixable as the walls of Shadow IT are torn down and the business adopts cloud as part of their business strategy. But it's not there yet.
This conversation highlighted a bright future for cloud, multi-cloud, security, and containers. The current strategy going forward with the majority of the cloud providers and cloud players, the industry-wide adoption of Kubernetes, and VMware's own investment and creation of Project Pacific and Tanzu are going to have a lasting impact on making things operational and manageable for the future. I hope you get the opportunity to watch/listen to the entire roundtable discussion as we touched on so many areas, getting deep into the weeds, and looking down at things from high above the clouds. This only scratches the surface of the future before us, but that future is bright and exciting!
I want to thank everyone so much for this opportunity and the time spent on this panel. The conversations were deep, and the stakeholders have been taking active steps to make this vision of a software-defined, multi-cloud, container-capable reality. Some of the investments announced were: