Decoupling hardware from software was first a virtualization tenant and later adopted by the cloud. The prominence of GPUs, FPGAs, and SmartNICs debunks this as the only way. Machine learning/artificial intelligence is only made possible because of specialized hardware devices with closely-integrated software. At Tech Field Day Extra at VMworld 2020, Pensando showcased how its SmartNICs or P4-programmable Distributed Services Cards can add real value to the VMware ecosystem and even run ESXi and other VMware services.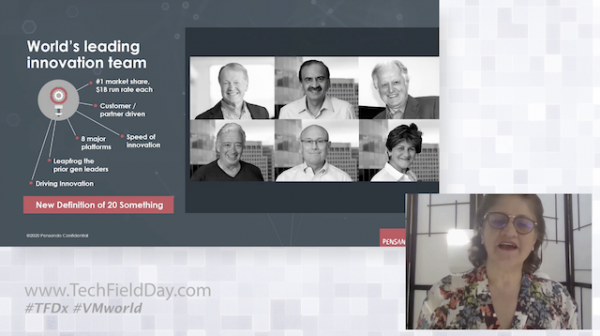 Hardware or Software: Why Not Both?
On-premises or cloud? Dev or Ops? Hardware or software? Everyone wants to pick a side. Marc Andreessen, entrepreneur and Co-Founder of Netscape, picked his 'hardware or software' side when he declared, 'software is eating the world'.
Is this still true, though? Specialized hardware and closely-integrated software have given us game-changers like GPUs, FPGAs, and SmartNICs. Machine learning and artificial intelligence rely on this specialized hardware with tightly-coupled software.
The Value-Adding Partnership of Pensando and VMware
At Tech Field Day Extra at VMworld 2020, Pensando and showcased how Pensando's SmartNICs or P4-programmable Distributed Services Cards, added value to the VMware ecosystem and spotlighted their collaboration with VMware. Part of the value comes from the SmartNICs' ability to offload I/O to free-up x86 CPU cycles for running applications and maximize network bandwidth.
No mention of the Pensando and VMware partnership would be complete without a nod to Project Monterey. In Project Monterey, VMware partners with vendors such as Pensando to create within the VMware Cloud Foundation (VCF), a platform ideal for solving next-generation app challenges. While details are still forthcoming, Project Monterey would leverage Pensando SmartNICs to run ESXi, vSAN, NSX, and other VMware services using the ARM processors directly located on the Pensando SmartNICs.
Project Monterey isn't expected to hit the market until next year, but VMware customers can already leverage some of the power of Pensando SmartNICs in their VMware infrastructure today. VMware pledged driver support for Pensando SmartNICs in vSphere 7.0. 
Security, Observability, and More
SmartNICs are game-changers. It's no shock that Pensando SmartNICs can bring value to VMware environments today, even before the public release of Project Monterey. In fact, Pensando SmartNICs are ideally suited for use in brownfield environments. Pensando Policy and Services Manager (PSM) running on the SmartNIC, makes incrementally adding cards and life cycle management simple.
Pensando SmartNICs offer many benefits, but for simplicity's sake, let's focus on the security and observability they can add. If the increasing number and severity of ransomware attacks and data breaches have shown us anything, it's that security shouldn't be an afterthought. From its inception, Pensando has stated that security is imperative.
The importance of security becomes evident when you see the security benefits that Pensando SmartNICs offers. SecureBoot ensures that an unaltered and valid ESXi image loads from the SmartNIC. Data in-transit encryption continues to be a compliance and security requirement for many organizations. Pensando's SmartNICs can enable IPsec-based encryption between ESXi hosts with no impact on the host CPU. Often encryption means sacrificing server-to-server visibility. However, because of where the Pensando card sits on the PCI bus, observability improves.
Another way in which Pensando SmartNIC cards can improve visibility or observability is by creating a distributed smart capture system for every ESXi node. This improved telemetry can reduce the meantime to resolution (MTTR) and also enhance security. The telemetry data that Pensando SmartNICs generate can seamlessly integrate into VMware infrastructures using vRealize Network Insight or Log Insight. However, other telemetry platforms are supported, too.
Conclusion
Now, for the wrap-up. With all of this security and visibility talk, it's easy to forget that Pensando SmartNIC's also improves network performance and optimizes CPU resources on the host. Once Project Monterey comes to fruition, VMware APIs will also run on Pensando SmartNICs. The value of Pensando SmartNICs comes from not just the hardware but from its software.
To learn more about how Pensando complements VMware environments, check out Pensando's presentations (https://techfieldday.com/appearance/pensando-presents-at-tech-field-day-extra-at-vmworld-2020/) from Tech Field Day Extra at VMworld 2020 (https://techfieldday.com/event/vmworld20/) videos.