Amid record adoption of automation in factory floors, enterprises in industrial sectors are increasingly considering private 5G LAN. Ostensibly, a 5G LAN provides what no other network has before – coverage without blind spots or service drops.
At the recent Mobility Field Day event in California, Celona showcased the Celona 5G LAN.
A Silicon Valley startup, Celona was formed four years ago by founders of mixed pedigree in cellular and Wi-Fi. As a result, from get go, the focus has been on the private wireless sector.
Backed by Tier-1 investors like Qualcomm and NTT, the company is growing at a fast pace with its wireless solutions gathering interest of a growing worldwide audience.
In the presentation, Celona showed how it has hardened its offering to better serve the customers.
A Trend Impacting Industries
Across industries – from healthcare to education to utilities – there is a prevailing lack of consistent network connectivity in outdoor spaces and extended areas, particularly in parts where signal reception is poor. This is increasingly driving industries towards private wireless alternatives for mission-critical use cases.
"A lot of the need for private wireless within the enterprise, in the last three years, has been driven by what, internally at Celona, we call "uncarpeted or non-carpeted enterprise". These are industrial verticals like manufacturing, logistics, transportation, construction, oil and gas – where you require to provide connectivity typically in a large outdoor setting where the RF environments are not very friendly. Hence the existing solutions that they have just don't cut it," said Puneet Shetty, VP of Product Management at Celona.
Inside offices, Wi-Fi has provided fast-paced, reliable connectivity for people sitting at screens. But those working on factory floors have, for the most part, been lacking the technology to keep pace with their corporate peers.
But now the OT workforce is set to experience digital growth of their own. Advances in sectors like AI, IoT and robotics have changed consumption patterns of technology in critical industries, indicating an industrial automation boom in the horizon.
Demands for robots and other automation solutions in factories and warehouses have soared, and companies running these environments, are overwhelmingly falling off the non-automotive wagon. AI-powered cranes, health-monitoring sensors, augmented reality shopping, etc. are rapidly changing the landscape.
"Warehouses and manufacturing floors are going through a level of automation that requires them to introduce devices and applications that ask for a certain level of predictability, reliability, and SLA that their current network infrastructure is not able to provide – unless they actually wire these things. But in terms of automation, they're really trying to cut the wire as much as possible," noted Shetty.
Problems like poor outdoor coverage, service disruptions and ineffective roaming have made existing networks " a burning platform" to deploy advanced technologies on, "leading companies to look at alternatives such as private 4G and private 5G."
Celona 5G LAN
Leveling the playing field for these industries is Celona. As a pioneer in private wireless, Celona's goal is to provide a network that is easy to bring up, use and manage at scale. The result is a 5G LAN that provides uninterrupted mobility, strong wireless security, and consistent coverage across noisy and unfriendly outdoor locations, and operates like the corporate Wi-Fi.
Celona's 5G LAN is engineered to deploy in extended outdoor places, production environments, and uncarpeted areas that make low-quality RF environments.
Celona has assembled a fairly broad 5G portfolio since their last year's presentation at Mobility Field Day. The list includes physical and digital SIMs, indoor/outdoor APs, a 5G LAN operating system, and the Celona Orchestrator for LAN operations.
"We have built a solution from scratch that has all the different pieces that you need to run and operate your own private wireless network," said Shetty.
Celona has recently added high-performance 5G access points to its portfolio. Available in both the US and global markets, the APs provide interference-free 5G coverage in both indoor and outdoor locations.
Celona's 5G APs promise the same ease of deployment and deterministic performance that rings through all of Celona's portfolio, making them the perfect devices for rugged industrial environments.
The Latest Version of Celona Orchestrator
Across the board, Celona's products have the Celona software footprint enabling a coherent operation model, akin to a Wi-Fi network's. The Celona Orchestrator, which is the brains of the platform, offers a breadth of administrative capabilities for easy and effortless deployment, management and operations of the LAN.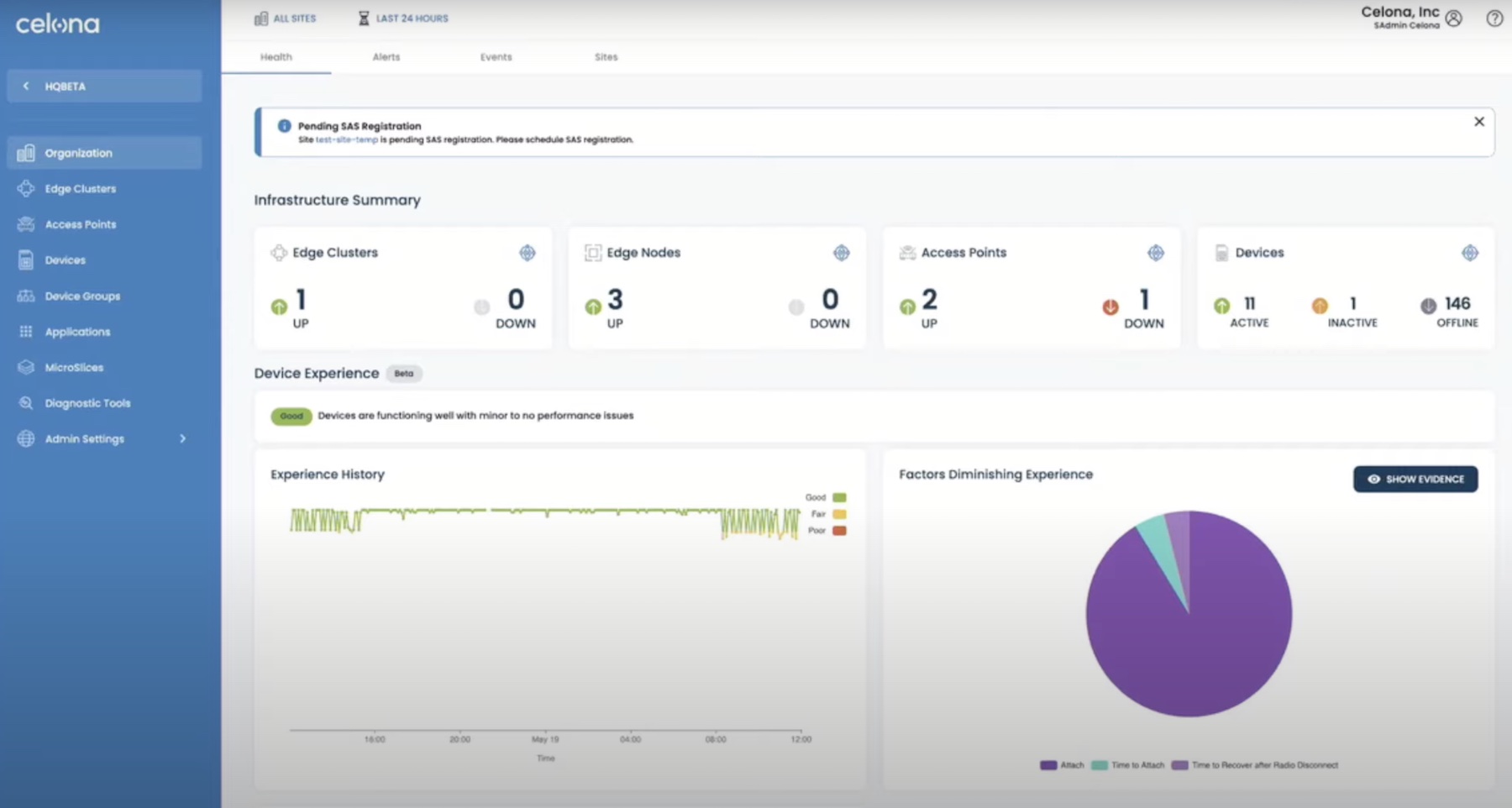 The latest version of the Orchestrator includes one-click inventory onboarding and zero-touch bring up from day 1. It has a built-in channel planning tool for bringing up the cellular network in the orchestrator. Device Experience Analytics provides a holistic view of the state of the overall network, combined with device analytics.
One of the most notable changes that Celona is bringing to the platform is turning over more control to the customers. In response to a growing demand for autonomy in MSPs that serve enterprises with low or no on-site skills, the new Orchestrator offers advanced troubleshooting, easy configuration, diagnostic tools and self-service workflows. These allow users to be high touch with the solution without the support and assistance of field experts and engineering teams.
Wrapping Up
A bulk of the world's economy balances on digital transformation, and it ties directly to wireless networks. In industrial environments where there is a burst of noise and signal reception is weak, a private 5G LAN augments the network, providing 10 times more bandwidth, ultra-low latency for faster compute, and blazing fast speeds. In plain-speak, all these amount to high-quality Internet access necessary for OT adoption. Celona's private 5G solution promises all these with lower deployment and maintenance hassles, and a lower housekeeping. It is designed to serve a wide variety of use cases and accelerate time-to-market, enabling a rapid-paced digital transformation.
For more information on Celona's private 5G solution, be sure to watch Celona's full presentation and the demo in the following session from the recent Mobility Field Day event on the Tech Field Day website.