We live in a world where AI drives imagination and utility. AIOps has proven to be extremely useful for businesses, and we are starting to see the beginning of its real-world applications.
Among the companies in the frontline that are working at a frenzied pace to solve grand operational challenges with AIOps, Fortinet is a notable name. After FortiAIOps, the company is on track to release the next iteration of the solution featuring a combination of augmented insights and advanced troubleshooting.
In a presentation that combined a walk-through of the new features and a technical demo, Alex Vizzari, Sr. Director of Product Management, detailed the capabilities that are arriving soon in FortiAIOps, and features that are on the roadmap, at the recent Mobility Field Day event.
One Is Better than Two
For a typical network that spans datacenter to edge, Fortinet offers a bundle of solutions, namely FortiManager, FortiAnalyzer and FortiAIOps to help operators navigate and perform complex networking and security tasks.
"A lot of customers have multiple branches that we call the SD branch. Data within this branch is managed by FortiGate – the switch, the APs, the 4G/5G connectivity being the extender – all going into the datacenter where they have the FortiManager. We also have an analytics and a reporting engine, the FortiAnalyzer and FortiAIOps inside the datacenter" said Mr. Vizzari.
For monitoring, troubleshooting and insights specifically, Fortinet offered FortiWLM and FortiAIOps. The company has merged the capabilities of these two into a single solution to create FortiAIOps v2.0.
"It's good to have two different products, but customers want to have everything in a single pane-of-glass management. They want to go back and forth between monitoring, seeing different things and switching sites. So knowing that we had two different products, we came up with a solution merging monitoring, troubleshooting and AI insights inside a single platform," said Mr. Vizzari.
The new FortiAIOps brings with it the deep monitoring and troubleshooting of FortiWLM with the swift diagnostics and analytics of FortiAIOps that companies need on a day-to-day basis.
New Goals
FortiAIOps v2.0 furthers three key goals of its makers – to provide faster root cause analysis, ensure improved network and application availability, and make advanced troubleshooting tools available.
"With wireless, switching and potentially SD-WAN, it's really tough for people to go deep into an issue. We know that to be experts, to know all the different gears of the vendor – be it Fortinet or anyone else – is hard for an IT person," noted Mr. Vizzari.
With the new FortiAIOps, Fortinet dials down the requirement of technical expertise for operators by amplifying the solution's innate RTA capabilities with suggested answers to address issues, delivering faster MTTR.
FortiAIOps 2.0 aims to optimize network and application availability by providing users data on key performance metrics and highlighting negative trends, so that they can be on top of issues the moment they show up, and ensure users a higher level of experience.
New Features
FortiAIOps 2.0 provides a holistic view of the network that includes wireless, switching and SD-WAN, ensuring that operators do not have to shuttle between multiple solutions.
"With the ability to go from top to bottom within a few clicks – from the FortiGate level to the switch to the APs and the stations – it drives the IT guy towards the problematic stations," said Mr. Vizzari.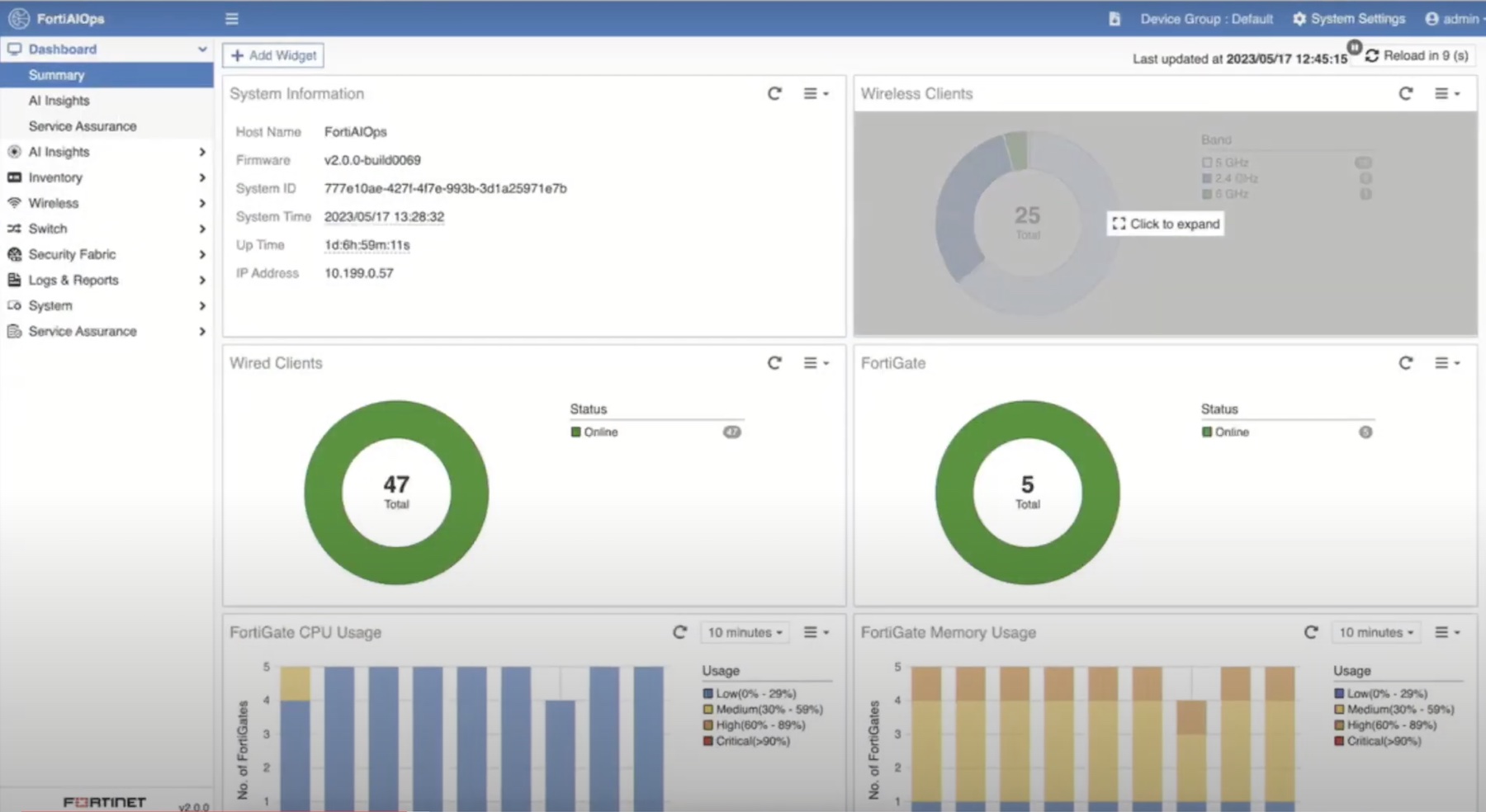 The AI piece is built into the solution. "There are a few additions like troubleshooting tools and the full LAN and WAN view from a single platform," he informed. With the improved AI, it can cross-correlate events and data from across the deployment providing deeper insights.
A set of built-in troubleshooting tools validate deployment at all network levels ensuring reduced MTTR. Advanced tools like route checks, process monitor, heatmaps, VLAN probe, cable diagnostics and RF perf statistics augment its troubleshooting capabilities.
In terms of scalability, Fortinet offers three models – low, medium and high, depending on the type of network. Customers can start with a small number of devices and can go up to thousands.
As of right now, the FortiAIOps v2.0 is a virtual machine. Mr. Vizzari said that it is fully relying on the Fortinet Neutrino framework.
Mr. Vizzari informed that Fortinet is working on dedicated hardware which will be released in the future.
FortiAIOps v2.0 is a subscription-based solution that is available in a flexible licensing model. It comes in an annual per-device subscription model. Monitoring and insights are offered both separately, and in bundles.
"We see that some customers want just monitoring, while some want insights. Some want a bundle of both, and others would want the full lot with SD-WAN," said Mr. Vizzari.
Wrapping up
Training humans to code has been one of our biggest successes so far. Solutions like the new FortiAIOps flip the script by training computers to do the heavy-lifting with AI, thus relieving the pressure off of IT personnel. FortiAIOps massively broadens their access to effective monitoring and troubleshooting, and instant insights critical to delivering even network performance and improved quality of experience, regardless of the operators' technical abilities.
For more, be sure to watch the demo in the second part of Fortinet's presentation from the recent Mobility Field Day event.