For all the talk about the transformative power of automation, application so far has been oddly sketchy. A study conducted by Deloitte shows that while organizations have widely adopted automation, they have yet to use the technology to its full potential.
For months, the tech industry was giddy with the belief that automation will fuel a surge of value-generating efficiency and productivity. And the payoffs, vendors promised, will not be shy, nor concentrated to select organizations, but will spread across the totality of the business world.
But why hasn't it happened yet? CIOs hoped that hopping on to the automation trend will herald a new beginning after years of accumulating arrears of work, moving from one unsound strategy to the next. Instead, they have found themselves at the bottom of a very a high adoption curve.
A Thorny Problem
Many of the early adopters of cross-domain automation have met with gigantic obstacles in their journey to integrate organization-wide automation. As companies have adopted the latest and greatest technologies, their tech stacks have grown consistently heavier with a mounting number of domain controllers and toolchains, putting operators at the receiving end of a long line of impacts that they are expected to get around.
The achieved agility has been volatile for the most part for these organizations. This begs the question, is automation an enabler or a deterrent? The truth is, automation isn't a letdown. It is the rules of the game that makes the uptake harder than anticipated.
Anuta Networks, winner of Gartner Cool Vendor, solved the automation puzzle. At the Networking Field Day event in California, the company introduced a set of new enhancements for ATOM, their closed-loop automation solution, expanding the platform's capability to address the hurdles of cross-domain automation. ATOM is acronym for automation, telemetry, orchestration and monitoring for which it is a single platform solution.
Kiran Sirupa, VP of Marketing shared a case study that showed that an average Tier-1 company has about 7000 devices in its network, and uses a total of 7 controllers, in addition to 10 different tooling infrastructures for processes like monitoring, alerting, reporting, ticketing, troubleshooting, and so on. Even with open standards allowing communication between the tools, this is a bit of a pickle.
On the networking side of things, this topology is fuel for nightmare. An important ingredient for monitoring and troubleshooting is observability, and with the diversity that characterizes modern networks, visibility is in short supply. Enforcing consistent policy as a way to establish a standard across branch, campus and datacenter is near-impossble.
Automation is also largely localized and siloed in this set-up. "The domain controllers create islands of automation for which you have local optimizations, but you don't have the full visibility," noted Sirupa.
In the past few years, OpEX has escalated with the rise of swivel chair activity that entails manual entering of data into each system, a process that has cost businesses thousands of dollars in production delays.
"The process inefficiencies and integration challenges have resulted in delayed time to market for new applications" said Sirupa.
A lot of the vendors do not offer support for legacy infrastructure compelling enterprises to sustain costs of modernization which adds substantially to the growing expenses.
With multi-vendor, and hybrid cloud thrown into the mix, teams are at risk of losing out on the true benefits of automation.
Anuta ATOM
Anuta ATOM serves as a silver bullet of sorts for these problems. Sitting on top of multi-vendor domain controllers, ATOM abstracts away complexity arising from the network diversity providing unified cross-domain automation in hybrid cloud environments.
ATOM supports over 60 vendors, 250 platforms and comes with 300 plus out-of-box adapters to build workflows. It's low-code platform comes with a rich set of built-in integrations with IPAM, ITSM, CI/CD enabling consistent policy across networks, and pre-built workflows for easy OS upgrades, zero touch provisioning and cross domain automations.
ATOM's workflow engine is based on open standards and offers massive scalability. "We can run 2000 workflows per hour to upgrade software," said Sirupa.
The workflows can be customized and extended on its drag and drop designer canvas where users can stack items together to build complex automations. The platform also features visual debugging and custom reporting for greater ease of use.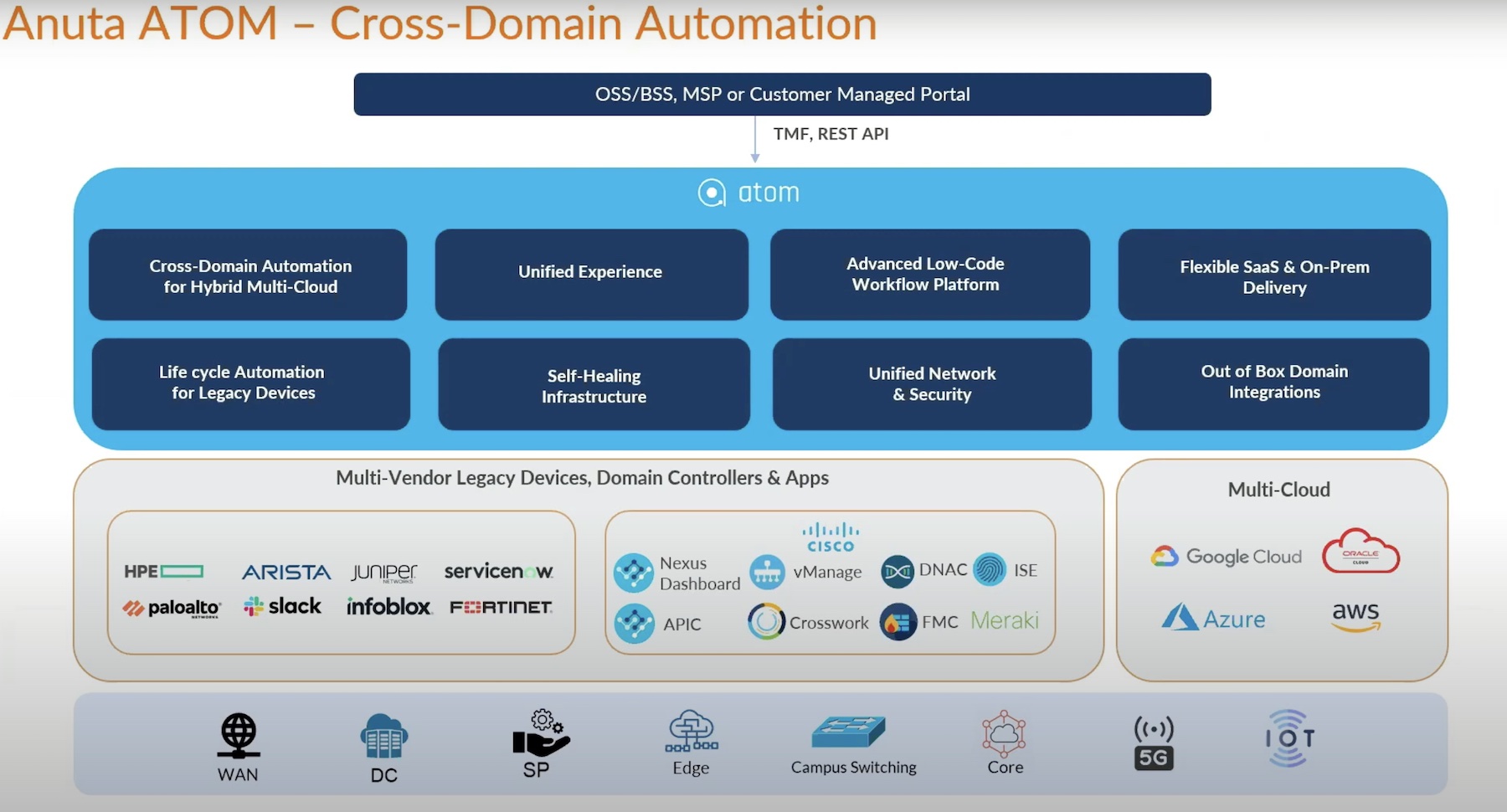 ATOM gathers real-time information from devices and services providing operators the visibility they need to discover, analyze and troubleshoot timely.
ATOM works equally for new infrastructure and legacy tools providing lifecycle automation for the full fleet. "It can onboard the devices using zero-touch provisioning, upgrade the operating system and compliance, collect telemetry and enforce workflows for closed-loop remediation" said Sirupa.
The platform is highly extensible and Anuta Networks supplies users with toolkits to extend the platform for any upcoming infrastructure. Additionally, support for new adapters can be added within weeks.
New Features
One of the biggest differentiators that ATOM has is that it offers different personas different experiences based on their roles and use cases. ATOM has two set of target users – developers and operators – for whom it seeks to boost productivity and enhance efficiency simultaneously.
The new product enhancements further these objectives. The enhancements include a Package Builder for developers to build plug-and-play adapters by integrating with third-party APIs, a Form Builder which is a fast-to-use interface for dynamic user forms, and Workflow Insights that include historical trends, heatmaps and other metrics to help optimize workflows.
As a way to enhance efficiency at the operators' end, Anuta ATOM presents Catalogue Enhancements and Workflow Planner – dashboards for tagging and scheduling periodic workflows.
Wrapping Up
Companies, in order to justify their spend and continued investment on automation, need to have a solution that not only removes the obstacles from the way of developers and operators as they go through the various motions of the day, but also do the bulk of the repetitive work removing the drudgery from everyday tasks. Anuta ATOM sobers the demands of automation and helps it reach all corners of the business. As enterprises look ahead to a future where automation equals higher productivity and lower OpEx, they need a tool like it that unleashes automation's full potential, and helps it be the groundbreaking technology that it is meant to be.
To catch the demo of the new features, be sure to watch Anuta Networks' full presentation from the recent Networking Field Day event.