Modern industries are powered by some of the most powerful and complex networks ever built. But these advances have made network management an absolute nightmare. Anuta Networks recently launched a new capability – Active Service Assurance (ASA) – for their signature network automation and monitoring platform, Anuta ATOM.
At the recent Networking Field Day event, Technical Marketing Engineer, Sahil Katira demoed this new feature. With ATOM Active Service Assurance, enterprises can greatly reduce monitoring overheads and mean time to repair (MTTR), potentially saving hours, and speeding services to market.
Network Monitoring Overheads
With networks growing at a pace not witnessed before, enterprises are compelled to drain their resources to keep them up and running 24/7. Yet, the expectations of payoff are frequently thwarted. Experts say that disruptions caused by inefficient management styles and monitoring tools cost companies hundreds of hours of delay in service delivery annually.
Management of these environments entails an endless number of tasks ranging from onboarding to monitoring and maintenance. With the number of domains, devices and clouds at an all-time high, most manual approaches are moderately effective at best, and horribly resource-intensive and error-prone at worst. Factor in the pains of real-time monitoring and it's a hamster wheel.
Enhancing QoE with Anuta ATOM
It'd be a lot simpler if enterprises didn't have to rely on engineers to manually scout the network for problems, or do the onboarding and provisioning. Anuta Networks' agenda with ATOM is to enable IT teams to get through the find-and-fix journey without being hit with one problem after another. This is achievable only when a bulk of the management and monitoring work is handled proactively and at speed, preferably without human intervention. That is Anuta Networks' mission with ATOM.
Anuta Networks added a prequel session on ATOM to the Networking Field Day presentation of Active Service Assurance to give the audience a quick overview of capabilities of the original platform. Kiran Sirupa, VP of Marketing gave a quick rundown of its functions.
"Anuta ATOM helps with complete network automation, all the way from onboarding the devices to maintaining the lifecycle of the devices, upgrading the software, provisioning, and finally monitoring the health of the services and taking any remediation steps," said Sirupa.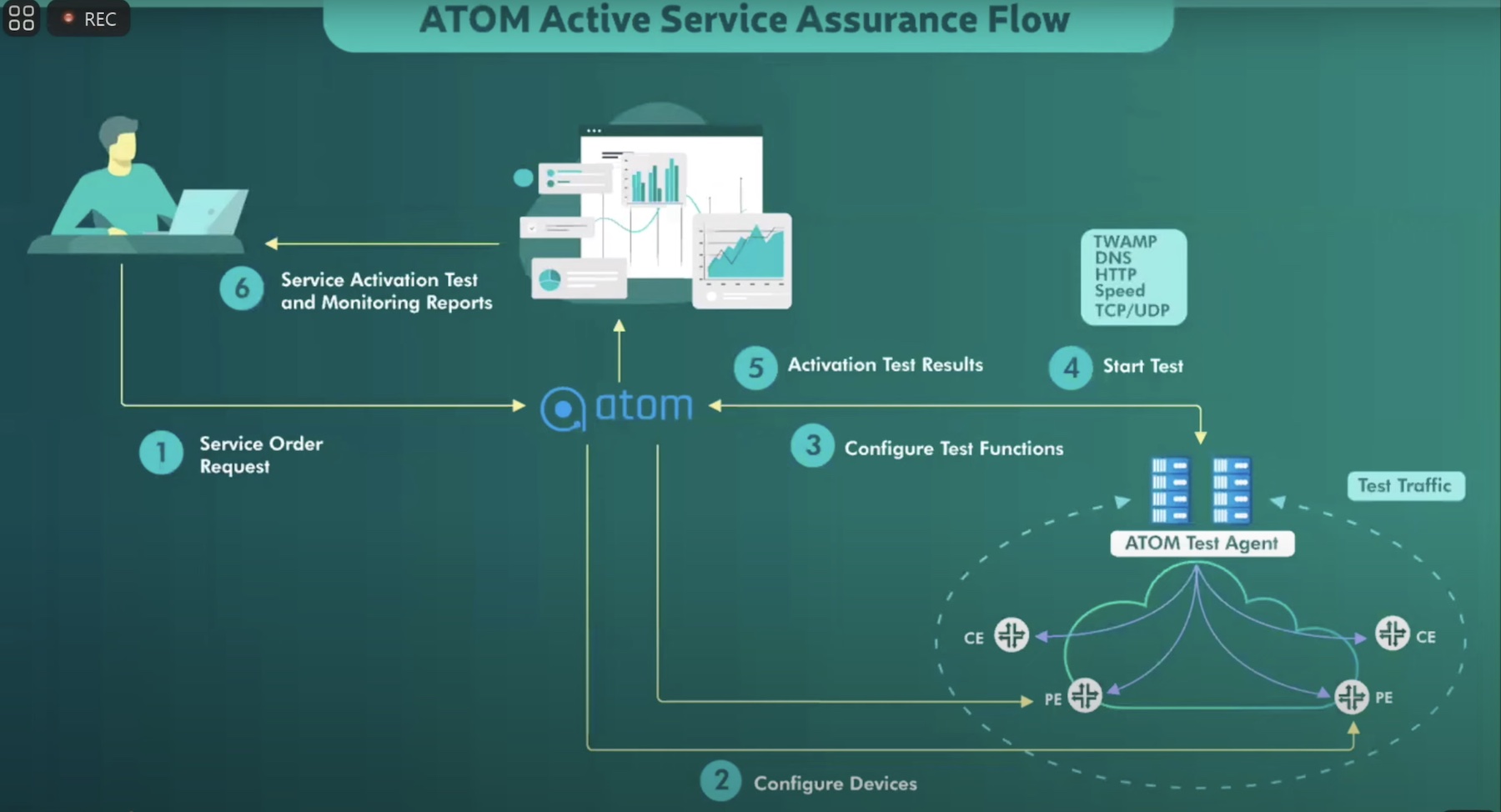 Anuta ATOM is a software solution that comes with an interactive user-interface where operators can create new workflow designs or implement out-of-box ones, to automate tasks. ATOM offloads a majority of the routine work, and in the process removes the additional hurdles organizations face regularly.
"It supports multi-domain, multi-vendor and multi-tenant networks," informed Sirupa.
Like many network automation solutions, ATOM leverages closed-loop automation to deliver its capabilities. A closed-loop automation framework enables software-centric networking, requiring little to no manual intervention, and ensures high levels of customer satisfaction.
"We focus exclusively on closed-loop network automation for multi-vendor, multi-domain networks. Our target customers are service providers and large enterprises," said Sirupa.
Anuta ATOM has three deployment models -on-prem, public and private cloud, and SaaS.
ATOM Active Service Assurance
Over the years, Anuta Networks has made several new announcements during their appearance at the Networking Field Day events. ATOM ASA was the announcement this year. The USP of this function is swift identification of anomalies through automated testing, and remediation.
ASA appears mid-way in the ATOM automation pipeline, following the stages of device onboarding and service orchestration. Using a wide variety of tests and metrics, ASA helps ensure that service level agreements (SLAs) are fully met from day one.
"ASA not only works from day one of service deployment, but can also continuously track the service for any threshold breach for the entire service lifecycle," said Sahil Katira during the demo.
Active Service Assurance in ATOM uses test agents for automated testing. These agents can be deployed and configured as containers, bare metal servers, VMs and so on. Using these agents to generate synthetic traffic, ASA detects performance issues in the network.
"ASA can execute one or more test suites at the time of service provisioning," said Katira.
Tests are conducted in three steps – creation, execution, and report and remediation. Operators can choose from a library of pre-built tests or create their own on ATOM's workflow builder. At the execution stage, the test or test suite is deployed. All test reports are published on the ATOM dashboard.
"The reporting infrastructure is customizable, and the test results can be grouped into KPIs. These tests are measured against defined SLAs, and any threshold breach can be logged as an alert on ATOM."
In the remediation stage, ATOM's closed-loop remediation kicks in. Operators can automate a wide variety of remediation actions using the workflows.
Part of ASA's function is ongoing validation, for which it collects data on Key Performance Indicators (KPIs) such as latency, jitters and packet loss, from the network. ASA can also be used to identify abnormal service conditions to make sure that service SLAS are met and maintained at all times.
Wrapping Up
Amid mounting network complexities, ATOM Active Service Assurance is the solution that organizations need to get a handle on service anomalies, and keep performance problems in check. ASA works to ensure that there are fewer failures. Overall, it greatly improves mean time to repair, enhancing quality of experience and speed of service delivery.
For more on Active Assurance Service, be sure to check out the demo and other presentations by Anuta Networks from the recent Networking Field Day event.