There are many definitions of a good data protection solution. Some put application-centric protection at the top. Others differ, putting more priority on usability features like low learning curve, zero management, point-and-click simplicity and so on. Drawing from that argument, it is safe to say that if security is one half of data protection, the other half is integration, multi-cloud compatibility, low house-keeping and so on. Thought in those terms, one provider comes to mind immediately, that covers all bases – HYCU.
At the most recent Cloud Field Day event in Boston, HYCU demoed their solution explaining how it caters differently to users on different platforms. So we were naturally thrilled to catch up with them again at the VMware Explore US 2023.
HYCU for VMware
We talked to Shiva Raja, Technical Solutions Architect at HYCU, this time learning about what HYCU brings to the table for VMware administrators.
"We have a purpose-built solution for VMware. What I mean by that is, we have several integration points with VMware. This actually deals with vSAN, VADP and vVols. This is one of the most core integration points when it comes to offering high-performance backups with zero impact on production," said Raja.
Although HYCU keeps a reputation of being partner-friendly, and the VMware integration is further evidence of that, we were curious to learn what drives its tight integration with an ecosystem like VMware's.
"One of the core aspects of why we're really good at VMware is scale," said Raja. Big VMware infrastructures consume a lot of compute power. This means most data protection providers require customers to add more infrastructure on-premises."
HYCU has that down to a minimum, giving users huge cost savings, and is one of the reasons why HYCU such a known name in the VMware user community.
HYCU offers agentless backup and recovery for all resources – files, folders, VMs, VM disks, applications, databases, what have you – to all major public cloud vendors.
"When you're using our solution, you're basically future-proofing it by having the ability to restore all these backups to any of your public cloud vendor which is a huge story when it comes to VMware on cloud, especially when it deals with the lift and transform story," Raja highlights.
Integration with vSAN
One of the highlights is HYCU's vSAN integration which lends users the ability to leverage the solutions' native features. vSAN is VMware's native storage platform, a solution that is as ubiquitous as virtualization itself. To vSAN, HYCU brings snapshot level integration that offers app-consistent and crash-consistent backups. Using these snapshots, HYCU delivers fast and granular restores for all said resources.
The good news is, on cloud, every VMware deployment uses these. "That's why when you deploy HYCU on VMware on any public cloud infrastructure, you have that native integration that offers high performance backups with zero performance impact," he highlights.
Raja highlights that HYCU performs backup in object storage, which means customers get to enjoy cost and security advantages, besides the performance benefits of cloud-native object storage.
"We're basically making use of the underlying platform, meaning that we are leveraging the customers' investment to carve out a solid data protection strategy," said Raja.
In doing so, HYCU unlocks the full potential of VMware resources in the cloud, enabling users to fully utilize them for secondary uses like data protection without ratcheting up infrastructure costs.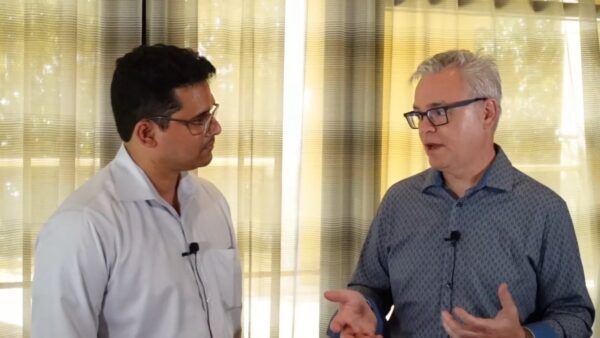 Backups in the Multi-Cloud
A big differentiator, that was the discussion at VMware Explore, is HYCU's support for multi-cloud.
"Back in the day, a lift and shift sounded so attractive. It is good theoretically, but as folks try to migrate their workloads, it isn't such an easy task. They are moving from one platform to a totally different one, which is why they pivoted from lift and shift to lift and transform," noted Raja.
To tackle this challenge, HYCU offers fully transparent backups. In other words, HYCU backups can be restored anywhere in public cloud – AWS, Google or Azure.
"That is the flexibility that you have with HYCU. You're not just investing in backups of your VMware, but you are also future-proofing your workloads to be cloud-ready."
In addition to these, HYCU also offers data backup and recovery for a broad spectrum of SaaS workloads that run the gamut from Salesforce, Jira and Confluence, to cloud-native applications like Cloud SQL and BigQuery, as well as productivity tools, like Office 365 and Google Workspace.
"That's just the start. Our roadmap is aggressive. We're planning to support more than one hundred SaaS applications by the end of this year. A very ambitious roadmap, but it is only possible because of the flexibility offered within our platform," said Raja.
To learn more about HYCU's backup solutions for VMware, check out their website, or reach out for info at [email protected]. To try out their solution on VMware and other supported platforms, visit TryHYCU.com. Also, be sure to check out HYCU's in-depth presentations of their solutions from the last Cloud Field Day event on Techfieldday.com.