Three years ago, this month, the first COVID cases in the country were diagnosed. Just weeks after, the lockdown started, and we all got a new social rule book to play by. While Zoom saved corporate businesses from dying an unnatural death, the retail industry that had until that point thrived on physical presence, suffered a huge blow. That effect cascaded into the economy in the forms of job losses and delinquency in debt repayment.
Now, once again, hopeful phrases like "post-COVID", "in-person events" and "in-store shopping" have started to peek out from the crevices of our vocabulary, and the world is turning a page on what would be remembered as a dark and harrowing chapter in human history.
So how is retail looking coming out the other end? eCommerce heroically propped the weight of a lumbering retail industry through the pandemic years. But the dust is settling, and customers are slowly going back to in-person shopping. Retail has endured, and in 2023, it is entering a new phase of renewed flourish.
In February, at the recent Edge Field Day event in California, Mako Networks presented a solution curated for distributed enterprises. Simon Gamble, Co-Founder and President, showcased The Mako System, a technology that is doing its part delivering "secure networking to distributed enterprises operating at the edge", while helping a scrambling retail industry back on its feet.
A Network for Distributed Enterprises
Distributed enterprises run hundreds, often thousands of small to medium size locations across regions. Their networks typically have an exploding number of edge devices hooked to them.
These networks support sundry applications – digital signage, self-service terminals, guest Wi-Fi, and various Internet-dependent processes like credit card and payment processing in real time. These make having a ubiquitous network that is reliable, resilient, and secure, imperative on the premises.
"If you're sending credit card data, personally identifiable customer information (PII), information about stock levels, into the cloud, or if you're a gas station and you're sending underground fuel tank levels, it needs to be treated really carefully and securely. To get information from the edge into a cloud or another network, that data needs to be transferred in a secure and encrypted manner," said Mr. Gamble.
For this reason, "any company that has credit card data flowing in their network needs to be in compliance with the payment card industry data security standard (PCI DSS)." Without it, a company is liable to pay compensation to its customers for any data theft, not to mention sustain huge damage of reputation.
"Another thing that a lot of people don't think about is that these distributed enterprises are using technology everywhere in their business, and yet, typically they have no one on-site who knows anything about it," noted Mr. Gamble.
So while a functional network that can be the carrier for confidential client information is the baseline, enterprises running edge locations also require a team of smart hands always on reserve for networking issues.
Serving the Retail Space
Mako Networks is known for manufacturing networking and security devices and products, specifically for distributed enterprises. With retail as its target industry, Mako Networks' host of solutions leverage its biggest point of difference, a PCI DSS certification. According to Mako, it is the only PCI DSS certified company in this space.
"As far as I'm aware, we're the only network vendor in the world that has a PCI DSS certification against the actual technology itself," said Mr. Gamble.
Where Mako Networks is compliant right out of the box, other vendors go by "PCI compliant" which is nowhere near as rigorous, and only means that they are just complying with the PCI guidelines.
Mako Networks is currently headquartered in the US and has presence all over the world including the UK, Australia and New Zealand. Their client portfolio includes some very big names in the petrol space, such as British Petroleum, CITGO, Circle K and Sunoco, in addition to many food and dining companies and parking garages.
As a networking company, Mako Networks' mission is to provide a strong foundation network for retail business to deploy the technologies they use every day.
Many retail locations fanned out across the world are outside the reach of traditional private networks that are deployed by phone carriers and are limited by geography. So, Make Networks relies on the Internet.
"A lot of the brands and enterprises that use our platform have locations all over the world. The network that is all over the world is the Internet. So ,our platform is designed to run over that," said Mr. Gamble.
The Mako System
The Mako System is everything that distributed enterprises require, and often don't have at hand. It is a PCI-certified, scalable solution that is carrier-independent, and don't require customers to stay locked in with one type of carrier. Customers are free to choose any broadband or cellular service provider available in their individual locations. It also requires zero on-site IT management.
The Mako System consists of a hosted cloud-based Central Management System (CMS), and a selection of managed networking devices, managed switches and VPN concentrators. Built specifically to serve multi-site businesses operating a large number of these small sites, Mr. Gamble informed that the combination of hardware it uses is specifically targeted at this market, and is entirely cloud-managed.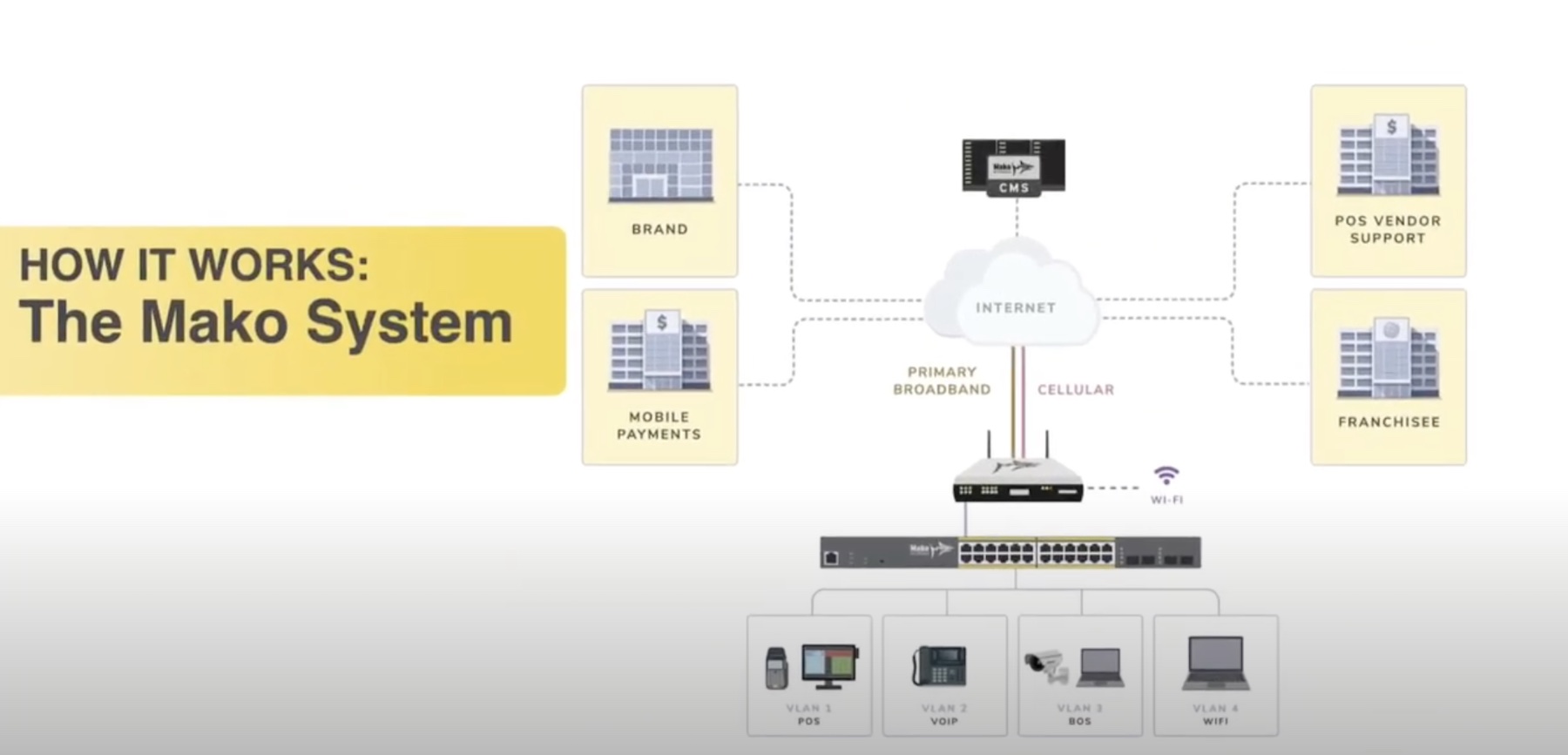 Mr. Gamble gave a short description of how the Mako System is deployed. Internally called "service delivery mechanisms", the devices enable the delivery of the service into the office location or site where it's deployed. The device with an OS is set up with the store's primary broadband.
"We can deliver managed broadband with our service, or we act in what is called a BYOB or bring your own broadband mechanism where we plug into whatever the customer has got," said Mr. Gamble.
The devices also have a built-in cellular connection which is normally used as a failover connection for times when the broadband is down. Additionally, there's Wi-Fi built into them to extend the reach of edge at points-of-sale (POSs).
This device is controlled by the central management system which provides real-time visibility into the devices and features to manipulate it. Typically, retailers plug in this device to one of Mako Networks' managed switches for network segmentation.
Since a site needs to connect to all sorts of online applications like credit card payment hosts, loyalty processing hosts and mobile payment hosts, The Mako System enables secure connection to those hosts.
Security
One of the key differences that Mr. Gamble highlighted between Mako Networks' devices and other vendors' is physical security. The devices have no local management capability on them, and therefore cannot be logged into and reconfigured by malicious entities. The absence of a reset button further diminishes the risks of tampering.
Centrally managed, the devices can only be controlled and viewed from the central management system, by only IT personas inside the company who have access to it.
"Our platform is designed to be used by everybody, so that a company's IT group can see their entire estate. Typically franchise groups have technical sophistication and they want to have visibility and control of their estates. But, the brand may not want them to control certain aspects of their sites. For example, the brand might want to dictate how the POS networks are set up, but leave other aspects of the customers network for the dealer group to be able to manage," said Mr. Gamble.
The Mako System, with the CMS and all the hardware is offered as a service. So, instead of paying a steep upfront fee, customers can pay a lower monthly fee across the tenure of the service.
For more information, check out Mako Networks' other presentations from the recent Edge Field Day event.